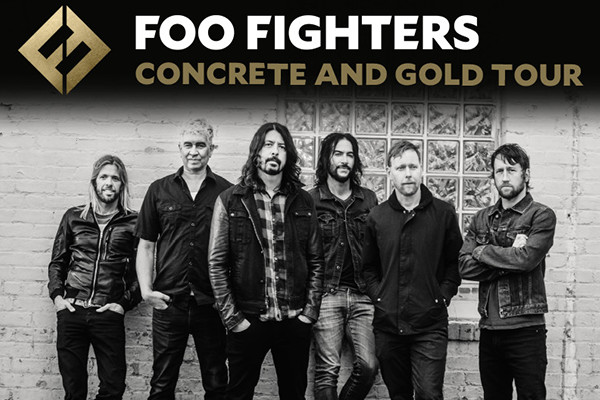 Foo Fighters: Concrete & Gold Tour, US Band Arena, Cincinnati, Ohio – October 20, 2017
Dave Grohl is an everyperson's rock star, he's the rock star you think you would want to have a beer with, hell, he's the rock star that would buy you a beer, and you'd gladly buy a round yourself. There's no doubt that the appeal of Grohl's band of 22 years, The Foo Fighters, starts there, and is no doubt complemented greatly by the fact that he has a knack for writing great, hooky songs, many of which have become hits on real rock and classic rock radio.
I have a music writer friend back in St. Louis named Dan Durchholz who likes to describe the appeal of the Foo Fighters this way: "If you could be in a rock band, it's the rock band you'd want to be in. Maybe they're not the best, but who has more fun?" (Dan's work appears regularly in the St. Louis Post-Dispatch, stltoday.com, and his website is danieldurchholz.com.) And, clearly the sold-out crowd at Friday night's show in the U.S. Bank Arena came to share in that fun.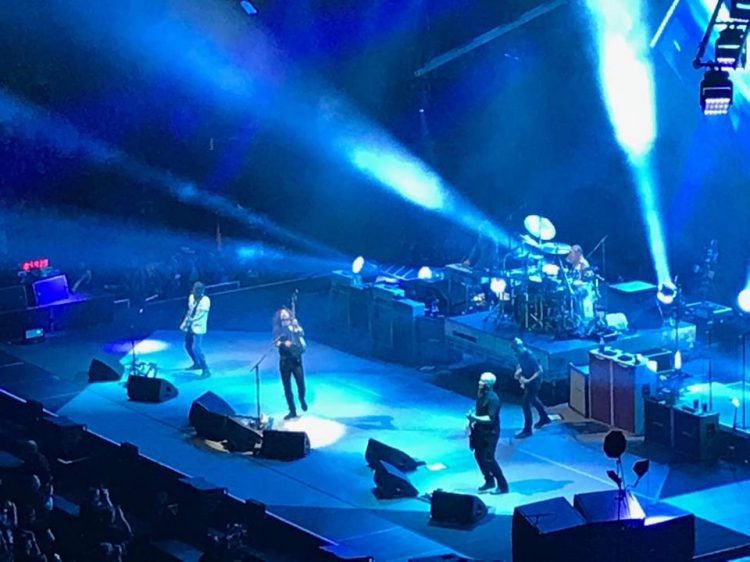 And intimacy. Several times during the concert Grohl paused to say that there was a woman standing in the front row who was trying to hold a conversation with him and show him pictures on her phone throughout the show, and he tried to explain to her that "15 thousand people are waiting for me to start this song." Then, about half way through the show he attempted to mollify her by playing "Times Like These" to her, which he started out solo but some became a campfire sing-along with the whole audience joining in. Half way through, the full band kicked in and rocked with authority, with a noticeable similarity to the band Rush in the song's later instrumentals. "And the fans took every advantage to return the love to Grohl, singing back to him his own lyrics when they could, most notably on two of the Foo's biggest hits: "My Hero" and "These Days."
While the Foo Fighter's set followed the pattern of previous shows on the tour pretty closely (something he seemed eager to breakaway from when I saw the band on Grohl's "Broken Leg Tour" two years ago, where he used every shouted out request from the audience as an excuse to play a classic rock cover), there were regular moments like this one, where the fans took over singing loudly enough to lead Grohl to exclaim, "Ohio audiences, you're loud as shit!"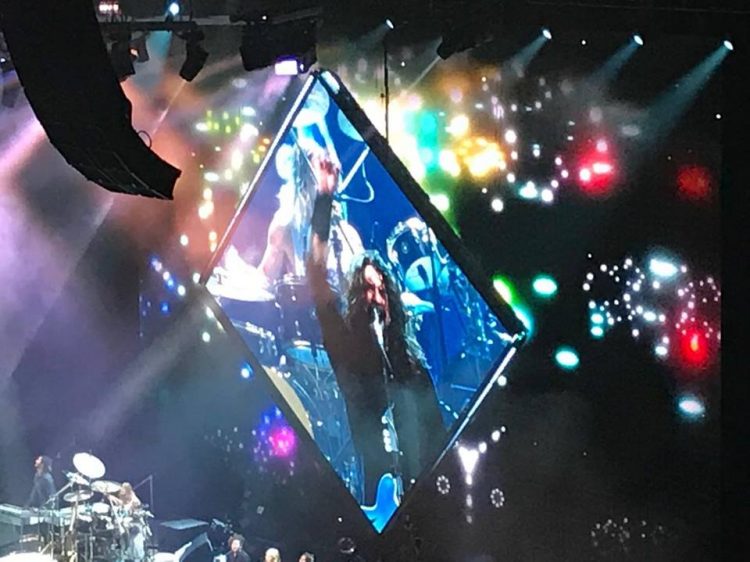 The show opened with nearly a full hour of songs, played nearly back to back, with only brief moments where Grohl spoke to the crowd. The set started with "Run" from the band's latest album, Concrete & Gold, followed by "All My Life" and "Learn to Fly." Early on he referenced great things that came out of Ohio, "Devo, Chrissie Hynde of the Pretenders, and Joe Walsh," among others. "I like that old shit, that Bob Seger shit," he said perhaps mistaking Cincinnati for Detroit, before adding "shit that makes you shake your ass to it all night long." Then Grohl stepped over to the band's lead guitarist Chris Shiflet, to jam for a while on the guitar opening to "The Pretender," which was followed by another new one, "The Sky Is a Neighborhood," which was one of several songs that included a trio of female background vocalists.
While Grohl gets a lion's share of the attention, as he writes most of the material, does most of the running around on stage and dominates the festivities in nearly every way, he also insists that Foo Fighters is a band. The moment that proved that came following the song "Walk," when as the song "Rope" reached its climax and what followed was an extensive jam and drum solo from drummer Taylor Hawkins. Events began to escalate when Grohl engaged Hawkins in a playful call and response where Grohl would play a line on the guitar, and Hawkins would try to replicate it on his drum kit, Grohl ran around playing blues licks over a calypso beat of sorts, and then the drum riser rose on hydraulics until it hovered over ten feet above the stage, where Hawkins did a brief solo and then sang lead on "Sunday Rain," another song from the new one.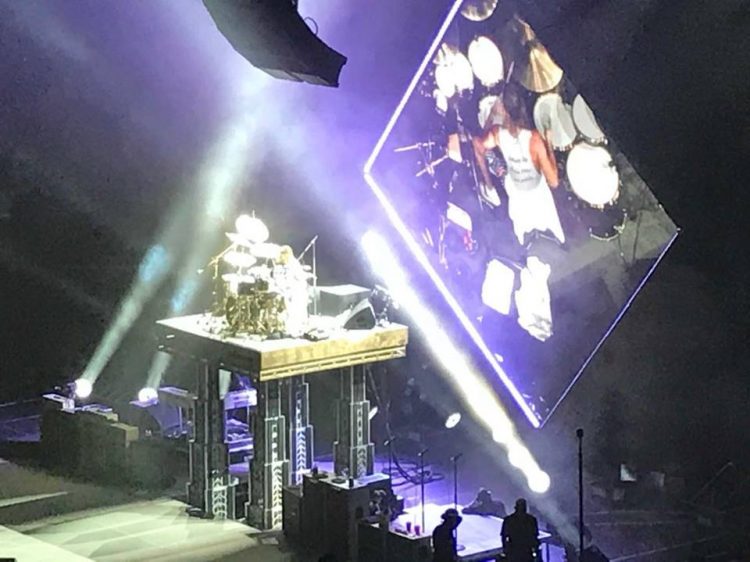 Later, the drum riser slid forward and the large square video screen that was tilted at a 45 degree angle moved out until in hung over the band, giving the large arena stage a bit of a cramped club feel for a few songs that recalled Grohl's and the band's earliest punk roots, "Let It Die," "I'll Stick Around" and "White Limo." One of the evenings strongest musical offerings, "Arlandria," followed, this time with Grohl and the band lit almost entirely by cell phone's set on flashlight, while the stage were returned mechanically to their original positions.
With all of that behind him, Grohl reminded his fans that "we got a lot of records," after promising earlier that they'd be sure to play something from every one of their albums before the night was through. Reconnecting with the audience around his status as "one of us," Grohl adlibbed a lyric about minivans into the first verse of another rousing punk-leaning number, "Breakout," assuring the fans that "I have one too." Then played "Make It Right," one of the strongest tracks from Concrete & Gold, before changing things up musically with "Skin and Bones," which featured keyboardist Rami Jaffee on accordion, a novelty for a harder rock band, Grohl insisted.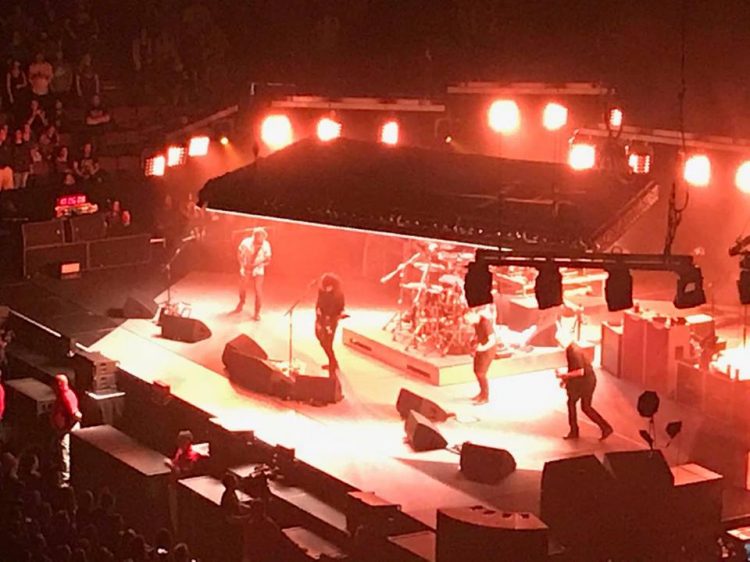 Then as you could begin to feel things move toward the end of the set proper, Grohl introduced the other remaining members of the band with a bit of music to represent what they brought to the Fighting Foos. Shiflet led the band in a verse and solo from Steve Miller's "Fly Like an Eagle," bassist Nate Mendel offered up the bass line from Queen's "Another One Bites the Dust," and long-time guitarist and side-kick Pat Smear, who goes all the way back to Grohl's days as drummer in Nirvana, offered up a bit of The Ramones' "Blitzkrieg Bop." And, can I just say, that seeing the 58 year old icon, Smear, who got his start in the influential punk band The Germs, hold his own on stage alongside Grohl and company is strangely but steadfastly comforting to this 60 year old rocker at heart. They closed the set with "Monkey Wrench," one of the band's earliest hits, and one of their best, and "Best of You," a real sweetest day treat for his fans, offered a few hours early.
After a bit of video theatrics where Grohl appeared to negotiate the number of songs to be delivered during the encore, while egging the very loud audience to shout even louder, the band returned and did what was promised. First they played the most low-key track from the new album, "Dirty Water," again supported by that trio of female voices filling out the song's choral effect. Next came "This Is a Call," going back to the Foo Fighters' self-titled debut, which Grohl recorded alone, playing all the instruments before the actual band was fleshed out with supportive players. It was closing in on 2 and half hours, when Grohl led the crowd in singing "Happy Birthday" to his somewhat shy guitar tech, and then said, "and I think it's also someone else's birthday," before leading the band into a cover of Tom Petty's "Breakdown," that made up for whatever it lacked in finesse by playing with emotional spirit and then, following a lengthy piano solo by Jaffee, Grohl leaned toward his drummer and rushed the pace in true punk fashion, before returning to the songs singular guitar line. It was a think of beauty and emotional purity. And finally, the traditional Foo Fighters' farewell song, "Everlong," which the fans gladly sang along with the band, ending a long and fulfilling night of rock & roll.
The Struts opened the show with 45 minutes of 70's rock trio instrumentals that were pretty solid, but left a syrupy aftertaste in your mouth because of the 80's vocal imitations of either Journey or Boston, after a while it was hard to care.
-Reviewed by Brian Q. Newcomb
Brian Quincy Newcomb has found work as rock critic and music journalist since the early 80's, contributing over the years to Billboard Magazine, Paste, The Riverfront Times, and The St. Louis Post-Dispatch.
Latest posts by Brian Q. Newcomb (see all)