Queens Of The Stone Age


Villains
Matador Records [2017]


Fire Note Says: In a world of posers, Homme and Co. return to maintain the fact that rock can still be cool.
Album Review: Queens of the Stone Age have been making records since 1998. In fact, frontman Josh Homme has been influencing music ever since he was churning out fuzzy, scuzzy riffs out of a Ampeg 8×10 bass cab for Kyuss. Being in the game for so long, Homme and Queens of the Stone Age could be considered elder statesmen of the genre of rock n roll. Their previous work, 2013's Like Clockwork… was a thoughtful marriage of groove, beauty, and terror mixed with ideals of futility, madness of idolatry, and vicarious delusions. Queens of the Stone Age's seventh studio album, Villains isn't exactly a philosophy record but an imagery record that shows us guitar rock isn't dead.
I'm sure most QOTSA fans-like me- has a bit of a uneasy shudder when Mark Ronson was producing. With that too came more questions. What dose a guitar part on Lady Gaga's "Perfect Illusion" mean for Queens? Are Queens going more pop? "The Way You Used To Do" is fine but, rubs me the wrong way at times, what's the rest of the record going to sound like? Well friends, I can assure you that all is well and the out reach of Queens into projects such as Gaga, Iggy Pop, and The Dead Weather have shaped the record for the better. Villains has a handful of tracks that get better with every listen. Opener "Feet Don't Fail Me Now" has Homme getting biographic to a Led Zep boogie that's sure to get your foot to the floorboard. Domesticated Animals scratches with desperation of druggie imagery. Lyrics such as "Tell us where you keep the gold (For what?), We wanna help you rule the world (I think not), We won't tell a single soul (So they all say), So tell us, where's the goddamn gold?" recreates the unrelenting, feral itch of an addictive drug habit. "Fortress" shows QOTSA's penchant for love showcased in songs such as "Auto Pilot" and "Make It Wit Chu." Homme calls out "If ever your fortress caves / You're always in mine." which really communicates the relationship as a loving safe haven.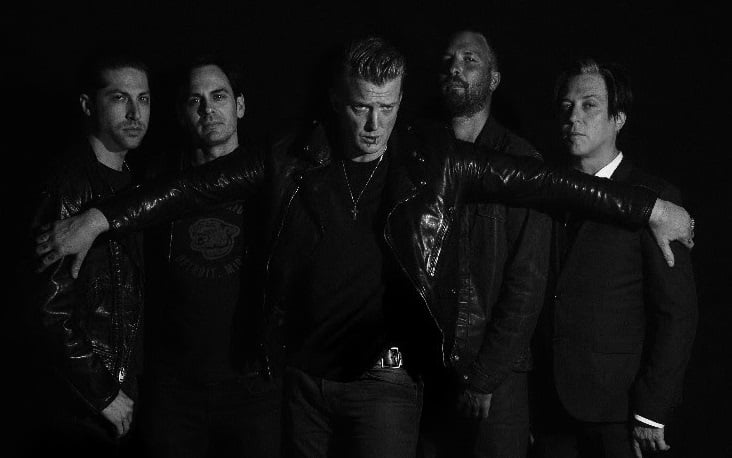 Queens of the Stone Age's Villains is a little less stoner and a bit more groove. The tracks all have a length to them that actually ends up working out for the better. It's hard for me to tell what Ronson added to the mix however, pop really isn't my forte. But, what I do know is a good Queens of the Stone Age record when I hear it and Villains just happens to be that.
Key Tracks: "Domesticated Animals" / "Head Like A Haunted House" / "The Evil Has Landed"
Artists With Similar Fire: Them Crooked Vultures / Arctic Monkeys / The Dead Weather
Queens Of The Stone Age Website
Queens Of The Stone Age Facebook
Matador Records
– Reviewed by Christopher Tahy
Latest posts by Christopher Tahy
(see all)