Cheap Trick


We're All Alright!
Big Machine [2017]

Fire Note Says: Cheap Trick is still writing songs they care about, and their fans will too.
Album Review: The first thing to notice here is that we have new music from Cheap Trick, recently inducted into the Rock & Roll Hall of Fame in 2016. There are of course several categories of artists who make the Hall each year, the really early pioneers who are often accepted posthumously in recognition to groundbreaking efforts that have been previously underappreciated, the bands who still have a vital fan base with new projects and regular tours (bands like Green Day, Pearl Jam, Red Hot Chili Peppers), and then that ring of older classic rock bands, that continue to tour but usually on the merits of their hits from 30 even 40 years ago, which is acts like Deep Purple, Journey, Heart and Joan Jett. But unlike a lot of those classic rock acts, We're All Alright, by the Rockford, Illinois' quartet, Cheap Trick, is the third album since 2006's great return to strength, named for their hometown Rockford, which is considered by many a career highlight.
All tolled then, We're All Right is the band's 18th studio album, following their last one, Bang, Zoom, Crazy… Hello by just 12 months, and this productive streak comes as guitarist Rick Nielson and singer Robin Zander are 68 and 64, respectively. While other rockers their age are collecting social security checks and playing their early hits, Cheap Trick is pumping out new music into a market that we've been told no longer buys full-length CDs. Now, to be clear, people still go out to see Cheap Trick with the expectation that they are going to hear classics like "I Want You to Want Me" and "Surrender," which may be one of the best rock songs ever in the humble opinion of this writer, and of course they will just as sure as at least 50 people in the front rows are going to walk away with a Rick Nielson guitar pick. There are some things that are never going to be change… and the world is better because of it. But at the same time, it's impressive that rather than sitting back on their love handles, Cheap Trick is still writing songs they care about, and their fans will too.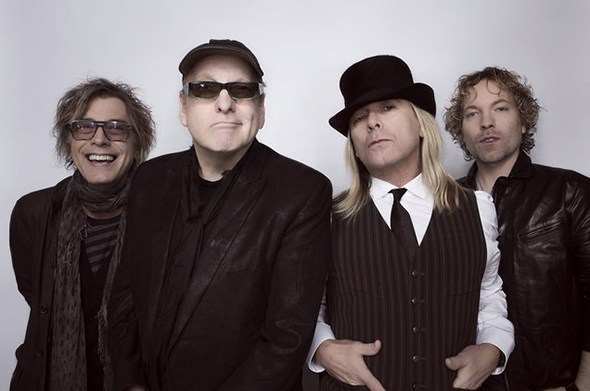 And the good news is that Cheap Trick may be older, but they're still showing no interest in growing up. As they sing against the classic rock chords of the album's first single "Long Time Coming," they still want their fans to "shake it, shake it, shake it/'Bout to blow my mind," and so it goes. The album's opener "You Got It Going On" attaches itself to a grinding blues riff a la Led Zeppelin, with Zander doing his best Robert Plant against Nielson's ringing guitar tones. On "Radio Lover" they offer up an edgy take on rock & roll via the King, with Zander digging into his lower range on the verses before delivering his rock star squeal on the chorus, while Nielson's frenetic solo covers the brief space with the kind of spirited energy that has kept this band a great live show going into their 5th decade. Witness that scream in the middle of "Brand New Name On an Old Tattoo," check out Nielson's authority on the solo, and what you're hearing is a band still giving it all they've got, and proving that this old school rock music still matters.
"Floating Down" echoes the band's attempts at pop rock power ballads back when the competition was all hair bands and pop metal, so nothing's perfect, but mostly Cheap Trick—which still includes original bassist Tom Peterson, and after some legal ugliness with original drummer Bun E. Carlos they have toured and recorded with Nielson's son Daxx on drums since 2010—rocks. Of course you often hear bits of the Beatles' influences here and there in Zander's melodies and vocal stylings, which is more than obvious on the deluxe versions cover of "Blackberry Way," by Roy Wood (of The Move and ELO). But mostly it's high energy rock, pounding, grinding guitar rock, from start to finish. The Who documentary released in 1979 was titled "The Kids Are Alright," as the band was reaching their commercial apex, with We're All Right Cheap Trick is declaring the same thing at the other end of their careers. And this, of course, is a very good thing.
Key Tracks: "Long Time Coming" / "You Got It Going On" / "Radio Lover"
Artists With Similar Fire: The Beatles / Led Zeppelin / The Who
Cheap Trick Website
Cheap Trick Facebook
Big Machine
– Reviewed by Brian Q. Newcomb
Latest posts by Brian Q. Newcomb
(see all)