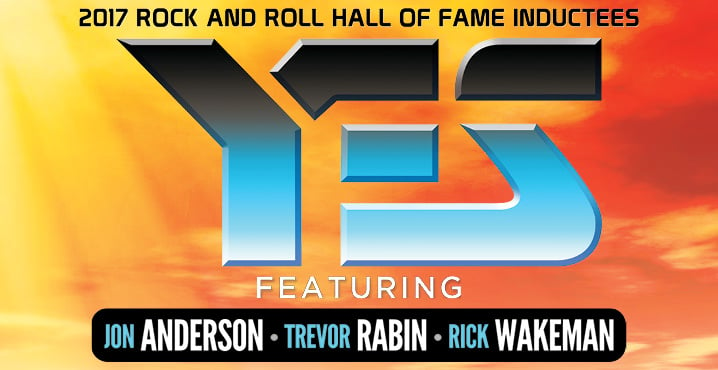 Yes Featuring Anderson, Rabin and Wakeman: Fraze Pavillion, Kettering, Ohio – Sept. 12, 2017
The "New" Version of Yes hit all the right notes! As a newly-minted member of the Rock And Roll Hall Of Fame you would think that all would be peace and love in Yes world. In case you haven't been following along with their internal politics … shortly after bass legend Chris Squire passed away in 2015, the other co-founder Jon Anderson (who had been kicked out of the band in 2008) contacted two other former Yes-men, Rick Wakeman and Trevor Rabin, and a new band was born. They touted themselves initially as ARW but earlier this year they officially began using the Yes name – creating a universe with two competing Yeses. Oddly enough, this sort of thing has happened before with Yes. However this being 2017, things are a lot different now and there is a real divide between fans of the Steve Howe-led band and this upstart unit. The frostiness extends to band members who cold-shouldered each other at the Hall Of Fame induction and during interviews and Facebook posts. All of that partly explains why this version of Yes works so well: they actually seem to enjoy playing together. And Tuesday night's performance at the Fraze Pavillion confirmed that they seriously intend to compete with Yes (Official).
The short instrumental "Cinema" opened the show and that is important for a few reasons: it set the tone for the Rabin-era heavy set, it's responsible for the band only Grammy and it sounded extremely impressive. But it also served to give Jon Anderson a solo entrance on "Perpetual Change", a song from 1971's The Yes Album. As the oldest song on the night's set list it was refreshing to hear it reworked with care. The rhythm section of Lee Pomeroy on bass and drummer Louis Molina III added punch and professionalism but their inclusion makes perfect sense. Pomeroy has worked with Rick Wakeman before (as well as ELO and Steve Hackett) and Molina has done work for Rabin and his film scores. There's familiarity but there's also great cohesion as a musical unit. This materialized most effectively when the band delved into their radio friendly 80's material. "Hold On" and "Changes" fared particularly well. Rabin would clearly rather play his guitar riffs than Steve Howe's. His energy level was much higher during songs from 90125 and Big Generator. Rick Wakeman was (conversely) very active on tracks he did not originally play on. His finger dexterity is still very good and one expects him to shine on prog epics like "Heart Of The Sunrise" or "And You And I". But on the more accessible songs his ever-busy and ornate playing cut through and added what those tunes always needed in the first place: Rick Wakeman.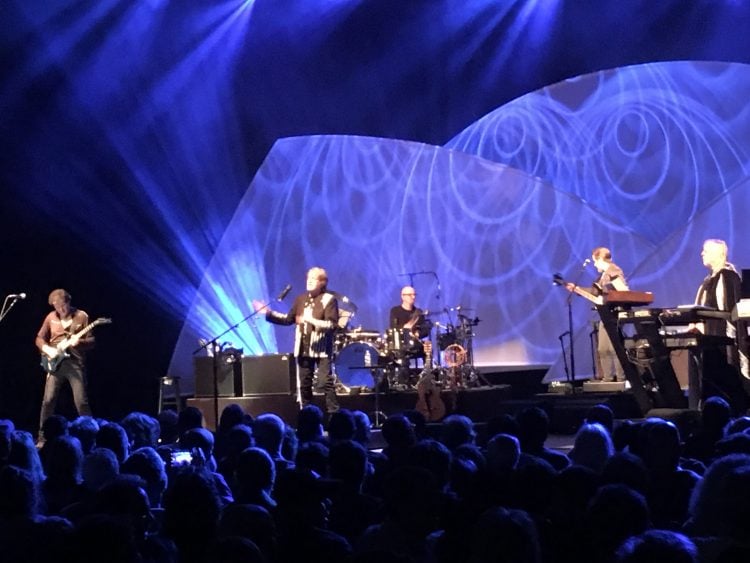 Throughout the night it was a revitalized Jon Anderson that stole the show. After being forced out of the band he co-founded for respiratory issues it was a joy to witness his angelic tenor at full strength. He remarkably hit all the high notes. At 72, that's pretty impressive. Like a guy with something to prove. Not that there was even a trace of bitterness in the performance. Only joy at being able to play this music. Or in the joy he took when a hawk flew over the stage – his eyes transfixed on its beauty in flight. It's hard not to find his harp and his hippie love sensibilities charming in these angry times. Though the average age of the crowd was not much younger than Anderson, there were a splattering of younger fans there as well. They were there to see him. To these fans, Anderson is the true voice of Yes and this version of the band is the more legitimate one. A convincing argument in that case was Going For The One stand out track "Awaken". It's one of those songs that is supposed to transport and enlighten – the very essence of a Yes show and a real test of the band's moxy. With the aforementioned harp in hand, Anderson led the quintet through a superb rendition and set the show up nicely for the predictable finale of "Owner Of A Lonely Heart" – complete with Rabin and Wakeman (with keytar) wondering through the crowd, followed by an abbreviated "Roundabout" as an encore. And that, to me, is the core of the debate. This band gives more weight to the eighties, the Howe-led one to the seventies. But at the end of the night no one was really thinking too much about that. They were there to celebrate life. They were there to celebrate Yes.
Set List:
1. Cinema
2. Perpetual Change
3. Hold On
4. South Side Of The Sky
5. And You And I
6. Changes
7. Rhythm Of Love
8. I Am Waiting
9. Heart Of The Sunrise
10. Awaken
11. Owner Of A Lonely Heart
12. Roundabout (encore)
Latest posts by Scot Lade
(see all)