The National


Sleep Well Beast
4AD Records [2017]


Fire Note Says: Sleep Well Beast is one of the most expansive sounding albums The National has released.
Album Review: The National are back with their seventh studio album, Sleep Well Beast, which marks their first release in four years. Right out of the gate, I will tell you that it is another solid crafted record. With that said, I have heard complaints from colleagues, fans and critics about how "sleepy" The National have become ever since 2007's Boxer. They are supposed to be a rock band, so the question was always what was with their laid-back approach to High Violet (2010) and Trouble Will Find Me (2013)? This all made everyone ponder how Sleep Well Beast would turn out, especially after lead singer Matt Berninger's 2015 collaboration with Ramona Falls' frontman Brent Knopf in EL VY, which was more of an upbeat pop record and guitarist Bryce Dessner's composer credits and recent spacey release with Sufjan Stevens and Nico Muhly titled Planetarium. This left an open stage for Sleep Well Beast.
For some on the first spin, Sleep Well Beast will play out very similar to their last few albums, as it has slower to mid-tempo numbers filling most of its space. But, with repeat plays this record feels like one of the most expansive albums The National has released. All of those other projects and the more recent releases have lead up to Sleep Well Beast. It is an album that is focused, uses musical textures to hit a nerve, possesses lyrical solitude about the trials of relationships and the challenges of marriage, and just sticks in your head.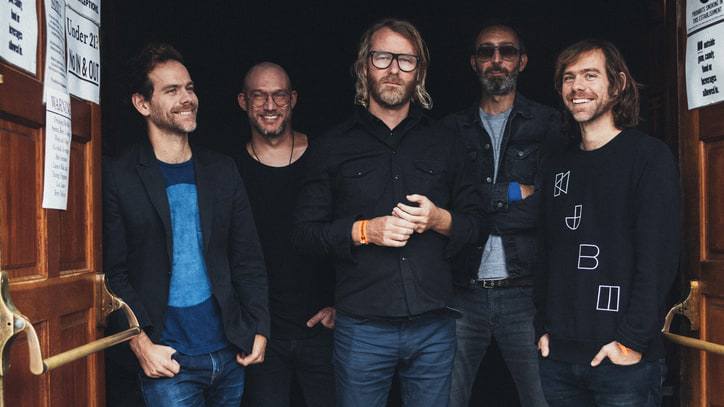 Even though there are not too many upswing tempos here, there are enough to keep pushing Sleep Well Beast forward, which is just smart sequencing. "Day I Die" has it all with its steady drum beat and memorable guitar run that circulates in the background as Berninger delivers the lines with 110% passion. The song has a thunderous effect which just showers you with this big stadium sound that is replicated on "The System Only Dreams In Total Darkness". "Turtleneck" is probably the hardest rocking track The National have released in some time and even though Berninger says he doesn't like to lose control of his vocals anymore, I can guarantee that this track live will see him going hoarse right before your eyes. It is a dark shot of rock and should put all the naysayers to rest. Other songs fall right in line with what the National have released before like the gorgeous piano driven "Carin At The Liquor Store" which reminds me some of the "Vanderlyle Crybaby Geeks" from High Violet or the opening "Nobody Else Will Be There" which has the same vibe like other opening whimsical brooding songs form the band that fans will eat up.
Probably the biggest surprise on Sleep Well Beast is The National's use of electronics. There are plenty of tracks here that have a very subtle electronic beat backdrops which expands the band's depth and gives the record a far reaching and boundary crossing electricity. The back hyper beats that are the undertone for "I'll Still Destroy You" propel the song forward as the chorus embeds in your memory, while the strolling "Walk It Back" finds Berninger almost whispering the lyrics as the band works the pulses in the background. It once again, offers something different from The National while sounding so familiar. This sums up Sleep Well Beast as it feels like your best friend that you have known for your entire life. I believe it surpasses Trouble Will Find Me and comes close to High Violet if I were to place them in order. At an almost 60 minute run time, it maybe is a bit too long for a Headphone Approved designation but very close as The National show that the time away and involvement in multiple other projects has only made them more interesting, complete and complex because Sleep Well Beast is a solid ride.
Key Tracks: "Day I Die" / "The System Only Dreams In Total Darkness" / "Carin At The Liquor Store"
Artists With Similar Fire: Radiohead / U2 / Arcade Fire
The National Website
The National Facebook
4AD Records
– Reviewed by Thomas Wilde
Latest posts by Thomas Wilde
(see all)