At some point, we have all done it. A sweet rhythmic head toss, a powerful pelvic thrust, a double handed slide complete with a power chord strum in perfect synchronization. That is right – the AIR GUITAR!
Today's video premiere of "The Air Guitar Song" from Romeo Dance Cheetah takes things to an entire different level because he is the real deal and the 2010 US National Champion of air guitar. In fact, the video today features some of the best air guitars in the world today, which hold multiple national and world titles. You want some official air guitar? Just watch the video now!
How do you achieve this guitar greatness?! Well, the World Air Guitar Competition is taking place this weekend in Oulu, Finland. Also, "The Air Guitar Song" video will be seen by all during the Oulu Finland Music Video Festival which runs in conjunction with the competition. It is going to be a great weekend!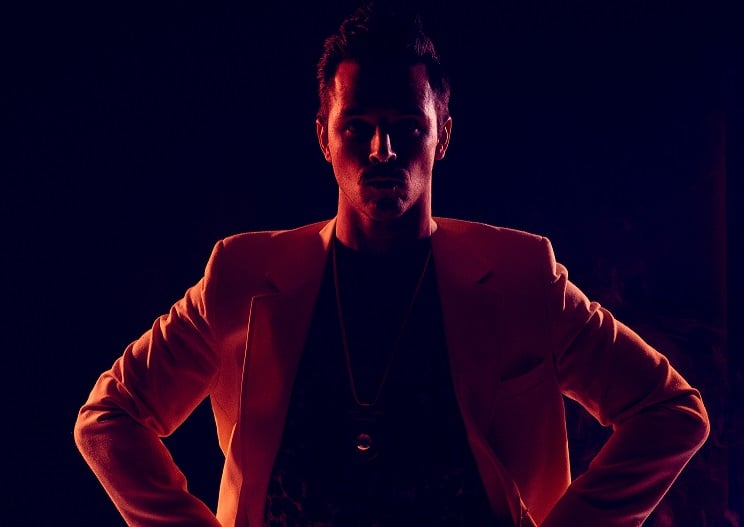 Now, Romeo Dance Cheetah is not stopping with this video. He is launching his music career with the debut release of his comedy rock album, Magnificent Man on October 27th. Think Darkness drinks with Ween and then gets totally crazy with Tenacious D. Yep – that is Romeo Dance Cheetah!
Clearly, TFN wishes Romeo and all the competitors luck this weekend as the purpose of the Air Guitar World Championships is to promote world peace. According to the ideology of the Air Guitar – "Wars would end, climate change stop and all bad things disappear, if all the people in the world played the Air Guitar. This is why the whole universe is invited to play the Air Guitar for world peace at the end of the competition."
With that said, TFN completely endorses giving it your best Hendrix, Prince or Slash right now. World peace and a Flying V can't be stopped!
Romeo Dance Cheetah Website
Romeo Dance Cheetah Facebook
Air guitarists featured in the video:
Matt "Aristotle" Burns (USA) 2012, 2014, 2015, 2016 US Champ, 2016 World Champ
Kareel "Your Daddy" Blumenkrants (RUS) 2015 World Champ
Nanami "Seven Seas" Nagura (JPN) 2014 World Champ
Eric "Mean Melin" Melin (USA) 2013 World Champ
Justin "Nordic Thunder" Howard (USA) 2011 US Champ, 2012 World Champ
Craig "Hot Lixx Hulahan" Billmeier (USA) 2006, 2008 US Champ, 2008 World Champ
Zac "Mr.Magnet" Monro (GBR) 2001, 2002 World Champ
Nicole "Mom Jeans Jeanie" Sevcik 2017 National Champ
Jason "Lt. Facemelter" Farnan 2013 National Champ
Dan "Bjorn Turoque" Crane star of "Air Guitar Nation" the movie and host of the World Air Guitar Championships
Multiple air guitarists from the world-famous French Air Band "Airnadette"
Air guitarists from around the US, Taiwan, England, France, Japan, Russia…etc.
Latest posts by Christopher Anthony
(see all)