Goldfinger


The Knife
Rise Records [2017]


Fire Note Says: Goldfinger storm back onto the scene.
Album Review: Legendary ska punk band Goldfinger have returned. If you are not familiar, Goldfinger was part of the Third-Wave ska/punk movement of the late '90s and The Knife picks back up on the same style. Their 1996 self-titled debut went gold and the single "Here In Your Bedroom" still plays well today. Since their last record,Hello Destiny (2008) was released, Goldfinger frontman, John Feldmann has been producing and writing music for other artists.
Fast-forward 21 years from their breakout and of course the music scene has completely turned a billion corners since Goldfinger and ska ruled the airwaves. So, where does that leave The Knife? First thing to know about this record, is that lead singer John Feldmann is the only returning original member and comes back with a revamped lineup. The group now is featuring MxPx's Mike Herrera on bass, Story of the Year's Phil Sneed on guitar (both doing backup vocals as well) and Blink-182's Travis Barker rounding out the group on drums. The Knife also features guest vocals from Blink-182's Mark Hoppus, 311 lead-singer Nick Hexum, The Mighty Mighty Bosstones guitarist Nate Albert ("Get What I Need") on guitar, and Twenty One Pilots' Josh Dun on drums ("Orthodontist Girl").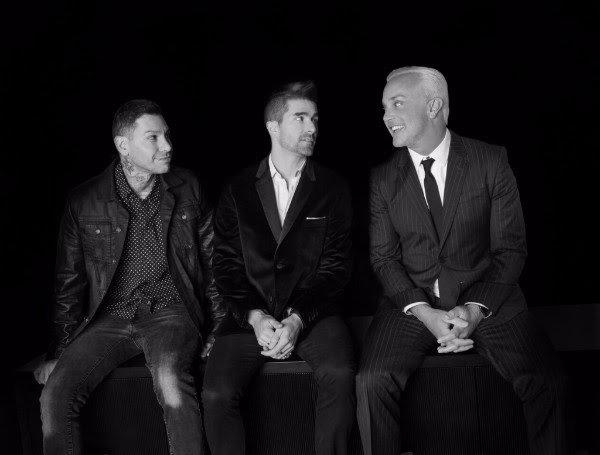 You should not be afraid one bit about the lineup because with all this quality punk-pop talent, it is really hard to not like The Knife. If you are or were a fan of this genre this record especially will hit home. The album plays out like a giant celebration of the music all of these guys have been offering for years, as it keeps things light with lots of hooks, plenty of sing along backing vocals and the expected horns all blaring in at the right moments. There is humor on tracks like "Orthodontist Girl" and with "Tijuana Sunrise," the third wave sway is in full effect. The first song, "A Million Miles" is probably the best example of how these veteran musicians strut their stuff because the song does not miss a beat with its crunch.
Is the new Goldfinger relevant today? Who cares! If you still turn the radio up when you hear some classic Green Day, Blink-182 or Less Than Jake – The Knife is for you. "Am I Deaf" addresses this very issue when Feldman asks "Music used to make me free / The Who, Black Flag, Dead Kennedys / Does anybody have anything left to say?" I think he makes a valid point. Punk, Pop and Ska have never died – you just need to rediscover your skank!
Key Tracks: "Tijuana Sunrise" / "Am I Deaf" / "Beacon"
Artists With Similar Fire: The Mighty Mighty Bosstones / Less Than Jake / Reel Big Fish
Goldfinger Website
Goldfinger Facebook
Rise Records
– Reviewed by Thomas Wilde
Latest posts by Thomas Wilde
(see all)