Matthew Sweet


Tomorrow Forever
Honeycomb Hideout/Sony/RED [2017]


Fire Note Says: Matthew Sweet is back after a six-year hiatus and Tomorrow Forever finds him in top form.
Album Review: With 11 albums under his belt, Matthew Sweet knows who he is. This eleventh LP, Tomorrow Forever, sees Sweet return to his power pop roots with clean, hooky songs with just enough of his trademark weirdness and confessionals to make things interesting. Being an impressionable teen when "Girlfriend" was ubiquitous on MTV, it's exciting for me to see Sweet return to his top form. I felt transported back to my younger days listening to Sweet do his thing in 2017.
The aptly titled "Trick" gets the album to an off-kilter start. As the track opens, my headphones blasted guitar through the right channel. I wondered if my fancy cans were busted. They aren't. Percussion and a second guitar eventually splashed into the left channel, and after a few more disorienting seconds, the two sides of the song combined into one. Power pop, at its core, is all about harmony, and Sweet pulls a hell of a trick to highlight his ability to craft his own. The song continues with those hooks, giving you a good sense of what's to come.
Sweet has also provided his signature bite to some of the tracks. From "Someone To Pull The Trigger" to "Sick of Myself," Sweet has never shied away from sharing his less-than-rosy worldview. This time the lyrics appear to be more about his own experience and are less vague. "Off The Farm" is surprisingly obscene for a Matthew Sweet song, but feels genuine. "Come Correct" has to be autobiographical due to the specific details included in the song; it's one of Sweet's most outwardly angry songs. "Bittersweet" speaks to all of us about the ravages of time (and of the limits of nostalgia). While not usually my favorite tracks of his, it's always helped me connect with Sweet as a person when he is so revealing and open.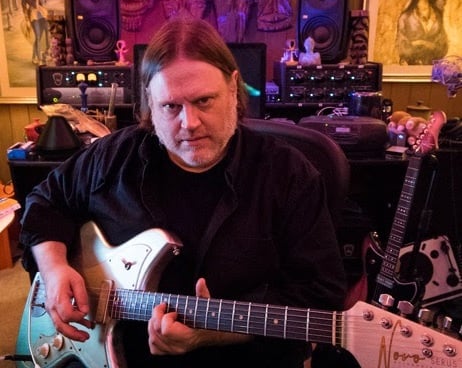 The album's midpoint has the lovely "You Knew Me," a song about Sweet's recently deceased mother, and the following "Circle." The former is heartfelt and warm. The latter is the Sweet-iest of tracks on the album; the essence of Matthew Sweet distilled in one song. The minor chords of the verse make the harmonies of the chorus swell.
At 17 tracks and just a minute under an hour, Sweet has given his Kickstarter backers their money's worth as this project started in July of 2014. The final tracks bring things home in style, with "Hello" showcasing piano (rare for Sweet) and the bittersweet "End Is Near." One of my favorite Sweet deep cuts is "Smog Moon," from 100% Fun. "End Is Near" stands with that track along with "Thunderstorm" as top-notch album closers.
With the themes of aging and saying goodbye prevalent on Tomorrow Forever, it wouldn't surprise me if this is Sweet's final album. If so, he is going out near the top of his game. Just like his contemporaries, R.E.M., going out with a return to form is how his fans would love to remember him.
Key Tracks: "Trick" / "You Knew Me" / "Circle" / "Carol"
Artists With Similar Fire: Sloan / Superdrag / Velvet Crush

Matthew Sweet Website
Matthew Sweet Facebook
– Reviewed by Matthew Heiner
Latest posts by Matthew Heiner
(see all)