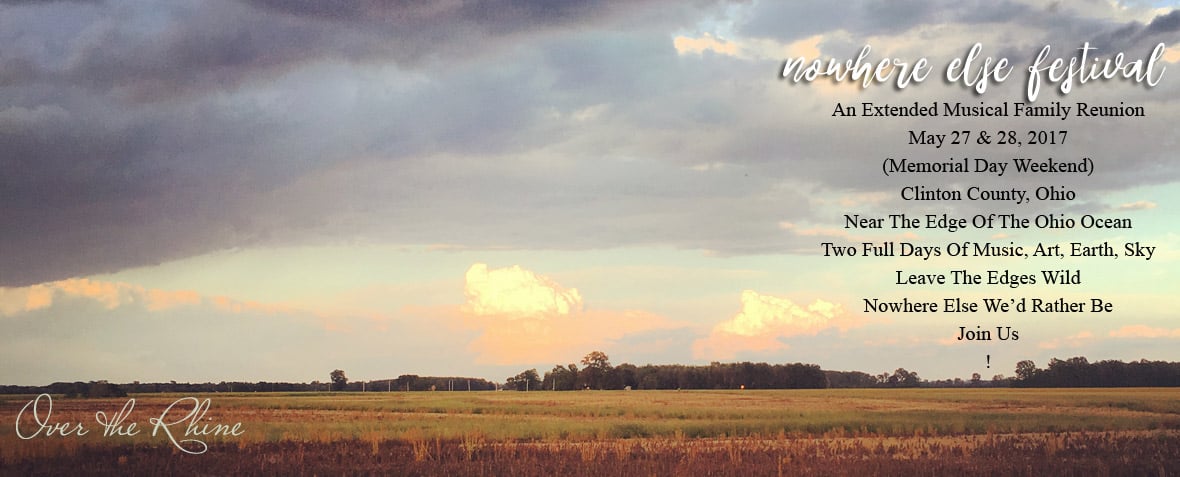 Nowhere Else Festival: Featuring Over the Rhine & the Band of Sweethearts, Birds of Chicago, Red Dirt Boys, Carrie Newcomer, Carrie Rodriguez, "Treasure of the Broken Land: The Songs of Mark Heard" with various artists, Matt Haeck, Levi Parham, and Phil Madiera
Clinton County, OH – May 27 & 28, 2017
The forecast for Memorial weekend in Southern Ohio suggested rain, potentially hard storms for at least some part of the weekend, which would have been challenging for a boutique music festival with modest facilities on the farm of Karin Bergquist and Linford Detweiler, the duo that make up the indie alternative folk/rock group Over the Rhine. While there was a loud storm around the Dayton area on the night before the fest, when Over the Rhine offered up an intimate concert especially for their volunteers and supporters, many of whom would staff the event, Saturday and Sunday featured blue and cloudy skies, serious humidity, and apart from the occasional drip, a dry weekend for the music and arts festival just a mile or two outside of Martinsville, in God's country.
Described on the Fest's website as "an extended musical family reunion," this was the second year for Over the Rhine to invite their fans and friends to come together for a weekend picnic, literally in their backyard. The 2017 edition involved art workshops, readings by authors, an art gallery set up in the barn, and a late-night showing of the Marvel superhero movie, "Dr. Strange," with a conversation with the film's director Scott Derrickson the following morning.
Welcoming the crowds at the beginning of the music event at 1 pm on Saturday, Linford and Karin, offered words of explanation leaning on familiar authors. Offering up a commonly used quote by GK Chesterton, Linford suggested that "we need preachers and pastors to remind us that we are going to die, we need poets and musicians, artists and writers to remind us that we are alive." Adding a word from poet/essayist Mary Oliver, he asked "what is it you plan to do with your one wild and precious life?" Well, he concluded, we know what we're doing with it this weekend.
Over the Rhine played a set each day, closing the show as a trio, but their main-stage showcase came at the end of a long day of great music on Saturday night backed by their Band of Sweethearts. The evening's MC, Owen Brock offered up in his introduction that many of OtR's fans have found the band's music to be "a soundtrack at weddings, and some conceptions…" to which a woman in the crowd offered up, "and an emergency C-section."
They opened with "The Laugh of Recognition," Bergquist offering up the familiar opening lyric "Come on, boys" as an invitation to join in the "holy rumpus" (kudos to Maurice Sendak), then followed it with seven songs from their latest, the 2013 album "Meet Me at the Edge of the World:" "Blue Jean Sky," "Soul Catch," the title track, "Sacred Ground," "Called Home," "Baby If This Is Nowhere," and "I'd Want You."
Early on, Detweiler offered up the band's "mission statement:" he said, "We make sad people happy, and vice versa," owning up to the band's artistic commitment to keep it real, to let their art flow from their honest experiences, including the intimate connection in their marriage and their life on the farm, which no doubt explains the profound connection many have found to their songs.
There's little doubt, that many connect to the band's thoughtful lyrics, but it's ultimately Bergquist's potent, earthy vocals, which as she has grown to maturity has a vibe quite familiar to that of Emmylou Harris. On quite a few of the newer songs, the two sang in duet, a lovely intertwining of voices that worked well at carrying the word's mood and tone, as Detweiler moved back in forth from his keyboards and acoustic guitar. Bergquist introduced "I'd Want You" as "an apocalyptic love song," acknowledging later that that's the only kind of love song she knows how to write.
And you cannot say enough about the way the Band of Sweethearts back up the duo, and the quality of the sound underneath that circus tend, where it was easy to hear the subtlest percussion, and many of the guitarist's fine solos, which tended to grow in length as it got later into the evening.
As they were moving toward the end of their concert they offered up some older fan favorites, "Born" and "Drunkard's Prayer" from the 2005 release of that last one's name. The sexy "Trouble," and ""Who'm I Kiddin' But Me" from the 2007 release, The Trumpet Child, and the beautiful set closer, "All My Favorite People" (from The Long Surrender, 2010), which has become a sort of credo for the band and the community of friends that has grown up around them. The sentiment that surrounds Over the Rhine can best be summed up in the lyrics: "Orphaned believers, skeptical dreamers/You're welcome/Yeah, you're safe right here/You don't have to go/'Cause all my favorite people are broken/Believe me/My heart should know." They encored with the song "Wait," also from Edge of the World.


Earlier in the afternoon, one of the major draws of the festival was the set by various artists, honoring the music of the little-known singer/songwriter Mark Heard, who had a heart attack while playing in a very similar tent at a music festival at a fairground in Illinois outside of Chicago. Mark was released from the hospital a few days later, but then had another major cardiac event that sent him into a coma. He died several weeks later, a great personal tragedy for those close to him of course, but also to a larger community of musician friends and fans around the country.
Throughout the '80s, Heard had worked hard to define his own sound, although on his 1979 debut, Appalachian Melody, you could hear a strong James Taylor influence. But with records like Victims of the Age ('82) and Mosaics ('85) he developed as a strong songwriter with gritty, roots rock songs that today might be called "Americana," and stand up well compared to work by Warren Zevon and The Bottle Rockets. In 1987, Heard signed up with the promising new label, What? Records (distributed by A&M), and tried rebranding himself under the band name iDEoLA, not unlike World Party or The The which tend to be whoever is in the room with the principal artist and songwriter, for a more electronic album called Tribal Opera. Olivia Newton-John later covered his song "How to Grow Up Big and Strong."
In the last three years of his life, Heard was surprisingly productive at a high artistic level, perhaps sensing in his being that he was running out of time, he worked furiously, his candle shining brightly until the end. Not only did he tour as the guitarist for singer/songwriter Sam Phillips (when she was married and produced by T Bone Burnett), but he was the producer on albums for artists like Pierce Pettis, Phil Keaggy and Randy Stonehill, but co-produced the Vigilantes of Love with Peter Buck of R.E.M. And, Heard released his three best albums – Dry Bones Dance ('90), Second Hand ('91), and Satellite Sky ('92) – in the final years of his life, supported on record by musicians like Michael Been of The Call. In 1996, a two CD collection of Heard's music was covered by a variety of his musical friends, including Been, Pettis, Bruce Cockburn, Buddy & Julie Miller, VoL, Tonio K., and others.
Now, 25 years later, executive producer Jeff Grantham has brought together of host of new artists, to rethink and re-record 18 of Mark Heard's songs, all from the last three albums that he produced, in a collection titled Treasures of the Broken Land. Grantham shared with The Fire Note, that a year ago when he was attending the first Nowhere Else Festival he was beginning to prepare for this new compilation, and seeing bands like Over the Rhine and Birds of Chicago, became convinced that they needed to participate in the project. So, it was natural, he said, to bring the debut of the album, and many of the artists who performed on it to Nowhere Farm for its first live performance.
Birds of Chicago, who played two sets of their own music over the course of the weekend, opened the Mark Heard tribute set with a spirited rendition of "Rise From the Ruins." The rest of the songs were performed by artists backed up by Phil Madiera, who produced the album in the studio, and his current new band, the Red Dirt Boys, supported by violinist Megan Palmer, who also provided nice background vocals throughout, and The Choir's drummer Steve Hindalong sitting in on percussion. When introducing the band, Madiera admitted that he had had only a passing acquaintance of Mark Heard, but that Hindalong had drummed in the studio on the iDEoLA project and a lot of those last three albums.
Early on, RDB guitarist Will Kimbrough sang lead vocal on "Worry Too Much," and then traded solos with Madiera and Palmer as they revealed that they were willing to take these songs out for a fun ride, playing fast and loose, not offering them up as fragile artifact from the past. Country singer Matt Haeck joined the band for turn on Mercy of the Flame, which allowed Palmer to shine on harmony vocals and a bit of country-sounding fiddling. The fact that they'd had little if no rehearsal prior to public performance became obvious when another country leaning singer/songwriter Levi Parham forgot the third verse of "I Just Wanna Get Warm." Madiera was forgiving, explaining to the audience that Heard's songs were difficult to sing at times, given the vocabulary and the number of syllables that filled each line on some songs, which reminds me of Bob Dylan. Then introducing "Satellite Sky," he suggested, "it's my turn to mess one up."
Haeck rejoined the band for two more, the project's title track and the one he actually sang on the album, "Dry Bones Dance," then Parham got a chance to redeem himself on "Orphans of God," which he sand in duet with Allison Russell of Birds of Chicago, covering the voices of Amy Helm and Cindy Morgan who appeared on the album with Parham. OtR's Karin Bergquist sang harmonies to Kimbrough's lead vocal on "Nod Over Coffee," which is sung on the album by country music icon, Rodney Crowell. That last one is a sentimental favorite of Heard's, I'm happy to admit, and Kimbrough did a wonderful job on it.
"Freight Train to Nowhere" got a suitably bluesy treatment by the Red Dirters, and then they closed out the Mark Heard tribute with the way the album closes, Karin singing the sad lyrics of "Look Over Your Shoulder," as Linford played the piano backing. Bergquist offered that they had a different arrangement in mind from the beginning, but they went into the studio on the day after the Presidential election, and they were moved to quiet in down to a bit of dirge, which is beautiful and fitting.
Birds of Chicago, an indie rock band formed around the talented wife/husband duo or Allison Russell and JT Nero returned to Nowhere Fest after winning over the Over the Rhine fans the previous year. They played a set each afternoon on Saturday and Sunday, and while they were new to this reviewer, I can assure you their music will not be for long. The two completely unique sets offered up music from their previous albums, including last year's Real Midnight, produced by long-time Over the Rhine associate, Joe Henry.
The immediate impressions of Birds of Chicago are the vocal and personal chemistry of Russell and Nero, and Russell's compelling lead vocals, and multi-instrumental additions on banjo and ukulele, and of course, that rock & roll standard, the clarinet. Yes, I said, clarinet… and strangely enough, it works, even when she's playing opposite her band's lead guitar player, fellow Canadian Dan Amu-Absi. The rest of the players are Americans, with brothers Nero (aka Jeremy Lindsay), who along with Russell writes a lot of the band's music, and keyboardist Drew Lindsay offering up enough satisfying vocal banter to entertain the more twisted among us, yours truly included. But ultimately, it's the songs, and Russell's energetic performance that puts the band over.


Saturday afternoon, there were many songs that offered up a counter to the kind of cynicism that drains one's hope, but were profoundly grounded in the challenges of human existence. And anti-suicide song demanded, "don't go easy, don't slip away from me." Another addressed the racial unrest in "Baton Rouge" from the perspective of a Chicagoan, and one celebrated both the joy and risk of living in a city where violence is a daily occurrence: "here's to joy of summer in the city/a city that bleeds – this is not the day I die." "American Flowers," a song from a newly recorded album, came to Nero on a cross-country drive which he said put him in a Woody Guthrie frame of mind. During the band's second set on the next day, they leaned toward a lot of crowd favorites, playing a song a toddler in the crowd had requested that she called the "na, na, na" song, and "Flying Dreams" was dedicated to a couple who was anticipating their upcoming wedding.
The other debut performance of the fest was the Red Dirt Boys, who admitted from the outset that the band was named by Emmylou Harris in honor of her album, Red Dirt Girl, released on Nonesuch in 2000. Madiera, who shared vocals with Kimbrough and moved back and forth from piano & organ and electric guitars, offered up that when they decided to record their own album as a band that they asked Emmylou's permission to use the name, to which she replied in the positive if she could sing on the album. Madiera said she sings on two tracks on the album, set for release next year, although the Red Dirt Boys will be playing again with Emmylou this summer when she opens for John Mellencamp's "Sad Clowns and Hillbillies" tour.
Left to their own devices, The Red Dirt Boys served of a set of new original songs, that Madiera assured the collected crowd that, in the spirit of our new Executive, "we have the best songs." What they delivered was a collections of immediately memorable roots rockers, a gumbo of jazzy, blues, rock & roll numbers that are so catchy the you can sing along shortly after hearing the chorus the first time around. Rhythm section, drummer Bryan Owings and bassist Chris Donohue, as well as the front-man team of Madiera and Kimbrough are celebrated studio and touring players, but together theirs a contagious energy, a chemistry that has come from years of playing together, and a dark, nearly cynical sense of humor that they shared in live banter.
The playing was obviously world class, but the loose and comfy jam feel that was no doubt partly necessary since this was the first time they'd performed these songs live together, was a prefect fit for the spirit on the Nowhere Else Festival which often applauded the better, more emotional solos, which were often. The whole set was fun, and interesting, but two stood out. "Jesse," a song written in tribute to singer/songwriter Jesse Winchester, with the lyric: "now that you're gone, what's this broken down world s'posed to do without you." The angry song "Religion" closed the set, challenging conservative expressions of religious belief that are rooted in fear and hate, and the strong lyric stood out as well: "How can you talk about religion/when you've got no soul to save… How can you talk about the Prince of Peace, and send your babies off to war?"
Two women named Carrie offered up individual sets at the dinner hour each day. On Saturday it was Carrie Rodriguez, who had played violin on tour with Lucinda Williams and in collaboration with Chip Taylor. More recently she's release her own works, her latest a record honoring her Latin Tex-Mex roots on last year's Lola. Supported on guitar by guitarist Luke Jacobs, Rodriguez shined whether playing in a more classical violin style or offering up country fiddle chops and she was in strong voice, whether singing in Spanish, English or her occasional use of what she described as "Spanglish." Jacobs offered up a funny song about winter hitchhiking in Minnesota and sang a round that warned that sometimes the "universe is playing tricks on you." But Rodriguez shined on her more personal memories and celebration of her family and roots.
Sunday afternoon, it was Carry Newcomer, who repeatedly described herself as a folk singer from Indiana," who celebrated her Quaker values and collaboration with noted Quaker author Parker J. Palmer on a project titled "What We Need Is Here: Hope, Hard Times and the Human Possibility." She celebrated what is possible, but refused to soften the challenges before us by affirming the "You Can Do Hard Things," something she said every young person, especially young women need to hear. A song about 20 women coming together for harvest canning was called "The Work of Our Hands," and she assured us, in light of the election results that "The things that have always saved us, hospitality, kindness, compassion, good parenting, a good dog, a good cat (that's not an oxymoron), a kiss and a word of encouragement, these things did not go away in November."
After two sets on Saturday that found him playing lots of keyboards and electric guitar on Saturday with the Red Dirt Boys, and on the Mark Heard tribute, on Sunday afternoon Phil Madiera pulled out an acoustic guitar to play many of his own older songs, supported only by Hindalong on percussion. Madiera, who's a world class wise-ass as well as an accomplished songwriter was in good form, even if the nappy crowd under the big top was slow to respond to his many attempts at jokes and one liners. He asked Hindalong, "Steve, am I not funny anymore?" with false humility. What didn't fail is his battery of great songs: "If I Was Jesus," which says he'd hang out with the poor and never be bored, and walk on water just to mess with your head.
Several of Madiera's songs came from a couple albums he produced that he said were "Gospel albums," made in response to the right which had high-jacked the Christian message. He says, I called up Emmylou and said, "I want to make an album that's starting point is "what if God loves you?" With that thesis in mind, Madiera played the title track, "Mercyland," one he wrote with Harris, "Kyrie," and "From This Valley," written with The Civil Wars, and recorded on their one successful Grammy-winning album before they broke up.
Madiera covered a Lennon & McCartney early rock & roll song, "Hey Baby, You Can't Do That," but the heart of his set came from his fine solo indie album, Motorcycle, which included the title track. He introduced his fabulous song, "The Ghost of Johnny Cash," which he said he wrote after awaking with a hangover in the middle of the night, the night he moved out of his ex-wife's home. Another great piece of songwriting, "Grandpa's Skin," was based on the tattoos on his friend Derri Daugherty's father, a WWII vet turned Pentecostal preacher. "They're the best songs," he concluded, "when they're true."
As I walked toward the port-a-potties to make that last stop before the hour drive home on Sunday evening, I watched as families tossed Frisbees, young boys were kicking soccer balls, couples were stretched out on blankets sipping wine and making small talk. Others were gathered around the beer vendor discussing brewery preferences or politics or something of less consequence. The pizza vendors were out of supplies, so there was a longer line than usual at the Gyro food truck, and some kids were getting soft serve cones. There was a pretty softening sky as the sun was casting shades of pink and yellow to mix with the blue and the light clouds. It was a lovely weekend in the country.
-Review by Brian Quincy Newcomb
Latest posts by Brian Q. Newcomb
(see all)