The Smith Street Band


More Scared Of You Than You Are Of Me
SideOneDummy Records [2017]


Fire Note Says: More Scared of You Than You are of Me is a fast and, ironically, fearless record that excels when its makers refuse to hold back.
Album Review: Some bands are at their best when they're at their tightest—their drums, mechanical. Their guitars, crisp and clear. Their vocals, discernable and poignant. The Smith Street Band is not one of those bands, though, and in their heart—worn very much on their sleeve—they know it.
Their new record, More Scared of You Than You are of Me, opens with a cannon-blast—"Forrest," a total ripper—and shines brightest in buckshot moments of drunken, panicked, all-over-the-damn-place rip-roarin' rock n roll. Wil Wagner and Co. are their most sincere in these moments, putting listeners on a rickety roller coaster of sound, recalling the very best of other fast, guitar-wielding bands like Microwave and We Were Promised Jetpacks. On More Scared of You Than You Are of Me, amps are cranked up to ten, the guitars are light on effects and heavy on distortion, and lead singer Wagner screams/sings/bellows over these wild arrangements from start to finish, paranoia and panic filling his voice and setting the record's harried, energetic pace. Listeners will find themselves yanked in, surrounded by sound and fast-tempo fear; there's hardly a calm, minimal or patient moment on More Scared of You Than You are of Me.
On more than one occasion, though, the rambling style risks coming off just a bit too self-aware, even flirting with a slight degree of self-parody. "Death to the Lads" features a singalong chorus that's just a little too beer-soaked, and "Run Into the World" sags under the weight of its own seriousness.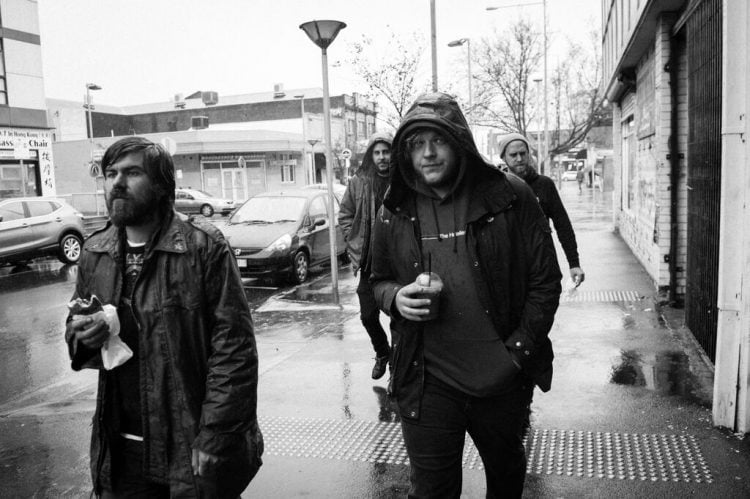 Fortunately, the latter tune, like the record itself, is completely redeemed by its second half. The closing songs of More Scared of You Than You are of Me are monolithic and captivating; in "It Kills Me To Have To Be Alive," and especially "Young Once," the messy, scattered style takes the band to stadium rock heights without trading authenticity or vulnerability for bombast.
These songs hit, they hit hard, and The Smith Street Band ought to go ahead and let themselves swing for the fences as often as possible.
Key Tracks: "Forrest" / "Young Once" / "Suffer"
Artists With Similar Fire: We Were Promised Jetpacks / Jeff Rosenstock / The Front Bottoms

The Smith Street Band
The Smith Street Band Facebook
SideOneDummy Records
– Reviewed by Dylan Gallimore
Latest posts by Dylan Gallimore
(see all)