Thundercat


Drunk
Brainfeeder [2017]


Fire Note Says: Thundercat has a niche that is all his own.
Album Review: Take a gander at the guest list on the latest Thundercat album: Kendrick Lamar, Michael McDonald, Pharrell, Kenny Loggins, and Wiz Khalifa. The title of the album, as you could guess, is Drunk, because with that list, what else could it be?
For those of you unfamiliar with Thundercat (aka Stephen Bruner), he is a bass aficionado and his music is what I would call psychedelic funk. He also has a sharp sense of humor about the world around him and about himself, which often comes out in his songs. With Drunk, the surprise is that Thundercat doesn't shy away from social issues, or from his anger. "Jameel's Space Ride" is a one-minute ditty with a video game synthesizer beat about the fear of police brutality towards African Americans. Its surface-level carefree tone makes the "Fuck you!" exclamation towards its end all the more jarring. That doubt and fear, while just wanting to live your life dreaming about the stars, could drive anyone crazy.
"Jameel's Space Ride" is placed halfway through the album – the hilarious "Captain Stupido" opens it up. I won't repeat the stupefying first lines here, other than to say that it's probably not something you've heard on an album before. Thundercat earns the somber moments, like on "Jameel's Space Ride," by upping the absurdity on songs like "Captain Stupido." It even has a simultaneous snore/fart sound effect at its climax. Really, what more can you ask for?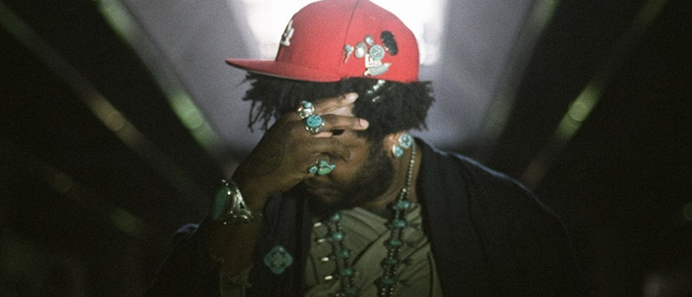 It's the amazingly titled "Uh Uh" (okay, all of the song titles are amazing) where Thundercat shows off his bass skills. It sounds like he's playing bass after an eight ball – he's definitely showing off. And he has every right to. There is no need for lyrics with "Uh Uh" because the bass does all the talking. It flows right into "Bus In These Streets," a meditation on the frustrating ways in which technology simplifies and complicates our lives. Thundercat doesn't have anything new to say about the dangers of social media (make sure to retweet this review!!!) but his directness is refreshing nonetheless.
Out of the guest appearance tracks, it's Wiz Khalifa (sorry, Kenny Loggins) who takes the crown. "Drink Dat" is a slow jam with a tremendous hook; Khalifa adds just enough but Bruner deserves center stage. "Show You The Way" is fun with Loggins and McDonald both contributing verses, but their tenors blend together with Bruner's to make them almost indistinguishable.
If anything, Drunk suffers from its ambition. It's hard to decide if Thundercat is doing a lot of experimenting or if he's just letting his flow go a bit too much. Still, there's a lot to like here and you get the sense that Bruner is doing it all on his terms. The unapologetic clarity and honesty of his voice is refreshing in an age when we carefully craft our next 140 characters.
Key Tracks: "Uh Uh" / "Drink Dat" / "Jameel's Space Ride"
Artists With Similar Fire: Flying Lotus / Kamasi Washington / Anderson .Paak
Thundercat Website
Thundercat Facebook
Brainfeeder
– Reviewed by Matthew Heiner
Latest posts by Matthew Heiner
(see all)