Grandaddy


Last Place
30th Century Records [2017]


Fire Note Says: After a decade long hiatus, Grandaddy returns with Last Place, and it sounds like they never left.
Album Review: Grandaddy main man, Jason Lytle, never really went away; he just parked his main car (Grandaddy) in the garage for the better part of a decade, while he took a solo career out for a spin. While his two solo records were good, both Yours Truly, The Commuter and Dept. of Disappearance, left longtime fans yearning for Lytle to pull the Grandaddy car back out of the garage and drive it around for a while. A brief stint in the short-lived Admiral Radley project, which also included Grandaddy bandmate Aaron Burtch continued to fuel the hunger for a reunion. After kicking the tires briefly in 2012 and 2013 for a reunion tour, there was hope for a full scale comeback, but that began to fade as time passed. When it was finally announced in 2016, during another reunion tour, that there was indeed a new album in the works; Grandaddy fans the world over rejoiced at the news.
The best Grandaddy songs tend to settle into a laid back groove that fits the yearning and often nostalgic nature of the lyrics perfectly. Throw in some synths and talk about Jed the Humanoid and you pretty much have nailed the classic Grandaddy sound. Will Last Place, the first Grandaddy album since Just Like The Fambly Cat was released in 2006, bear the trademark sounds of classic Grandaddy, or will it sound like something else entirely? I'm here to tell you that Last Place sounds EXACTLY like any fan of the band would want the record to sound. As he did on Fambly Cat, Lytle plays the majority of the instruments on the album himself, and he really locks in the sound. Each instrument fits perfectly into place, fully realizing each note and sonic detail that Lytle must have heard in his head as he was dreaming up these songs.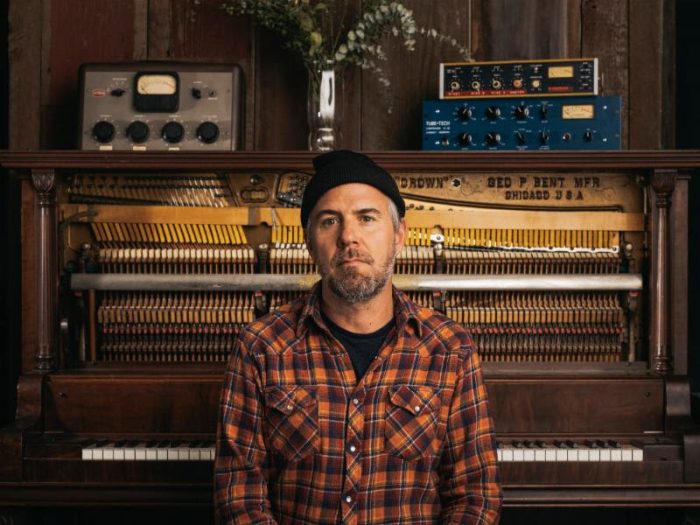 To my ears (which are by no means definitive) Last Place sounds the most like Sumday, the criminally underrated follow-up to the band's breakthrough lp, The Sophtware Slump. Clocking in at roughly 44 minutes, the 12 songs on Last Place are beautifully sequenced and paced. As good as the first half of the album is (and believe me its real good but more on that in a second), I felt myself really getting sucked into the second half of the album, which packs a real emotional punch. Starting with "I Don't Want To Live Here Anymore" the album sinks into a beautiful melancholia that wraps you up like a blanket and doesn't let go of you. The two best songs on the album for me though are "This Is The Part" and "A Lost Machine" both songs are painfully sad and gorgeous but remind you that there is indeed comfort in being sad. The first half of the album opens up with "Why We Won't" which when you hear it, immediately perks up your ears and makes you think "Aha, this is the Grandaddy I was hoping for". "Brush With The Wild" has a great lead guitar line that reappears throughout the song and takes it from your standard run of the mill Grandaddy song and elevates it to the next level. The first half of the record is the Grandaddy record you wanted, but the second half of the record is the Grandaddy you NEEDED. That's what I dig the most about this album, it builds to an emotional climax. It is quite a ride and one worth taking over and over. Welcome back, Grandaddy!
Key Tracks: "This Is The Part" / "A Lost Machine"/ "Why We Won't"
Artists With Similar Fire: Flaming Lips / Pond / Sparklehorse
Grandaddy Website
Grandaddy Facebook
30th Century Records
– Reviewed by Kevin Poindexter
Latest posts by Kevin Poindexter
(see all)