Spoon


Hot Thoughts
Matador Records [2017]


Fire Note Says: Austin's Spoon returns with another strong collection, emphasizing keyboards over a disco beat, and jazzy inclinations.
Album Review: In a world that is constantly changing, and as likely to disappoint as often as it pleases, we'll always be able to count on Spoon, the Austin indie rock band that continues to give up the goods on their 9th studio album since first recording 21 years ago. There's a recognizable shift in sound away from guitars and toward a bolder keyboard presence, that one presumes may be due to the absence of multi-instrumentalist Eric Harvey, whose contributions could be felt over the last decade plus, But the strong song-craft continues to center around Britt Daniel's vocal delivery, Jim Eno's propulsive drumming, and their keen attention to detail, thanks to producer David Fridmann, back again with the band after working with them on They Want My Soul.
The opening title track, "Hot Thoughts" sets the tone with its Steely Dan doing disco vibe, while Daniel ruminates on lust in a song that's musically restrained throughout. "WhisperI'lllistentohearit" follows, bubbling up at the front end with effervescent yearning but shifting into full-tilt rock mode midway through, while the protagonist begs to be let in on the secret, while looking for a "sign of life." "Do I Have to Talk You Into It" continues the bargaining, set to sturdy rock beat with piano and staccato synth string fills cutting across the grain of the Daniel's Jagger-like vocal, angry with attitude.
Spoon is often praised for their minimalist, experimental approach to the pop song format, and that still rings true here, but 9 albums in even the expansive flourishes recall previous efforts. On Hot Thoughts, you can feel the band torn between their inherent comfort with the reliable form, and the need to push out in new directions, epitomized in the pop/disco hook of "First Caress," with it's brief solo of jazz piano that comes cascading down the keyboard for two runs.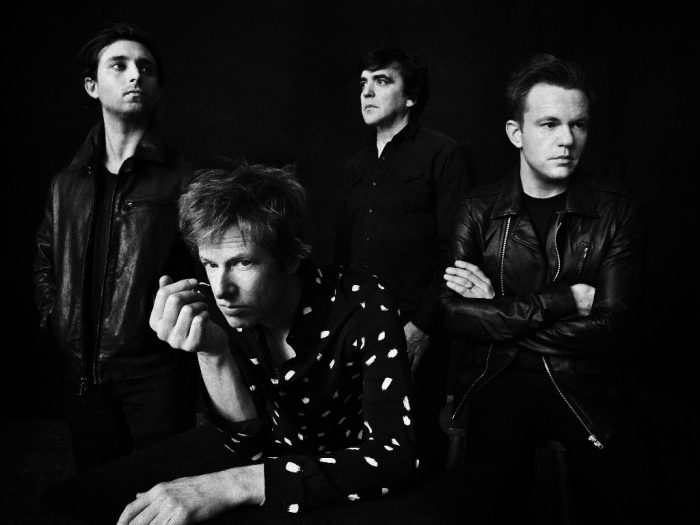 "Pink Up," which starts out as a light jazz instrumental, with a keyboard mimicking the sound of mallets on a vibraphone, before Daniel breathes in with a bit of poetry about escaping from the everyday and taking a train to Marakesh, before the beat picks up and the drums expanding the long dreamy track in a wash of backward vocals in the lengthy coda. This track, set in opposition to the disc's closing jazz instrumental "Us," gives the project that old school side one/side two division, no doubt an awareness of the growing interest in vinyl.
Meaning that, "Can I Sit Next to You," another pop song laid atop a disco framework, feel like a fresh start, albeit a return to that 70's Steely Dan feel we caught early on, minus the tasty jazz influenced guitar solo. "I Ain't the One" is a compelling example of a pensive, near pop ballad striped back to essentials with Daniel singing over a great electric piano sound set to a warm jazz tone, maybe a Fender Rhodes, before the drums break in to pick things up in familiar Spoon fashion. "Tear It Down," is again pretty predictable, but the bolder rock of "Shotgun," where the guitar and bass-line standout primarily because those tones have been less obvious on the previous 8 songs. Like someone who didn't realize they were hungry until the food arrived, I found myself wanting more of this, but then it was time for the spooky, sax driven jazz of "Us," which ended the record.
Like an old friend with a reputation for consistency, Spoon is a band that will always find a warm welcome. However, following They Want My Soul, coming after a nearly four year absence and the less than stellar Transference, the bar of expectation had many of us hoping for more. Nevertheless, Hot Thoughts unique take on keyboard pop and disco from their unique place in the alternative rock universe, is a solid addition to the Spoon catalog.
Key Tracks: "Hot Thoughts" / "Can I Sit Next to You" / "I Ain't The One"
Artists With Similar Fire: Arcade Fire / The Hold Steady / The Pixies
Spoon Website
Spoon Facebook
Matador Records
– Reviewed by Brian Q. Newcomb
Latest posts by Brian Q. Newcomb
(see all)