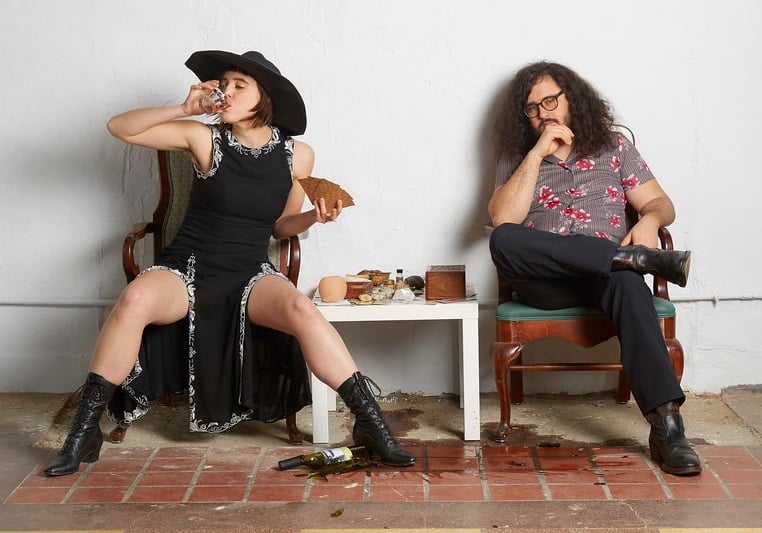 We are super excited to premiere the new track, "Hypochondriac," from the Cincinnati band Lung. Comprised of Kate Wakefield (vocals, electric cello) and Daisy Caplan (drums), this duo will take you by surprise with their fierceness, addictive pulsing undertones and honest indie rock n roll.
The band formed in early 2016 but neither Kate or Daisy should be called rookies. Kate has been writing and performing her music for several years while Daisy was a member of Foxy Shazam. As Lung, they released an EP last summer but now are ready to take the indie world by storm with their debut full length – Bottom Of The Barrel. The record is self-released and officially will be out this Saturday March 18th.
"Hypochondriac" is a great first taste from Lung as it captures their powerful energy and intensity while showcasing both member's talents. The driving rhythm will have your foot tapping while Wakefield's commanding vocals will not let you turn the volume dial down. Her voice definitely pushes the track and has similarities to a Kristin Hersh (Throwing Muses) or PJ Harvey.
Lung will be celebrating the release of Bottom Of The Barrel with a full tour (dates below) and a local album release party this Saturday, March 18th (Details HERE). Also, make sure to play "Hypochondriac" loud, seek the full length out from the band, go see them live if they tour your town and then be sure to share Lung with your friends – you won't be sorry!

Lung Website
Lung Facebook
BOTTOM OF THE BARREL ALBUM TOUR
3/17 Louisville, KY Eiderdown
3/18 Cincinnati, OH Northside Tavern, Album Release Party
3/19 Knoxville, TN Pilot Light
3/20 Chattanooga, TN JJ's Bohemia
3/21 Marietta, GA Swayze's
3/22 Dothan, AL The Plughouse
3/23 Tallahassee, FL Rotton Collective
3/24 St. Petersburg, FL The Bends
3/25 Cape Coral, FL Nice Guys Pizza
3/28 Margate, FL O'Malley's
3/29 Stuart, FL Brewetarian
4/1 Gainesville, FL Civic Media Center
4/2 Jacksonville, FL Shantytown Pub
4/3 Savannah, GA Space Station
4/4 Charleston, SC The Tattoed Moose
4/5 Charlotte, NC The Station
4/6 Greensboro, NC Hellraiser Haus
4/7 Roanoke, VA Leftovers
4/8 Harrisonburg, VA Macrock
4/10 Baltimore, MD Skramden Yards
4/12 Philadelphia, PA LAVA Space
4/13 New York, NY The Footlight
4/14 Springfield, MA Western Mass Recovery Learning Communities Center
4/14 Easthamptom, MA Flywheel
4/15 Holyoke, MA Mount Holyoke College
4/17 Boston, MA O'Briens
4/18 Portland, ME Poland Street
4/19 Salem, MA Koto
4/20 Bangor, ME Central Gallery
4/21 Manchester, NH Shaskeen
4/22 Marlboro, VT Marlboro College
4/23 Albany, NY Pauly's
4/25 Buffalo, NY Dreamland
4/26 Pittsburg, PA Spirit
4/17 Athens, OH The Union
4/28 Columbus, OH The House With No Name
4/29 Dayton, OH Blind Bob's
5/17 Yellow Springs, OH Kaleidoscope (on air)
5/18 Louisville, KY The Green Room
5/19 Evansville, IN PG
5/20 Paducah, KY Festival d'Paducah
5/21 St. Louis, MO TBD
5/22 Columbia, MO Cafe Berlin
5/23 Omaha, NE O'Leavers
5/24 Sioux Falls, SD Total Drag Records
5/25 Fargo, ND The Aquarium
5/26 Grand Forks, ND Ojata Records
5/27 Duluth, MN Blush
5/31 Dubuque, IA The Lift
6/2 DeKalb, IL 7th Street Space
6/3 Chicago, IL Subterranean
6/4 Grand Rapids, MI Mulligan's Pub
6/5 Kalamazoo, MI Shakespeare's Lower Level
6/7 Ann Arbor, MI Far House
6/8 Detroit, MI The Sanctuary
6/9 Toledo, OH Ottawa Tavern
6/10 Morristown, IN MSMFest
After spending the early 90's managing a record store, the mid to late 90's producing alternative video shows and 00's blogging about the music scene Christopher Anthony is always ready to hear new music.
Latest posts by Christopher Anthony (see all)