Sleater-Kinney


Live In Paris
Sub Pop Records [2017]


Fire Note Says: The stage is where Sleater-Kinney shine!
Album Review: Did it really take this long to get a live set from one of the greatest power trios the stage has seen? I guess it did but I will tell you up front that it was worth the wait, especially if you are a big fan. I remember seeing Sleater-Kinney in a club back in 1999. No surprise, but they blew the roof off of the place. Now, fast-forward 16 years and let's see if they can bring that same explosive energy to their Live In Paris release.
Live In Paris features thirteen tracks from a sold-out show which was captured on March 20th, 2015 at La Cigale, supporting the groups excellent eighth album, No Cities To Love. Powerful, fiery, and scorching are three easy words to describe Sleater-Kinney on stage here and yes – they completely match the same fever the group displayed back in 1999 – even though they probalby shouldn't!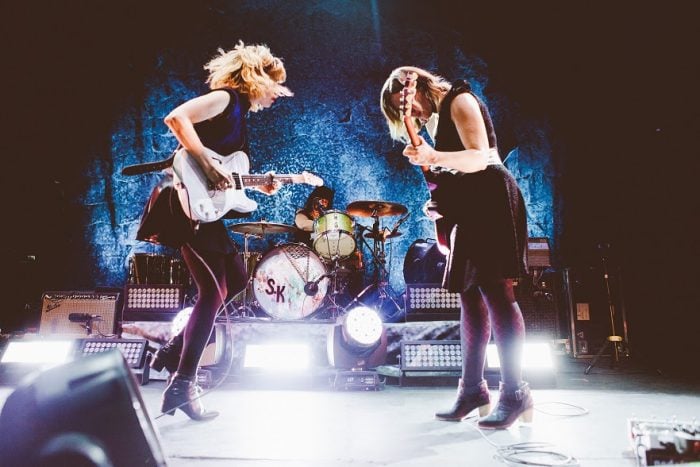 This record gives a fair set list, as it features material from six of their full lengths: No Cities to Love, The Woods, One Beat, The Hot Rock, Dig Me Out, and Call the Doctor. I did find it a little odd that All Hands on the Bad One did not get a least one nod but that is the way it goes. Sonically, you couldn't ask for a better sounding live album. It bursts out of your speakers, the crowd is present but not overpowering and Sleater-Kinney sound note perfect. Not studio perfect but live perfect, like you were at the show. You can hear singer Corin Tucker take a few breaths after her glass shattering vocals rip it apart during "Dig Me Out" while the entire time you are embraced by the bands good nature and pure excitement of being on stage.
Is Live In Paris an essential live record? Probably not, as it seems with today's instant media that the live album has lost some of its glamour but if you are a fan it is a worthy addition to your collection. There are not that many groups that sound this good on stage with very little board tweaking. Sleater-Kinney is in that elite group and Live In Paris not only soars because of it but reaffirms their top tier status!
Key Tracks: "What's Mine Is Yours" / "I Wanna Be Your Joey Ramone" / "Dig Me Out"
Artists With Similar Fire: Ramones / Bikini Kill / The Clash
Sleater-Kinney Website
Sleater-Kinney Facebook
Sub Pop Records
– Reviewed by Thomas Wilde
Latest posts by Thomas Wilde
(see all)