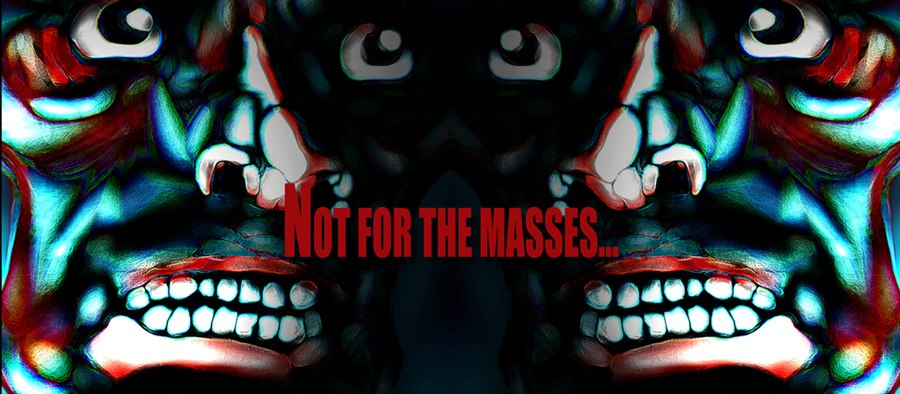 Track hunting was not very fruitful for a November edition, so I decided to take the few tracks I found and go ahead and make a Year End edition. This listing is also a bit of a mirror of some of my favorite albums I heard in 2016. Noise rock, loud/quiet/loud, post punk, post rock, jangle rock all represented in equal measure. So without any further ado here is the 2016 Best of Not for the Masses…a track listing hosted by The Fire Note.
35 Tracks Mined From the Depths of Soundcloud That You Need to Hear

Track 1 –"Annihilation Generation" by Votaries: Trippy psych/drone rock. Ween meets Wand, they do drugs and listen to My Bloody Valentine.
Track 2 – "Royal Cyclopean" by ESP Ohio: Gillard and Pollard together again and of course it is magical.
Track 3 – "Sky Chase" by Sleepies: Top LP for me this year. Sleepies have never released a bad track. Science fact!
Track 4 – "A House on Fire" by TRAAMS: Propulsive and impossibly catchy track from the UK. New LP out next year
Track 5 – "Burn Barrel" by Spray Paint: No Wave post punk rock. Plays like a nightmare soundtrack for a John Carpenter film.
Track 6 – "National Parks" by Big Ups: Sounds like Big Ups heard some Slint and Rodan in between albums. That is a good thing.
Track 7 – "Cemetery Dance Off" by The Astounds: Dean Wells (Capstan Shafts) just has a knack for creating catchy lo-fi power pop.
Track 8 – "Caterpillar" by Honey Radar: Jason Henn's wonderful lo-fi sound is like hearing GBV if they were an Elephant 6 Collective band.
Track 9 – "Future Boy Today/Man of Tomorrow" by Tobin Sprout: New stuff from Toby is just around the corner. GBV fans know what is up. You should too.
Track 10 – "I Can Illustrate" by Robert Pollard: Another year, another Pollard solo album. Consistently good.
Track 11 – "Women and Men With Guns" by Puff Pieces: Twitchy math punk that will remind you of Antelope.
Track 12 – "It Before" by Lost Boy?: Punchy power pop from the new Lost Boy? LP, Goose Wazoo.
Track 13 – "The Limits of Battleships " by Future of the Left: Andrew Falkous (Mclusky) continues to release excellent edgy and heavy stuff at a feverish pace.
Track 14 – "Holding the Void" by So Pitted: Heavy band caught my ear with this track off their rather good debut.
Track 15 – "Something Something Else" by Shark Toys: Fun post punk rock in the vein of Ausmuteants and a touch of Parquet Courts.
Track 16 – "Coffee" by Kal Marks: Moody and a bit dark. Kal Marks almost made me forget that Pile did not release an album this year.
Track 17 – "(I'll Probably) Raise You" by Graham Repulski: The lo-fi noise wizard had a hell of 2016. Miss the very lo-fi version of GBV? Check it out.
Track 18 – "Reclaimed Would" by Running: Buzz saw noise rock from the Windy City.
Track 19 – "No" by Yak: Excellent debut from a UK fuzz rock outfit with mixture of White Stripes and Rolling Stones sexuality.
Track 20 – "Buzz Kill" by Pink Mexico: Avoids the sophomore slump with a decisive and catchy 2nd LP.
Track 21 – "Dig Dug" by Distractor: Devo meets Ween. Fun and goofy stuff.
Track 22 – "S. Yuppie" by Sat. Nite Duets: Another strong LP from them. Listen if you like Pavement/Built to Spill, etc.
Track 23 – "Senior Pictures" by Vomitface: Proved that their 2 excellent EPs were no fluke. Vomitface's debut LP did not disappoint.
Track 24 – "Bad Boys Die in the Bath" by Christian Fitness: 3 excellent heavy noise rock LP's in a row. Andrew Falkous (Mclusky) had quite a great year!
Track 25 – "Close to the Sun" by Cotton Mather: Sounds as if Cotton Mather had never quit putting out albums. Welcome back!
Track 26 – "Painter Man Is Coming" by This Becomes Us: Bassist from Future of the Left with a different vocalist on each track. Black Francis' track is better than anything on Head Carrier.
Track 27 – "Putting Lipstick on a Pig" by Marriage + Cancer: Robert Komets blazes new sonic territory for his band. Sounds like really pissed off Nirvana.
Track 28 – "Disrupt Yr DNA" by Rat Fist: Heavy stuff from members of No Age and Pissed Jeans. Excellent debut EP.
Track 29 – "Oven Degreaser, Lisa" by U.S.A. Nails: UK noise rockers continue their brilliance on this 7"
Track 30 – "Stop Yelling in the Museum" by I.l.Y's: Death Grips side project. Do you need another reason to check this out?
Track 31 – "Music Writers" by Ausmuteants: Synth driven punk from Australia.
Track 32 – " Broken Indian Toy Tambourine" by Mythical Motors: So damn catchy. Try to not sing this song out loud.
Track 33 – " Chicken n Dump" by Mike and the Melvins: Rescued from a shelf, recorded partially in the late 90's, sounds vital today.
Track 34 – "Cold Fear" by Moon Duo: Cool track from the forthcoming Moon Duo album. Got a cool techno-psych vibe going on.
Track 35 – " Mercedes Benz" by The Dean Ween Group: Dean Ween pulls out all the stops on this multi-styled LP. Fans of Ween and Moistboyz need this!
Latest posts by Daniel Taylor
(see all)