The Rolling Stones


Blue & Lonesome
Interscope Records [2016]


Fire Note Says: Rolling Stones release their first studio album in over a decade.
Album Review: It's well known by now that the earliest influences of The Rolling Stones, now in their 6th decade as veteran recording artists and classic rockers, were American blues artists like Howlin' Wolf, Muddy Waters, Jimmy Reed, Little Walter, and the man who's high energy R&B has led many to call him the inventor of rock & roll, Chuck Berry. Their early gigs and most of the material on their earliest albums drew heavily on these artists, who's music had also inspired The Beatles, Eric Clapton, The Animals and a host of other British acts, before Mick Jagger and Keith Richards figured out that they had it within them to write dozens and dozens of the best loved rock songs every recorded.
So it was more or less inevitable that the Stones would get around to recording a blues album, sooner or later. But as the decades rolled by, and the tours continued without needing the pre-text of new material to sell out sports arenas, the likelihood of such a project grew ever so slim. That is until they stumbled on the idea after entering the studio last year to record new material and hit an artistic wall.
If the liner notes are to be believed, Richards suggested they play "Blue & Lonesome," a Little Walter song first recorded in 1959, and recording engineer Krish Sharma turned on the tape, and the version we hear on the new Rolling Stones' album of the same name is that first take. Producer Don Was suggested the record another blues, and in three quick days of recording, they had finished the entire album, 12 tracks captured live in the studio, no overdubs.
The result is as unpretentious as it stunning. Stunning because it's so unexpected and spontaneous, clearly a labor of love, an expression of gratitude for the music that started them down the path to everything they've become since first playing some of these songs in their parents' garages.
But the surprising quality that makes this collection of blues covers from one of rock music's most celebrated bands so very special is it's sense of restraint. There was no attempt to update, sweeten or rock up these blues classics, there's no horn section, no background singers, no jam band excess. Most of the tracks here check in at under 4 minutes, so there's no grandstanding or showboating, which can sideling the best of intentions. Witness Aerosmith's 2004 overwrought attempt to serve up the blues, Honkin' On Bobo.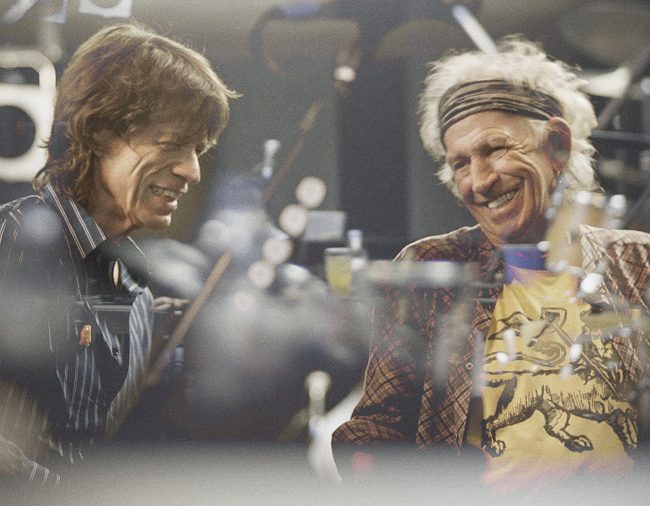 They didn't pick out recognizable blues hits like a "Stormy Monday" or "I Gotta Move," but the kind of durable, blues standards from artists who might not have been the flashiest, most likely to crossover to pop star success, but get to the essential roots of this soulful Delta music that came to maturity in the urban grind of Chicago.
What you get on Blue & Lonesome is the four Rolling Stones – Jagger, Richards, drummer Charlie Watts, and second guitarist Ron Wood – supported by their regular auxiliary players, bassist Darryl Jones, and two keyboardists, Chuck Leavell (Allman Bros. Band) and Matt Clifford, woodshedding on some obviously much beloved songs. The blues can appear deceptively simple, much of the time it's more about getting the right feeling, and here the Stones settle into a deep groove that reveals an authentic, intuitive sense of playing the right thing at the right time.
The big instrumental surprise is Jagger's serious harmonica chops, most noteworthy on the title track, "Just a Fool," "Ride 'Em On Down," and "Little Rain," but heard here and there throughout the disc. Of course Richards and Wood step up with plenty of meat and potatoes blues guitar, playing strong, emotionally satisfying solos, serving the song's purpose without attempting to over staying their welcome. And Watts' plays the kind of rock solid rhythms that make him one of the most respected players anywhere.
As synchronicity would have it, Eric Clapton was recording his latest, I Still Do, in the next studio, and sat in with the Stones' on two songs, playing slide guitar on "Everybody Knows About My Good Thing," and playing lead on "I Can't Quit You Baby." Chuck Leavell plays an outstanding piano solo on "All of Your Love," and here and there throughout the recording you here flashes of instrumental genius.
But the real star of Blue & Lonesome is this great music, which the Stones are eager to share with the next generation, and play with heart and soul but strive not to let their superstar personalities or rock star expectations get in the way. The blues live on, the music remains relevant because it speaks to the hopes and dreams, the losses and loves of everyday people. And here, the Rolling Stones remind us why this music matters, both because, as Muddy Waters once said, "Blues had a baby and they called it rock & roll," and because rarely has any other form of music been so accessible to common folk, or better captured the whole of the human experience in such a soulful or satisfying way.
Key Tracks: "Just Your Fool" / "Everybody Knows About My Good Thing" / "All of Your Love"
Artists With Similar Fire: Eric Clapton / The Who / Buddy Guy
The Rolling Stones Website
The Rolling Stones Facebook
Interscope Records
– Reviewed by Brian Q. Newcomb
Latest posts by Brian Q. Newcomb
(see all)