Metallica


Hardwired…To Self-Destruct
Blackened Recordings [2016]

Fire Note Says: Metallica find their old heavy soul.
Album Review: Metallica is one of those bands that defies genres. It has always been cool to like early Metallica (83-88), always judgment to be found by some if you fall into the camp of liking the "Black" album (1991), and certainly considered over the hill if you even remotely show interest in Load (1996), Reload (1997), St. Anger (2003) and/or Death Magnetic (2008). Sure, some will say Death Magnetic was a return to form but it was missing too many ingredients with the most important one being passion. All of that leads us down the path to 2016 and the release of Hardwired..To Self-Destruct.
From the opening track, "Hardwired," you instantly will hear that missing ingredient. "Hardwired" takes you back to their 80's sound and I will tell you that it kicks. I will admit that I have wanted to hear Metallica get back to some basics for some time now but I also am a realist that nobody can remake a classic. Those first albums are untouchable and I am sure Metallica knows it as well but on their eleventh record the band eases back and decides to have fun with purpose. This yields a first half of an album that is rock solid and feels carefree. The second half sounds more calculated and pushes the record beyond a comfortable one sitting listen. The entire album is a touch over an hour and seventeen minutes with every song but one pushing past five minutes with half of those over six. Too long. Nobody these days has the attention span for a second half that has its moments but unfortunatly are not that memorable except for the pulverizing closer "Spit Out The Bone." This song is everything Metallica has ever been made of. Lightning fire drums, thumping riffs from above, speed and knock you down vocals from James Hatfield. It makes sticking around worth it!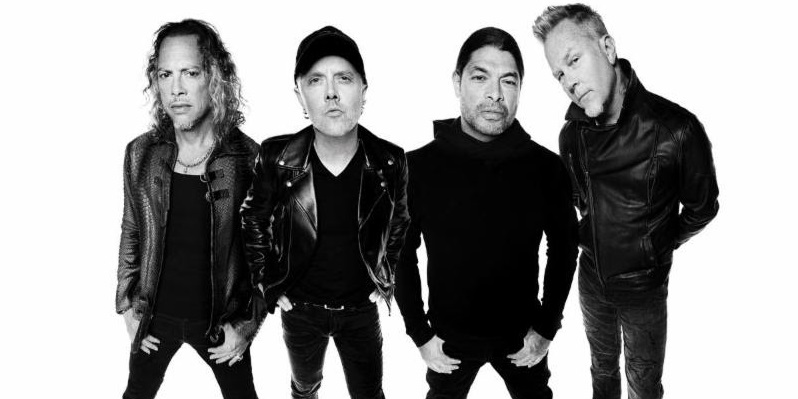 There is plenty to like here and that is nice to say. It would have been easy for Metallica to lay another egg at this stage in the game and nobody would have turned a head. But, they didn't. "Moth Into Flame" has a fist pumping anthem tempo change that you will want to hear again plus when the band slips a melodic moment in there, it is a true winner. "Atlas, Rise!" is another track that will play big in the stadium and on your speakers. The guitar alone takes over and when Hatfield moves his voice completely in synch along with Lars drums singing "Die As You Suffer In Vain / Own All The Grief And The Pain / Die As You Hold Up The Skies / Atlas, Rise!" you instantly get a mullet. In this case, it is a good look because this is a different era of music and its timeless playing works today.
With a little trimming, Hardwired…To Self-Destruct could have been that rare occasion when a veteran band makes a stunning comeback and everyone bows down to its greatness. Hardwired falls short of that praise but it is still a good record and worthy of support. It also will absolutely play spectacularly in the live arena. If you have been a longtime fan, this is a record you should own. If you are too young to remember when Metallica ruled the halls – work your way through the early years and then jump to Hardwired but don't leave it out. Maybe Metallica is onto something here as they just might have more to still offer. Time will tell but as long as they can keep cranking out some tunes that exist on Hardwired, I will keep coming back to the club.
Key Tracks: "Atlas, Rise!" / "Moth Into Flame" / "Spit Out The Bone"
Artists With Similar Fire: Baroness / Black Sabbath / Mastodon
Metallica Website
Metallica Facebook
– Reviewed by Thomas Wilde
Latest posts by Thomas Wilde
(see all)