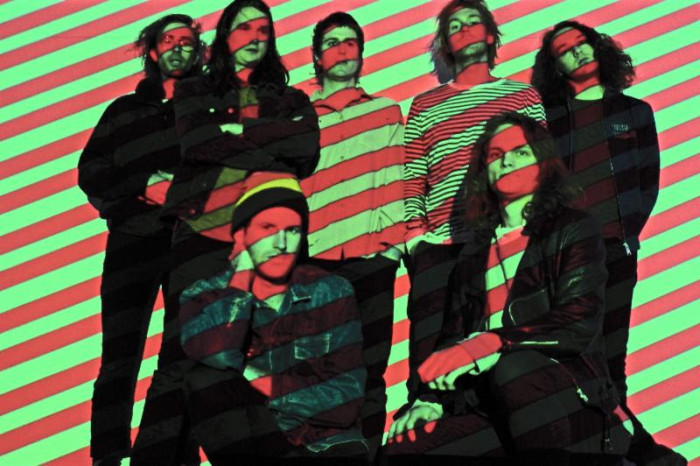 We couldn't be pleased more to hear that one of our favorite Aussie bands, King Gizzard & The Lizard Wizard, are once again returning quickly with a new album titled Flying Microtonal Banana. The band's first LP of 2017 will be released on February 24th via ATO and Flightless. The Melbourne-based group plans to release five studio albums in 2017, with a promise that each release will have its own unique sonic adventure.
Nobody ever said King Gizzard was not unique as Flying Microtonal Banana features microtonal instruments, which means modified electric guitars, basses, keyboards and harmonica as well as a Turkish horn called a Zurna. Yeah its weird and its great!
"Rattlesnake" is your first taste and today's Friday Fire Track. The song is 100% King Gizzard style but you can hear and see their unique approach here spread out over 7 minutes for an experience. Its psychedelia moments roar while "rattle…rattle…rattle" will probably be in your dreams tonight – The King Gizzard is back again!
Make sure if you want the vinyl that you head over to ATO HERE for a limited highlighter variant or if you want a cooler version, hit up their Australian label Flightless HERE (update: sorry Flightless is already sold out!) for the Reptilian Poison Wax Edition that comes in a deluxe reflective gold sleeve, printed on thick 350 GSM reverse board and a milky white poison wax with blue and gold splatter.

King Gizzard & the Lizard Wizard Website
King Gizzard & the Lizard Wizard Facebook
Latest posts by Christopher Anthony
(see all)