St. Paul & The Broken Bones


Sea Of Noise
RECORDS/Sony Music [2016]


Fire Note Says: It's clear that the band is comfortable in their own shoes.
Album Review: The first time you hear the music of St. Paul and the Broken Bones you would be forgiven if you paused to look at your time machine—as I did when I saw them perform "Call Me" on the now defunct Late Show with David Letterman last December—to be sure you're still in 2016 and haven't been transported mystically to Memphis or Detroit in the mid-1960s. And once you've been assured that the time/space continuum remains intact, you might begin to wonder if you've changed the channel to an episode of the Twilight Zone, to explain why the white doughy young man in the white Revivalist preacher's shoes is channeling the spirit of Otis Redding, Al Green, or Sam Cooke.
But in the end, there's no doubting that lead singer Paul Janaway is the real deal, an energetic soul singer/shouter who sounds like he came from a time when Gospel singers were mixing the spiritual ecstasy of the Church with the sensuality of the nightclub, In a falsetto so rich and sweet with emotion as to make one weep. His band, The Broken Bones—Jesse Phillips (bass) Browan Lollar (guitar), Andrew Lee (drums), Al Gamble (organ & keys), Allen Branstetter (trumpet), and newest horn players, Jason Mingledorff (saxophone), and Chad Fisher (trombone)—are a world class R&B outfit able to lock into a groove, and raise the roof with a burst of sound from the horn section.
On the Alabama-based unit's debut, Half The City, Janaway & Co. brought the goods like the young upstarts they were, pulling out the stops at every opportunity, making the case again and again that they deserved a seat at the table. Produced by Ben Tanner of Alabama Shakes, the record was hot, a full-on homage to the musical giants who first laid out this approach to music, a tribute to Stax Records, Motown, and Muscle Shoals. A lot was on the line, and they put it all out there.
Of course, there's an important conversation to be had about white folk co-opting music and forms that were created by black musicians out of the raw elements of their heritage and experience. It's a conversation that is clearly too complex and emotionally visceral to be squeezed into a review like this, but I'll acknowledge that I'm less troubled by artists who pay tribute to the creative source that their music seeks to honor in homage. For instance, I'm cool with the Beatles' doing Chuck Berry covers, and down with Clapton covering Robert Johnson, but when Pat Boone covered Little Richard, well, not so much. When Beastie Boys offered their own take on hip-hop I went along for the ride, but when Vanilla Ice dipped it I knew instinctively that was a bridge too far. Nothing about St. Paul and the Broken Bones feels like that.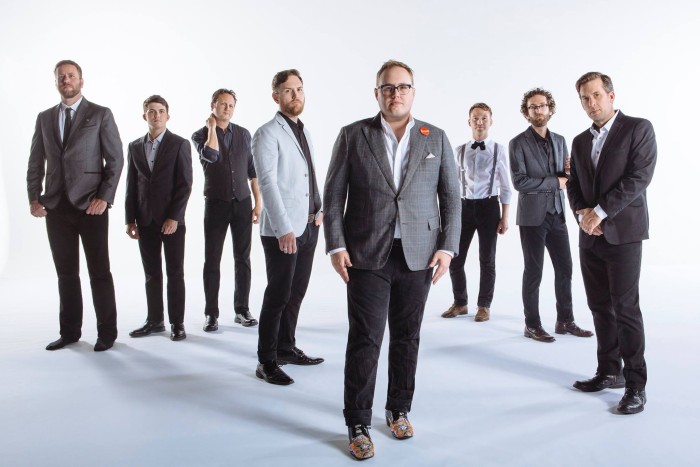 With Sea of Noise, it's clear this is a band that's a lot more comfortable in their own shoes. We still get Janaway's high shimmering falsetto, but as the simmering bluesy "Sanctify" increases in intensity you can feel him holding back, letting just enough of a squeal cut through here and there to make his point, letting the full swath of the horn section build up to the point of contact. The compositions show greater depth, offer more room for nuance, letting things develop organically, not always on a zero to 60 in ten seconds timeline.
In addition to solid horn charts throughout, on this album they've made room for orchestrated strings, which adds to the emotional strength of the best song here, "I'll Be Your Woman." It's a lovely reflection on what it means to be strong or weak, masculine or feminine, not unlike Prince's "If I Was Your Girlfriend," as others have pointed out. Produced by Paul Butler, the recording still has all the potency of their high-energy debut, but now they've added a few extra gears to the shifter, adding the ability to build tension as the songs develop, as one track makes way for the next.
In "All I Ever Wonder" the band percolates as Janaway cries out the grief that we are so divided as a nation, "We ain't ever gonna sing one song." Here and occasionally elsewhere, like in "Burning Rome," they suggest some political awareness but keep it personal, asking where the "love goes"? Mostly these are songs of longing, requited in the powerful musical expression if not in reality.
The title of the album comes from Janaway's variation on a quote from Winston Churchill, in a lush musical motif that is interjected several times in the album a choir sings "We're just crumbling light posts/in a sea of noise," serving the role of a lighthouse for ships at sea in a storm. And that's what the album is about, finally, making it through, redemption or salvation or whatever you want to call it, love at last, with a pure old school R&B soundtrack that's solid gold.
Key Tracks: "I'll Be Your Woman" / "Flow With It (You Got Me Feeling Like)" / "Sanctify"
Artists With Similar Fire: Otis Redding / Al Green / Alabama Shakes

St. Paul & The Broken Bones Website
St. Paul & The Broken Bones Facebook
RECORDS
– Reviewed by Brian Q. Newcomb
Latest posts by Brian Q. Newcomb
(see all)