Probably the best thing about music festivals, aside from gathering some bands you want to see into one place for a long day of music, or three days if you have the stamina and interest, is the times you stumble onto good bands you've not encountered previously. As I was new to the MidPoint Fest, I arrived an hour early for Bob Mould, the artist I was most excited to see after at least a decade of not catching him live, so I heard a couple bands I had not heard before.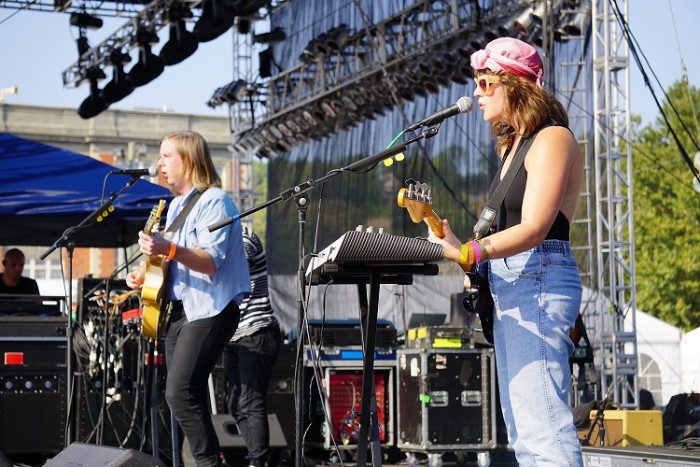 Playing on the YMCA stage is I was finding my way around the site was Multimagic, a local Cincinnati band that played strong alt/pop originals with a strong emphasis on keyboards and guitars, and a keen bed of vocals. They were followed on the stage next door by The Budos Band from Staten Island, NY, an instrumental group where the weight of the compositions fell on the Hammond organ and two horn players on trumpet and baritone sax, while the rest of the band laid down strong punchy rhythms. I admit, I enjoyed the novelty of hearing an unusual approach, the blending of Santana-like Afro-rhythms with the jazzier inclination of the horns in a straight up rock band, until they over-shot their 30 min. time slot by 8 minutes on the side-by-side stages.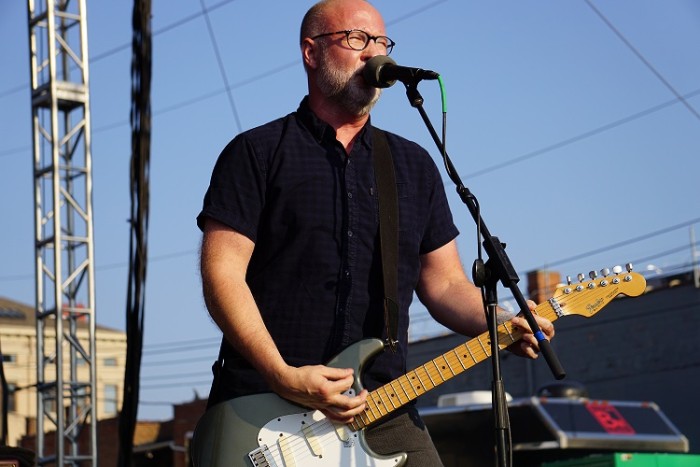 Bob Mould, whose long and celebrated solo career came after the Minneapolis band Husker Du, a groundbreaking hardcore punk trio in the 80's, and a stint in the 90s with alternative power-pop band Sugar, appeared eager to get started and paced the stage for much of the 8 minutes he was delayed by The Budos Band. As the New Yorkers finished up, the two bands exchanged obscene gestures and Mould dove into the first song, exhibiting his now notorious buzz-saw guitar sound as he crunched out the fast paced rhythm of "Flip Your Wig," a Husker Du classic.
At 57, you might expect Mould to take things a little slower, perhaps a bit softer (he has done solo acoustic albums in the past), but on this day, staring into the hot sun of the last gasps of summer, Mould was eager to play his loud, aggressive rock with noticeable pop song hooks and memorable lyrics to a crowd of obviously appreciative fans. I dug out another from the Du, "I Apologize," played one from Sugar, "A Good Idea," and then dove into his solo material, all of one musical piece, perfect for a power trio operating at full intensity.
Early on, Mould paced the stage, interacting with his bassist and drummer, jumping up and down as if to exhibit his youthful spirit, even making a Pete Townshend windmill, albeit while facing away from the crowd. On "The Descent" he played a bit more of a solo, but many of the fifteen songs in his set were delivered in solid compact surges, conscious of his limited time on stage, one song leading into another. The strong pop edge of "Hold On" gave his fans a chance to sing along, not that anyone could have heard them, which he followed with the Sugar song, "If I Can't Change Your Mind." Other favorites included "Hey Mr. Grey," "Hoover Dam" (Sugar), "Tomorrow Morning" and "Something I Learned Today." Since the previous band took a chunk of time at the front end of his set, he stretched his time slot to include a few more songs, including Husker Du's cover of "Love Is All Around," the theme song for the Mary Tyler Moore Show which was to have taken place in Minneapolis. It's a song he covered previously with Husker Du, but in this setting he tacked on a reference to WKRP in Cincinnati another TV show from the same era, before closing his set with "Makes No Sense at All." Still rough and rugged, sweet and sappy, Bob Mould remains constant, a solid performer and a great songwriter.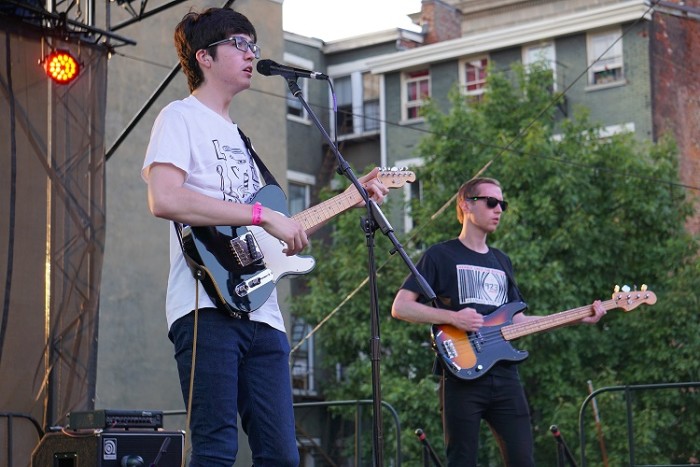 Next I wondered over to the side stage to catch Car Seat Headrest, a youthful band with a much-praised album this year in Teens of Denial. Led by 20-something singer/songwriter Will Toledo, CSH fits their album title, looking every bit like high schoolers fresh from playing in their parent's basements. Toledo's voice still cracks, and on slower quieter songs like "Cute Thing" mid-set, their band was overwhelmed by sound leaking off the main-stages.
But the song's are smart and catchy, like the set opener "Fill In the Blank," with the line "you don't have the right to be depressed," which gets thrown at most adolescents at some point. "Unforgiving Girl (She's Not An)," "1937 State Park" and the set closing "Cosmic Hero," which earned points for adding a bit of Velvet Underground's "Sweet Jane" to the mix, revealed the band potential. As for the band's deficiencies, the timid rock camp stiffness, terrible harmonies and weak two note hammer-on guitar solos… well, they're young and they've got time to get better, they already have some really good songs.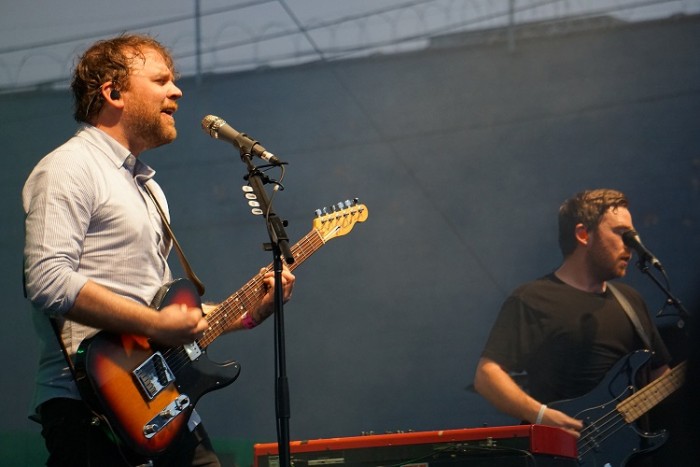 As I wondered across the black top to the rocking portopotty and back, I was pleasantly serenaded by Frightened Rabbit, a complete unknown to me. Turns out they are a British band led by Scott Hutchison, and struck by their catchy, anthemic rockers, I stopped to catch the last four or five songs of their set. Strong vocals and sing-along "oh-oh-oh" choruses in the vein of Sting or U2 connected as the audience sang along, and the band rocked with an impressive authority. I came away thinking I wanted to hear more from these guys.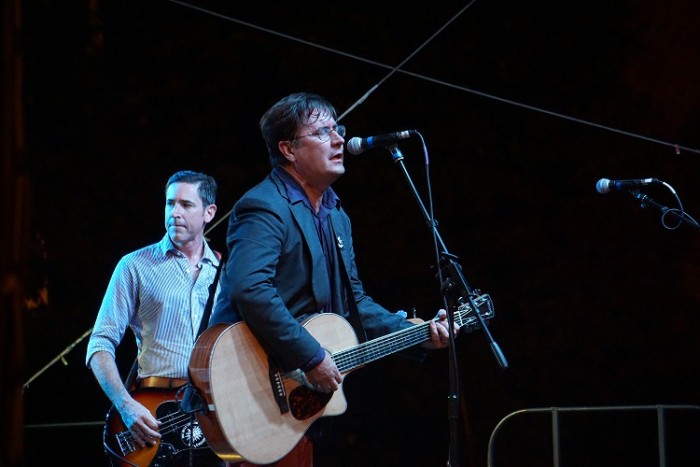 Back on the side stage for the last show of my long evening was the fun, strange and delightful folk rock music of The Mountain Goats, led by singer/songwriter John Darnielle, backed by his solid rhythm section and a talented multi-instrumentalist who played electric guitar, keys and sax. Giving the challenges of stage bleed that plagued Car Seat Headrest, I anticipated similar issues for The Mountain Goats, but Darnielle's acoustic guitar and voice cut through any noise clutter and the band's augmentation filled the pace with little distraction.
They opened with the comical "Game Shows Touch Our Lives," and followed with "Supergenesis." I admit, I'm a sucker for clever, literate songwriting, the kind of thing that earns Darnielle comparisons to Flannery O'Conner, whose songs touch on themes of human life and loss, biblical in scope, and quirky, say like "Damn These Vampires," "Psalm 40:2," and "Foreign Object," as in "I want to stab you in the eye with a…"
Musically the band excels, catchy hooks in the choruses perk up the darker story lines in the verses, and Darnielle earned extra points for his fun, parody of the rock moves that have become standard fare, the hair flip, running in place, po-going, although as the set wore on and the audience grew more responsive, singing along, at times he got less ironic as he enthused "I do love this city."
As the set closed he played some of his more familiar and beloved songs, "Lion's Teeth," "Up the Wolves," his ode to divorce "No Children," his commitment to survival in "This Year," and set closing "Spent Gladiator 2," sung without his guitar like a Ramada Inn crooner, and the warm love his fans returned was tangible.
It was a good day, at a strong festival, I left wishing I could get back for the promising acts set to appear on the last day.
– feature by Brian Q. Newcomb
Latest posts by Brian Q. Newcomb
(see all)