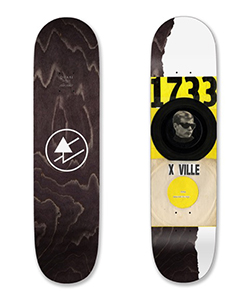 I know – this spot is supposed to be reserved for vinyl but this item is too interesting not to highlight for Robert Pollard collectors. Dayton Ohio's Quasi Skateboards have united with another hometown hero in Guided By Voices for an extremely limited edition skateboard!
The skateboard will feature the collage art of GBV's Robert Pollard based on his X-Ville: Catalogue #1733 collage, featured in Volume 11 of Pollard's art journal EAT. The deck will be available in 200 stores worldwide and through mail-order for just 3 weeks (deadline is September 7.)
The release date is October 31st and you can snag one for $55 over at Rockathon HERE. If you want one – you might grab one now because even if you don't ride, it will look awfully cool on the wall! Plus this deck will not be remade.
Latest posts by Fire Note Staff
(see all)