Biffy Clyro


Ellipsis
Warner Bros. Records [2016]


Fire Note Says: After a decade of steady growth, Biffy Clyro hit a creative wall.
Album Review: Now just to get this out of the way – there's nothing wrong with Biffy Clyro's latest effort, Ellipsis. And for the record I count myself as an enormous fan of the Scottish trio. In fact, their double album, Opposites, was my Album Of The Year for 2013. No, there's nothing wrong with this one, it's just that after six albums of uninterrupted and truly staggering progress Ellipsis feels like a retreat. Perhaps it's a consequence of being festival headliners in the UK that some of these new songs sound like they were created specifically for those big stages. But Biffy Clyro is not and should not be Foo Fighters although, at times, it would appear that the lads are confused on that point. There has always been a macho, pint-at-the-pub quality to Biffy's music but now that seems to be matched by some of the lyrics coming from front man Simon Neil's mouth.
Leading up to this record's release Neil and the rhythm section of (brothers) James and Ben Johnston indicated that artists like Kanye West and A$AP Rocky helped define their "new" sound. Also part of this shake up was choice of Rich Costey as producer. His work on projects as diverse as Muse, Fiona Apple and Death Cab For Cutie surely was a sign that the Biff were going for a more modern sound this time around. But the funny thing is – it doesn't really play out that way. Opener "Wolves Of Winter" is an ode to proving the doubters wrong. "We have achieved so much more than you possibly thought we could" is the line that sums things up. The little band that could is now headlining at Leeds and Reading. But instead of stadium-sized, soaring choruses we are left with bottom-feeding curse words and straight-line song writing that comes off as forced and obligatory. On one of the album's better tracks we get: "What you don't know is none of your concern/You only fuck computers" and then later: "Well there's your shitty future, you motherfucker." "Animal Style" treats us to: "All I really know is that it won't take long/I'll eat you alive, I'm just a fucking animal." And so on. After a while it becomes a bit much.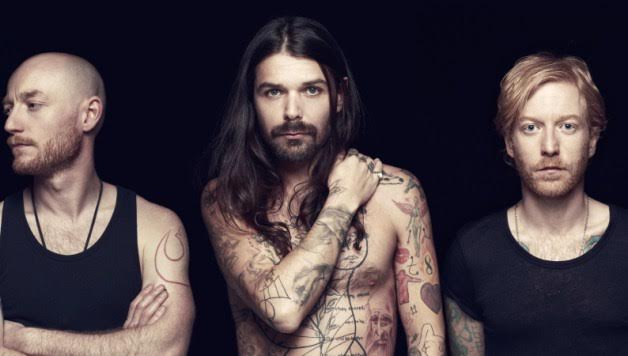 The wolf imagery continues on "Howl" but without the gratuitous swearing it works way better. Let's face it, wordsmiths they ain't and have never been but some of this is painful. "Cause lately it's hard to let you know that I'll never learn/I am explosive and volatile, I'm on the turn/So I'm gonna howl like an animal." The songs that stick most are the ones least likely to make their live set list. "Re-Arrange" boasts the prettiest melody on the album while acoustic closer "People" brings to mind the quieter moments of 2007's excellent break through record Puzzle. And then there's the head-scratcher that is "Small Wishes." It's a country-rock song that should never have found space on this album. A B-Side, maybe but it is so out of place that is really jars the senses. Oddly enough, my two favorite songs are only to be found on the deluxe edition. "Don't, Won't, Can't" has a cool West Indian vibe to it. The horribly-named "In The Name Of The Wee Men" has actual teeth to the guitar attack – something missing throughout the Ellipsis track list proper. I blame Costey for omitting these two songs. The album would have been far stronger had they found their way into the sequence.
So Ellipsis fails on many levels but being Biffy Clyro it's still worthwhile. Nobody does this kind of guitar rock better. After the sheer brilliance of their last three albums it's only natural that the band retrenches a bit and try to get back to basics. And therein lies the problem: Biffy Clyro was never a basic garage band. The canvas upon which they paint has always felt big and strange. I'm sure some of these songs will sound much better in a live setting and surrounded by tunes like "Many Of Horror" and "Mountains" and "Black Chandelier" and "Biblical" they might shine through but more likely they'll just pale in comparison. Success in the States has been as elusive as it has been effusive in much of Europe and this record won't change that calculus much – if at all. I'll still be a fan boy but I'd be lying if I said my feelings weren't a little hurt by this flawed effort.
Key Tracks: "Wolves Of Winter" / "On A Bang" / "Howl"
Artists With Similar Fire: Oceansize / Foo Fighters / Muse

Biffy Clyro Website
Biffy Clyro Facebook
Warner Bros. Records
-Reviewed by Scot Lade
Latest posts by Scot Lade
(see all)