Colvin & Earle


Colvin & Earle
Fantasy Records [2016]


Fire Note Says: Colvin & Earle share a personal feeling in music here that is ultimately universal.
Album Review: As a junior musicologist (every music critic thinks they know everything, and don't believe them when they tell you otherwise), I have a few pet theories about music. The first is that deep down at the root of every genre of music there's an ugly secret, and that secret is a polka. I've given this a lot of thought at hundreds of concerts and music festivals of every kind, but listen to Los Lobos get back to their acoustic Mexican roots and you'll hear a polka, witness the accordion. Same is true of old school punk, those mosh pits begin to feel just like those German beer barrel dance floors when the rhythm settles down to a slower groove. Once you start recognizing it, sooner or later you'll hear it everywhere: bluegrass, jam bands, folk music of all kinds, country music, African American slave chants and spirituals, even orchestral classical music has it's share. The ONE exception that proves the rule: modern jazz… it's still there in the New Orleans second line and traditional jazz, but modern/avant garde jazz doesn't have a rhythm you can count on, and therefore no polka. Oh, and heavy metal, two words: Spinal Tap.
More importantly, my second theory is that, come what may, every decent song that exists can be deconstructed down to its most basic elements and delivered on by a solo acoustic guitar or piano and voice. From Radiohead's most technologically advanced works to the lush, orchestrated arrangement of classical genius, every genre and musical text of value can be brought down to it's most elemental roots and be shared with a simple melodic core.
Witness when bands like The Cure, or Nirvana, or Eric Clapton brought their most dense, electronically recorded works down to an acoustic performance for MTV Unplugged, or when Wilco takes a big chunk of barely musical noise like "Via Chicago" down to the barest of acoustic essentials for their Tiny Desk Concert for NPR. Another case in point: U2's guitarist The Edge played previously dense, high-tech production of songs "Ordinary Love" and "Walk On," and deconstructed them down to acoustic guitar and added a vocal choir to be performed in the Vatican's Sistine Chapel. No amplifier, no digital delay or other guitar pedals, just a voice and simple chords on a guitar, with melody on full display.
For the longest time, folk and country singer/songwriters have this rich, full understanding at the heart of all great music, by gathering together and singing to and with each other. Whether gathered around campfires, informal living rooms or established music writer's "In the Round" showcases at famous clubs like Nashville's Bluebird Café, which lays claim to bringing artists like Garth Brooks and Taylor Swift to the attention of the music world, when very young and just starting out.
On their first recording together, established artists Steve Earle and Shawn Colvin capture the intimacy, creative energy and collaborative spirit that springs up organically when songwriters come together to sing their latest songs to and ultimately with each other. While well known in folk singer, alternative country and Americana circles, and aware of and fans of each other for over 30 years, it took a phone call from Colvin, fresh from touring with Mary Chapin Carpenter, to put together the tour that would ultimately lead to this recording.
Of course, both of these artists have had long, storied careers. Colvin had already won a Grammy for "Best Contemporary Folk Album" ("Steady On," 1991), before she became a major pop sensation with the song "Sunny Came Home," winning the Grammys for both Song and Record of the Year. Earle has had his songs recorded by Johnny Cash, Travis Tritt, Vince Gill, Patty Loveless and Emmylou Harris, and Colvin even covered "Someday" all the way back in 1994. He went on to record in a variety of genres – bluegrass with Del McCoury, folk, country rock and alt country, including an entire album of Townes Van Zandt covers, his mentor—winning three Grammy's of is own in the process. Earle had a celebrated role on the HBO New Orleans drama, "Treme," playing street musician and songwriting mentor Harley Wyatt, whose song "This City" came to represent the series' sense of grief and loss as well as its oft-missed promise.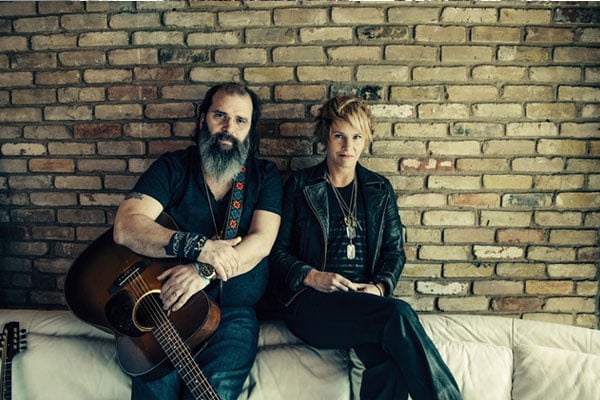 Of course, it only adds to the obvious chemistry between Colvin and Earle that they've chosen to record with Buddy Miller, best known for his role as guitarist in Emmylou Harris' band Spyboy, who also toured with both Colvin and Earle as well as Robert Plant and Alison Krauss, and produced a Grammy winning album for Patty Griffin, and came on board for the TV series "Nashville," after T Bone Burnett resigned. Here Miller does what he's always done best, captures the energy and spontaneous beauty of this somewhat magical collaboration while staying out of the way of the songs, even as he supports and nurtures the best out of them along with a small band of world-class studio players: guitarist Richard Bennett, bassist Chris Wood, and drummer Fred Elteringham.
So while Colvin & Earle is a lush, beautifully recorded album, what makes this recording of 13 songs special is the spark of energy and harmony as Earle and Colvin sit, acoustic guitars and the occasional mandolin at the ready, and sing to and with each other. Along with rerecording Earle's "Someday," with both singing the lead role in harmony, the duo chose four other smart covers. Emmylou's "Raise the Dead," which recalls music icons Hank Williams, Sam Cooke, Bill Monroe and Robert Johnson, seems an almost obvious, if not inevitable choice, while the choice of Rolling Stone's classic "Ruby Tuesday," with smart cello accompaniment, feels like an act of pure genius. Although the "woo-woo" echoes are a sure giveaway on the 60's contribution for Ian & Sylvia, "You Were On My Mind" has the kind of bluesy verses you could find in the writing of either Earle or Colvin, as well as the bluesy take on "Tobacco Road" (The Nashville Teens). (The deluxe edition includes the fine sing-songy Beatles cover, "Baby's In Black," again a no-brainer for these two.)
But as smart as these cover choices feel, the real treat here are the originals prepared just for this occasion. "Come That Way," the disc's opener is the first song they wrote together," captures the energy that brought this duo together. Earle is reported saying that these songs are not best thought of as duets, but rather "as just two people singing to each other." There's no lead singer, with the other voice offering a backing track, but rather two strong lead vocalists side by side in harmony, think Everly Brothers.
Similarly, with "Tell Moses," they've taken iconic gospel song imagery of the Israelites crossing the Jordan River, with "milk and honey on the other side," to create a new song that feels like a classic tune, generations old. And, with "You're Right (I'm Wrong)" is a long overdue apology from a lost love which feels familiar because they should know better by now, while the tender grieving ballad "You're Still Gone" could be about one who has died, or one that got away, ringing with the raw emotion of longing that never seems to fade.
As they have in their own works, Colvin & Earle manage to do here what great songwriters have always done, share a personal feeling in music and language that is ultimately universal. It's just folk music, for everyday folk… but I'm sure there's a polka in there somewhere.
Key Tracks: "Come What May" / "Tell Moses" / "You're Right (I'm Wrong)"
Artists With Similar Fire: Emmylou Harris / Buddy & Julie Miller / Indigo Girls
Shawn Colvin Website
Steve Earle Website
Fantasy Records
– Reviewed by Brian Q. Newcomb
Latest posts by Brian Q. Newcomb
(see all)