Bob Dylan


Fallen Angels
Columbia [2016]


Fire Note Says: Dylan returns with another set of standards.
Album Review: When Bob Dylan dropped Shadows In The Night in 2015, it was a confusing move to a lot of casual fans—what is the guy who wrote "Like A Rolling Stone" doing covering Frank Sinatra? But as I mentioned in my review of that album, if you've been paying attention to Dylan's output for the last two decades, the move isn't as puzzling as it appears. These are the songs Dylan grew up hearing in rural Minnesota in the 1940s and 50s, along with the country, rock 'n' roll, and big band jazz that was popular at the time. And when Dylan goes back to his youth, he's like a kid in a candy store.
Comparing Fallen Angels to its predecessor, it's immediately apparent that some thought went into the song selection and sequencing for both albums. While Shadows is a moody, late-night film-noir soundtrack, Fallen Angels is more like the sunny, romantic accompaniment to 8-mm home movies of your grandparents at the beach in the 50s: it's warm, nostalgic, and generally more upbeat in tone than Shadows, which makes work nicely as that album's thematic foil. Tracks like "Polka Dots and Moonbeams," "Skylark," and "That Old Black Magic" are the best examples of the album's more lighthearted demeanor, but even the moodier tracks like "All The Way" or "Melancholy Mood" seem to fit the album's overall tone better than those same tracks would have on Shadows.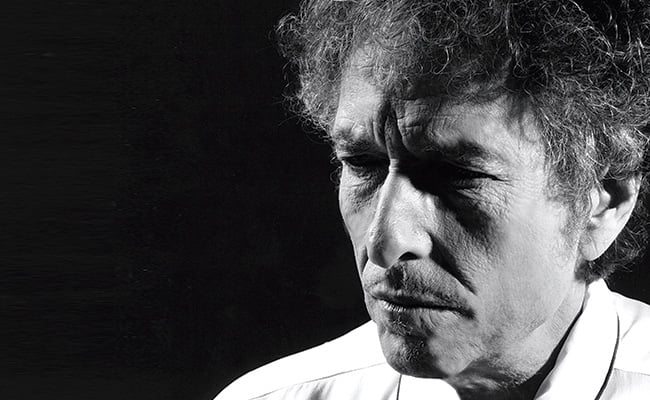 The great thing about both of these albums, though, is the way Dylan and his band reimagine these songs and make them feel like natural bedfellows with the music Dylan has been writing himself on his last few albums. Bob's voice is still sounding great (as it should—these tracks were mainly recorded during the same sessions that resulted in Shadows In The Night), and his band's arrangements suggest that they've lived with these songs for quite a while—there are no hesitant or tentative-sounding takes, just subdued, sympathetic interpretations that sound like they've been honed over time. While all of Dylan's band-members' playing is strong, the true star of the show on Fallen Angels is Donnie Herron, whose viola and (especially) pedal-steel playing add atmosphere and texture to the songs that make them a perfect fit for Dylan's weathered but strong vocals. Opener "Young At Heart" is one of the best examples, with Herron's guitar providing a perfect hazy counterpoint to the rest of the band's snappy arrangement and Dylan's impressive singing.
If Shadows In The Night was a solid but seemingly out-of-place entry into Dylan's catalog, Fallen Angels is the companion that completes the picture and brings it into focus. To keep it to Dylan's own catalog, it's the Highway 61 Revisited to Shadows' Bringing It All Back Home, the Desire to Blood On The Tracks, or—perhaps most appropriately—the World Gone Wrong to Good As I Been To You. That said, it also works well on its own merits, maybe better than Shadows, and for that reason alone it's another worthy entry in what seems to be Bob Dylan's quest to record at least one album in every genre of American music. I, for one, am looking forward to seeing where that quest takes him next.
Key Tracks: "Young At Heart" / "Polka Dots And Moonbeams" / "Nevertheless"
Artists With Similar Fire: Frank Sinatra / Harry Nilsson / Leonard Cohen
Bob Dylan Website
Bob Dylan Facebook
Columbia Records
-Reviewed by Simon Workman
Latest posts by Simon Workman
(see all)