Big Big Train


Folklore
Giant Electric Pea [2016]


Fire Note Says: English Prog band finally deliver on their considerable potential.
Album Review: Formed in 1991 in Bournemouth, England, Big Big Train have been flirting with greatness for a while now. 2009's excellent The Underfall Yard saw the band recruit a new singer (David Longdon, whose voice is a sublime mixture of Peter Gabriel and Phil Collins), a new drummer (ex-Genesis and Spock's Beard stickman Nick D'Virgilio), and the one and only Dave Gregory from XTC (who has been included in Rolling Stone magazine's 100 Greatest Guitarist list). Along with founding members Greg Spawton on bass and Andy Poole on keyboards this had all the makings of one helluva group. Their previous high water mark came in 2012 with English Electric, Part One and although the follow-up was quickly released the next year, it represented a step backward for them. As a result, my expectations were not particularly high for this new album. So they did what they do best – recruit new players. Violinist Rachel Hall is now a full-fledged member and is joined by multi-instrumentalist Rikard Sjoblom from the Swedish band Beardfish (whose latest album, +4626- Comfortzone, was highly regarded by many, including us here at The Fire Note.) Now an eight-piece, Big Big Train's ambitions were equally large and on album number nine they have done what many thought impossible: write and record a true masterwork of modern progressive rock.
The album begins with the Longdon-penned title track and we are greeted by mournful strings and, then, majestic horns enter just before the band kicks in and Longdon sings "let us begin where it all began." Two things are made clear straight off – one) there will be no shortage of orchestral arrangements here and two) Big Big Train are ardent storytellers. Throughout the song, and indeed the album as a whole, each member takes turns stepping up, rarely stepping over each other in what could have been, in a lesser band's hands, a battle for sonic space. Every player seems to know precisely what each song needs and provides it. This opening track is really strong and shows both the pastoral and rocking sides of the group. It feels like mid-seventies Genesis had a baby with Jethro Tull and being that those are two of my favorites I obviously love it. The next song, "London Plane", starts out with a lovely acoustic guitar and flute melody. It's slow and melodic and at the exact moment you start thinking it a bit boring they break off into a faster tempo and strange time signature. It's but one of many surprising highlights scattered throughout.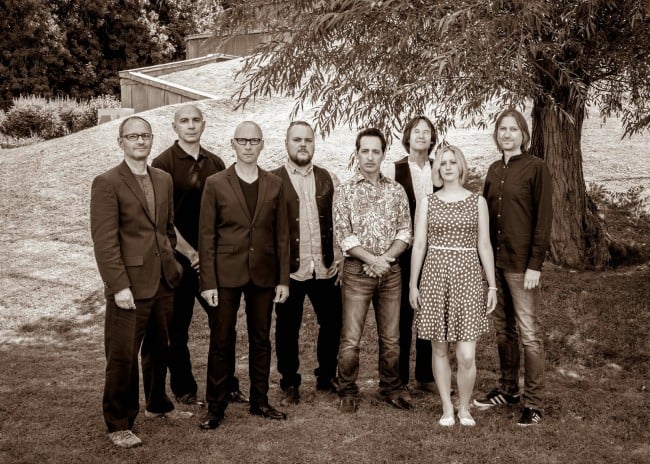 Another stand out is "Wassail", a song released last year as part of a four song EP. The love of the English countryside so evident in the lyrics is mirrored perfectly by the instrumentation of mandolin, flute and violin. Special mention should go to D'Virgilio's drumming which really propels these songs. His technical ability is on full display but his solid back beats prove him to be one of Rock's best. Their willingness to spin fantastical yarns is best exemplified on the multi-part suite "Winkie" which tells the tale of an RAF plane going down during WWII and how a pigeon named, yeah you guessed it, Winkie saves the day by flying back to English shores to alert the sea rescue team of the crew's dire situation and, of course, their coordinates. Smart bird. The album ends on a beautiful, domestic note. "Telling The Bees" is the closest thing here to a traditional song. It unfolds like a 70's folk song or maybe Van Morrison The Band at their peak. But Dave Gregory's tasty guitar leads transport and elevate it. Apparently in Britain there is some kind of legend about talking to those nasty insects whenever something big happens in your life. (Listen for the "Flight Of The Bumblebee" reference near the end. Very cool.) And this album feels big. It's a fitting send off and not too far removed from the kind of tune Andy Partridge wrote during XTC's latter period.
With each listen I gain a new appreciation for this band. Their last few records were all damned good but this one here is above and beyond anything they've ever done. It's sequenced perfectly, flowing with ease while never tempting you turn skip a track. If you're not into Prog or have written it off as dinosaur music from an era long gone then do yourself a huge favor and check this one out. Much like Wilco crossed over with Yankee Hotel Foxtrot, endearing them to people who did not like Indie or Alt-country, so too does Folklore have that universal charm that anyone can get something out of. Not many records have that. This one most certainly does. Highly recommended.
Key Tracks: "Telling The Bees" / "Winkie" / "Wassail"
Artists With Similar Fire: Jethro Tull / Genesis / XTC
Big Big Train Website
Big Big Train Facebook
Giant Electric Pea
-Reviewed by Scot Lade
Latest posts by Scot Lade
(see all)