Guns N' Roses (w/ Tyler Bryant & the Shakedown): Paul Brown Stadium, Cincinnati, Ohio – July 6, 2016
Here in 2016, it's hard to gauge the significance of bands that were hugely popular in the 1980s after all the time that has passed. Few would argue against the dominance of L.A. band Guns N' Roses in their heyday, after the release of Appetite for Destruction in 1987 and the two volumes of Use Your Illusion 1 & 2 in 1991, just as grunge bands from Seattle like Nirvana, Pearl Jam, and Soundgarden were sucking all the oxygen out of the hard rock side of the equation.
Certainly, the main selling point for this "Not In This Lifetime" tour right now, is the reunion of longtime vocalist Axl Rose with original members Slash (guitar) and Duff McKagan (bass, backing vocals), which overlooked the obvious absence of other's from the band's early heyday, Izzy Stradlin (guitar) and until tonight, Steven Adler (drums). While there's been no real discussion what broke up Rose with the rest of the band in the mid-90s, forcing him to recreate the sound of GN'R around himself while the rest of the band (at the beginning at least), went on to form Velvet Revolver with Stone Temple Pilots vocalist Scott Weiland, it seems like business as usual that they've come back together with little explanation, except the obvious paycheck that was waved in their faces by Live Nation.
But we are talking about a band that could not even let bygones be bygones and come together when the original members were inducted into the Rock & Roll Hall of Fame in 2012. You have to wonder if bands that have reached the point where they're prepared to cash-in for the big bucks reunion tour, envy the fact that the Eagles got to "Hell Freezes Over" first – perfect tour name for a band that has had an ugly public break-up and now wants to come back together. It's so much cooler than "Not In This Lifetime," don't you think?
And of course, all this is complicated by the fact that Rose has never stopped touring under the GN'R moniker, supported over the years by continuing members Dizzy Reed (keyboards), Richard Fortus (guitar) and Frank Ferrer (drums) as well as some noteworthy folk passing through in the middle years, including Gilby Clarke, Tommy Stinson (Replacements), and Buckethead.
So, this grand reunion between Axl and Slash, essentially, started out with a headlining slot at Coachella, followed by a stadium tour that has sold out about half of its stadium venues, but at the show in Cincinnati and reportedly the second show in Chicago, they failed to fill the top half of the 40K plus seats. A sign that Guns N' Roses relevance remains in question. Very few bands can maintain a coast to coast tour at that level, filling huge venues at that premium ticket price – of course there's Beyonce, but the only two rock acts that come immediately to mind are Paul McCartney and The Rolling Stones.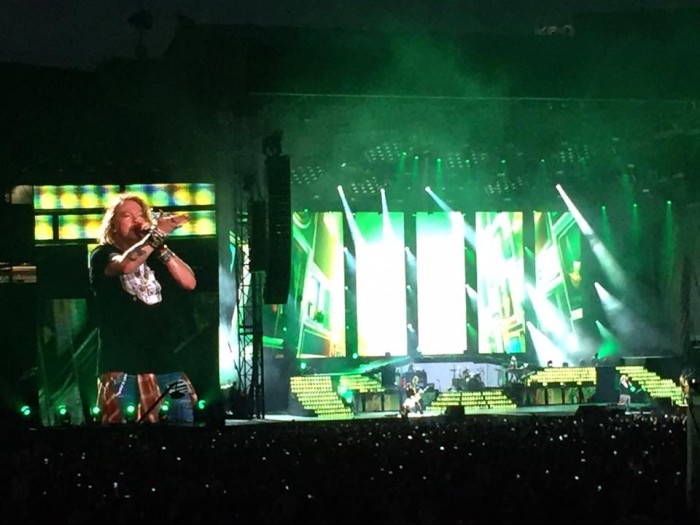 But beyond the ticket draw and personnel issues, what matters most to music fans is of course the band's ability to play, and whether they still have the creativity and energy to pull off the Big Show, to match the big venue. And, while the audience numbers may have been lacking last Wednesday night, this current edition of Guns N' Roses proved they were up to the task, and gratefully the long forecasted rainstorm scheduled between 7 & 9 pm arrived six hours early in the mid-afternoon, leaving the humidity high but the seats dry.
After some Looney Tune cartoon opening, literally, playing the "Looney Tunes" theme to the shooting of various cartoon guns, the band hit the stage like rock & roll royalty performing "It's So Easy" and "Mr. Brownstone" to the loud approval of their most committed fans. That was followed by "Chinese Democracy," from the 2008 album of that name, the one recorded relic from Axl's post-Slash etc., period. That this album was both a critical and commercial fiasco is borne out by the fact that they only included one other song from it in this evening's set list, "Better" which appeared late in evening.
Introducing "Welcome to the Jungle," Axl spoke to the crowd for the first time, saying something he'd no doubt repeated to countless audiences. As one of the three or four of Guns N' Roses biggest, most recognizable hits, a couple things came to mind. Of all the band's working the "Greatest Hits" reunion tour angle, Guns N' Roses may be the band most reliant on audience familiarity with the deeper album tracks of their best selling albums. In fact, their three biggest airplay contenders – "Jungle," "Sweet Child O' Mine" and "Paradise City" – as well as four other songs from the evening's playlist come from the band's 1987 debut, Appetite for Destruction. The cynic in me thinks that next year's tour will be built on the back of that album's 30 year anniversary.
But to the band's good fortune and the pleasure of their fans, they had come to Paul Brown Stadium on that warm, sticky work night to rock… and that's just what they did. Of course, the focus of the band's instrumental power is the masterful guitar technique of Slash, who may not dress to impress in his sleeveless t-shirt and signature top hat, but when the rests his guitar on his hip for stability he brings together the virtuoso delicacy of studied classical master with the speed and prowess expected from metal guitar heroes, and all of it was on display on "Double Talkin' Live" and routinely elsewhere throughout the night. Who else is there, Eddie Van Halen and Metallica's Kirk Hammett… but both of them are often more about the speedy display of notes racing up the scale, while Slash plays with musicality and feeling like few others. Is there another player of his generation equal to his talents, I don't think so.
And the rest of the band is built of equally strong musical timber. On "Rocket Queen," the band's muscular melodic approach was carried by Slash, bassist McKagan, and second guitarist Rich Fortus, who proved he was worthy of his present company with a solid solo of his own. Then Rose led the band through a high energy, big rock production of "You Could Be Mine," from Use Your Illusion II, before announcing that "it feels like we're starting to get warmed up."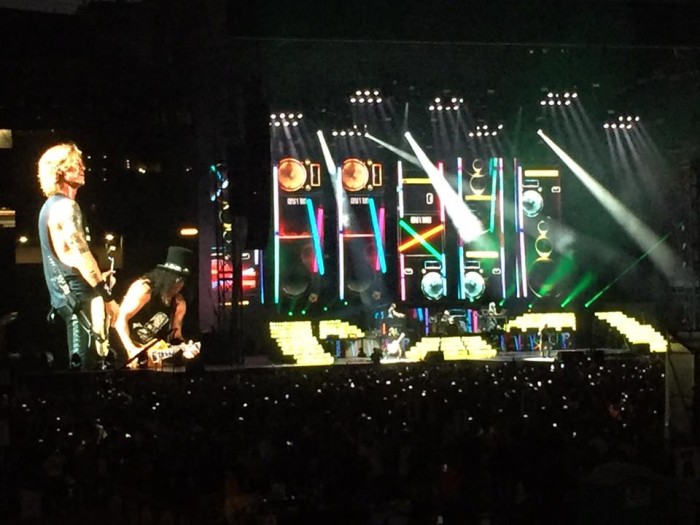 So with the band's musical prowess beyond repute the obvious next questions come down to Axl's voice, could he still hit the high notes, would he still be able to deliver at the highest level songs that go back 25 – 30 years. Well, surprisingly he was also up to the task, while the edge and youthful zest was not as present in his high pitched scream and yelp, he was hitting all of the high notes with ease and often did so while running full-kilter around the stages many stairs and labels. For someone who had a broken foot earlier in the year, he seemed out to prove that he was able to get around, moving from one end to the other of the large stage with ease. And I know it's common for divas to design their shows around elaborate costumes, but orchestrating the set list to allow Axl time backstage to change from one black t-shirt to another or to put on a leather fringe jacket (did I mention it was hot and sticky), seemed a tad bit over the top to me.
Interestingly, I was most aware of Axl's vocals on the band's two big hit covers, McCartney's "Live and Let Die," and Dylan's "Knockin' On Heaven's Door," the latter being such a simple folk song that it allowed for the some vocal gymnastics on the song's long repetitive coda. The band added another big show piece cover, doing The Who's "The Seeker" in their closing three song encore, sandwiched between the acoustic "Patience," with the return of Axl's spaghetti western whistle, and the big closer "Paradise City," which accompanied a fireworks display better than some towns get on the Fourth of July.
And when it came to production values, Guns N' Roses was all in from the start… all the bells and all the whistles… large video screens, lighting and staging theatrics… a strong world class presentation.
And, given the natural inclination toward melodrama, it's not surprising that much of the night included large set pieces, framed around Axl's no feeling left unexpressed that included "Civil War" (again with the spaghetti western whistling) complete with Slash's Jimi Hendrix tribute with an outro of "Voodoo Child," the big soap opera tear-jerker "Coma," and the full-on cinematic take of "November Rain."
The other show highlights include a solo guitar instrumental ballad by Slash on "Speak Softly Love," which was the love theme from "The Godfather" movie, sung by Andy Williams. Then later, Slash and Fortus drew amazing solos out of each other on an instrumental duet based on "Wish You Were Here," by Pink Floyd, before segueing into the piano coda of the Eric Clapton classic, "Layla." The brand brought on original drummer Steven Adler to play on two songs, "Out Ta Get Me" and "My Michelle," a rare treat, and mid-set Axl left the stage and vocal duties to McKagan on a cover of the Misfits' "Attitude," a rare reminder that Guns N' Roses was inspired as much by 70's punk as 80's metal.
And, you can't say they didn't give fans their money's worth… the show was a long, 2 and a half plus hours, ending the set proper with a fine bluesy rendition of "Nightrain." I'm not sure if Guns N' Roses can maintain at this level without some new material, and some that connects in a big way with fans the way that opening riff of "Sweet Child" turned a generation into true believers. And after the digital kryptonite that was Chinese Democracy, whether there's enough creative chemistry between Slash and Axl to suggest that new music could be on the horizon… while they were on the same stage, playing the same songs at the same time, that's about the only interaction we witnessed. Still, some bands have found a way for a next chapter and a next.
In the meantime, Guns N' Roses were a band of their word… they promised a great night of hard rocking classics out under the night sky, and they delivered.
Latest posts by Brian Q. Newcomb
(see all)