Band Of Horses


Why Are You OK
Interscope Records [2016]


Fire Note Says: Band of Horses release their best major label record to date.
Album Review: Band of Horses have every reason in the world to be one of the biggest rock acts currently on the scene. They have great songwriting, a superb voice in Ben Bridwell and a discography that can find memorable moments on each record. This is especially true when you go back to their first two Sub Pop albumss. The reason the band is not quite there yet is because their last several major label records have just been middle of the road. Trying to find the right balance which made Everything All The Time (2006) and Cease to Begin (2007) so engaging is not an easy task but on the group's fifth long studio player, Why Are You OK, Band of Horses come closer than their previous two efforts.
The opener, "Dull Times / The Moon" begins the record with a very slow tempo intro that fits the first title and spotlights the bands whimsical vocal talents but after the 5-minute mark the track skyrockets with guitar and big backing vocals which really gets the listener going. "Solemn Oath" and "Hag" follow with a fairly standard good sounding mid-tempo pace that BOH fans can typically expect. The next two songs I think stand out as "Casual Party" and "In A Drawer" are big radio friendly and concert numbers which take BOH to a new level. "Casual Party" for sure is a different foot tapper for the band which is not only catchy but upbeat and has the guys sounding like they are having fun. "In A Drawer" has the same upbeat tone as J. Mascis (Dinosaur Jr.) seals the deal with his distinguished vocals carrying the chorus.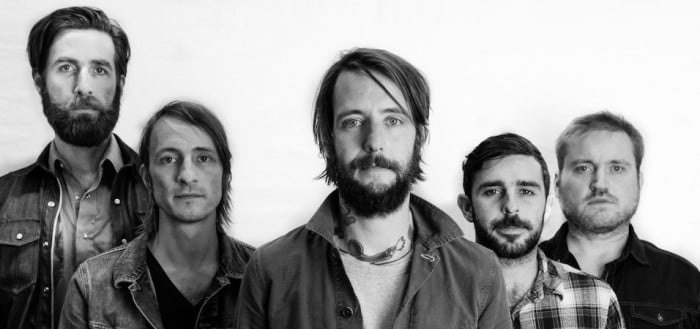 Why Are You OK is Band of Horses best major label record to date which was enhanced by the production of Grandaddy's Jason Lytle. His subtle touch of synths and flowing vocals fits in perfectly with BOH and helps focus their efforts in this category. At times, the record is almost too quiet with its 50-minute running time and sometimes has similar type song structures that wear on you some when spread over this album length. It is really my only drawback because individually, BOH once again provide some sonic wonders. Fans for sure will dig this record and as BOH start touring this album I think their status as a mainstream draw will only continue to grow. I hope they can take this direction and momentum to the next level because Band of Horses is one band that would not surprise me if they still had their defining moment waiting in the future, which I can't wait to hear!
Key Tracks: "Dull Times The Moon" / "Casual Party" / "In A Drawer"
Artists With Similar Fire: Grandaddy / Fleet Foxes / My Morning Jacket

Band Of Horses Website
Band Of Horses Facebook
Interscope Records
– Reviewed by Christopher Anthony
Latest posts by Christopher Anthony
(see all)