The Claypool Lennon Delirium


Monolith Of Phobos
ATO Records [2016]


Fire Note Says: Talented pair takes you for a trip.
Album Review: From the surface, the pairing of Primus frontman Les Claypool and Sean Lennon (The Ghost of a Saber Tooth Tiger) seems crazy. It is like someone developed an odd couple of rock series which is set to debut soon on VH1. Now if you caught last year's Primus summer tour, Lennon's band not only had the opening slot but Sean came out and played with Primus in the evening. That psychedelic energy and creativity moved forward into what they now call The Claypool Lennon Delirium.
The record is not really as abstract or weird as it might seem. It has Primus moments and influence while also possessing the psychedelic Beatles angle that I believe fans of THE GOASTT will really like. The record is full of musical talent as Claypool can make the bass hum and every track contains the mellotron. I will tell you that I really liked the last GOASTT record Midnight Sun (2014), so it did not surprise me that Lennon's lead tracks grabbed my ear more. With that said, Lennon's influence is bigger than I expected on Monolith of Phobos as it rounds out the edges of Claypool's Primus happenings and helps a Les storytelling track like "Mr. Wright" succeed in all its peculiar glory.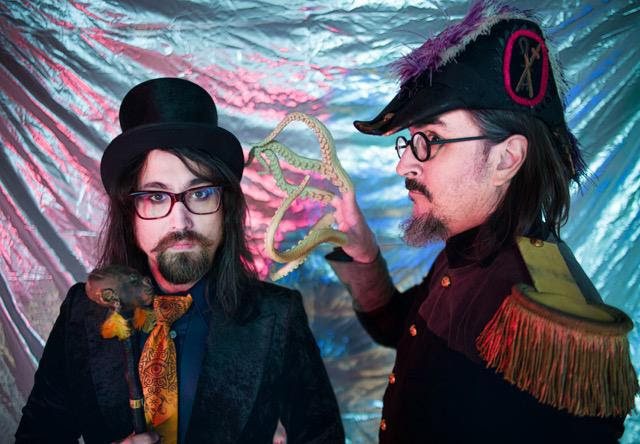 At times, Monolith of Phobos can be dark and haunting while in an instance have the tide turn to trippy and fun. That is the product of these two talented musicians as they both just let the music happen. This combo still will appeal more to the Sean Lennon psychedelic group of followers compared to hardcore Primus fans with its stand out Beatlesque moments. I am not sure if we will ever see a sophomore record from this duo, which is why I think most fans could be hesitant of this project, but I don't think that should scare you away from giving The Claypool Lennon Delirium a shot. The record has plenty of replay value and for sure has tapped into new avenues for both artists that should drive more collaboration down the road.
Key Tracks: "Cricket And The Genie I & II" / "Mr. Wright" / "Ohmerica"
Artists With Similar Fire: Tame Impala / Syd Barrett / The Ghost of a Saber Tooth Tiger

The Claypool Lennon Delirium Website
The Claypool Lennon Delirium Facebook
ATO Records
– Reviewed by Christopher Anthony
Latest posts by Christopher Anthony
(see all)