Knifeworld


Bottled Out Of Eden
Inside Out Music [2016]


Fire Note Says: UK octet perfect their craft on quirky yet accessible third album.
Album Review: Knifeworld is the pet project of one Kavus Torabi – a name not many people outside the progressive rock community know but with each release he and his band inch closer to some semblance of recognition. Torabi himself is a veteren of the Prog scene, having been a member of such acts as Gong, The Cardiacs and Guapo. If one is familiar with any of those bands a certain impression can be gleaned and would not be completely off base. Art pop a la XTC, Sparks or 10CC mixed with more experimental and avant-garde acts such as Shudder To Think or Henry Cow; but don't let that hold you back – this stuff is as infectious as it is challenging. Torabi sings like a Brian Eno/Robert Wyatt hybrid and there's a very pronounced Englishness to it which lends a sense of high brow museum artifice. The use of bassoon/saxophone/clarinet only adds to that. The thing is: this music sounds fresh and alive, hardly the stuffy revivalistic neo-prog stuff going around. Nor is it aligned with the "strange-for-the-sake-of-strange" drivel that often comes with the "Rock In Opposition" tag. No, sir. These songs are fun and they are memorable.
The last Knifeworld album, 2014's The Unravelling, was a wonderfully complex record full of atmosphere and warmth that took months of slavish effort to create. This time out, Torabi and his cohorts went with a more live-in-the-studio approach that totally works with the spontaneous nature of the eleven tracks here. "High/Aflame" kicks things off with panache. After a droning intro the song bursts forth with beautiful vocal melodies and krautrock beat that keeps getting attacked by horns. "The Germ Inside" could be an Andy Partridge song (well if Partridge had ever been in a Prog band, that is.) "I Must Set Fire To Your Portrait", on the other hand, sounds like a Karate tune, assuming Karate went from a trio to an eight piece. Elsewhere Melanie Woods is allowed to take her turn at the mic. "I Am Lost" is a jazzy, psuedo-Zappa song that really benefits from her sweet, unassuming voice. There are some great vocal harmonies and the interplay between Woods and Torabi here and on later tracks like "A Dream About A Dream" that do wonders towards keeping a very human face on Bottled Out Of Eden.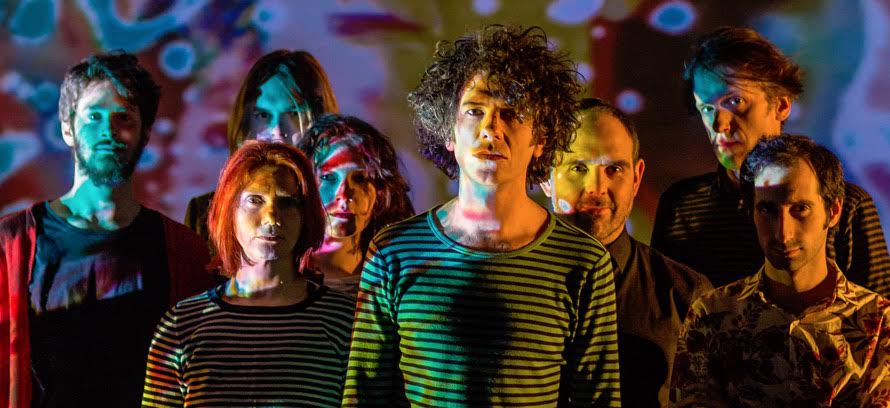 Not every tune here is a keeper – "Secret Words" stands out as a example of acoustic, break-in-the-action type of number that doesn't go anywhere and interrupts and dilutes instead of setting the listener up properly for the great closer, "Feel The Sorcery." It's bouncy and energetic, smart and playful – a terrific send-off. Producer Bob Drake has to take a lot of credit for getting music this diverse and angular to sound so bright and up-lifting. The term "bublegum prog" has been coined for this band and listening to that last song it definitely feels appropriate.
Leaving some of the moodiness of The Unravelling behind and shortening the song lengths, Knifeworld has really found their voice. The space they occupy is very unique in that, without knowing the back story, indie kids could actually like this. Sure there are some weird time signatures but there is also a laser-like focus to this album. Clocking in at forty-nine minutes, it bucks the trend of artists feeling compelled to use up every available second the CD format allows. It is forty-nine minutes that flies by as your senses get assaulted in the best possible way. Kavus Torabi may never be a household name but his records will be playing in mine for some time to come.
Key Tracks: "High/Aflame" / "The Germ Inside" / "I Must Set Fire To Your Portrait"
Artists With Similar Fire: Gong / XTC / Henry Cow
Knifeworld Website
Knifeworld Facebook
Inside Out Music
-Reviewed by Scot Lade
Latest posts by Scot Lade
(see all)