Eric Clapton


I Still Do
Bushbranch/Surfdog Records [2016]


Fire Note Says: I Still Do finds Clapton in fine form creating music that first inspired him.
Album Review: Clearly, with the release of his 24th solo studio recording, Eric Clapton feels he has nothing to prove. Given the 71 year old's stunning history as one of the great guitar gods of rock & roll's golden era – recording classic albums with The Yardbirds, John Mayall & The Bluesbreakers, Cream, Blind Faith, and Derek & the Dominoes (not to mention playing uncredited on the Beatles' "While My Guitar Gently Weeps," and on live albums with John Lennon & the Plastic Ono Band, Delanie & Bonnie and Friends, George Harrison, and The Band, to name only a few of his collaborations) – I Still Do finds one of the world's most influential musicians resting comfortably on his laurels.
Returning to the studio with Glyn Johns, who produced his 1977 release Slowhand and '78's Backless, as well as classic albums by The Who, Humble Pie, Faces, The Eagles, John Hiatt, and many more, Clapton sounds comfortable and at home on a collection of blues, pop and light rock songs. Moving away form working with Doyle Bramhall II, who produced and played guitar on his most recent recordings, Old Sock ('13) and Clapton ('10), here he is supported by long time guitar friend and ally Andy Fairweather Low, Paul Carrack, on Hammond organ and background vocals (who beside his solo career, put in stints with Squeeze and Mike & the Mechanics), Chris Stainton and Simon Climie on keys, bassist Dave Bronze, and drummer Henry Spinetti.
It's on "Spiral" that Clapton spells out his raison d'etra for this effort: "You don't know how much this means/To have this music in me/I just keep playing these blues/Hoping that I don't lose/I just keep playing my song/Hoping that I get along/You don't know how much it means/To have this music in me…," before concluding "I gotta have it." Written with Fairweather Low and Climie, this is one of two songs authored by the guitarist and unsurprisingly has one of the boldest guitar figures in its opening bars.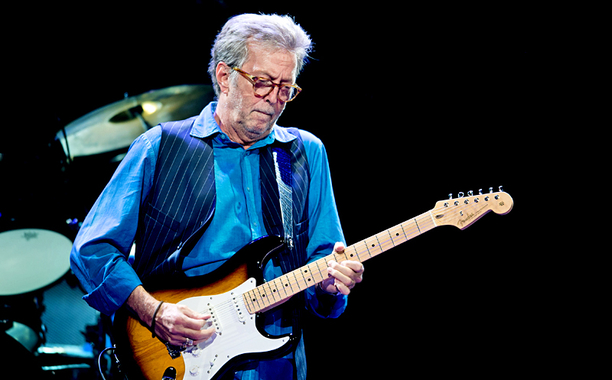 Always one to promote and educate about his favored musical form, he wrote "Catch the Blues," covers a couple written by JJ Cale, "Can't Let You Do It" and "Somebody's Knockin'," the latter of which has some of his best soloing on a studio recording in some years. And he leans into the blues form on the opening track "Alabama Woman Blues," "Cypress Grove," and Robert Johnson's "Stones In My Passway," although he plays elegant and tasteful solos throughout, rarely does he unleash the fiery fury of days past that one tends to expect from one's guitar hero.
Clapton plays more to his pop side on "I Will Be There," which like "Spiral" reflects back on the title of this collection, recording with a mystery guest vocalist, who no doubt is Ed Sheehan (there's a live concert YouTube version of the duet recorded in Japan earlier this year). He covers Bob Dylan's dreamy "I Dreamed I Saw St. Augustine," and then joins Michelle John and Sharon White on a Gospel choir version of the traditional "I'll Be Alright," which suggests where Dylan got the melody for "I Shall Be Released."
These days, Clapton appears to be more than comfortable as an elder statesman of rock & blues, secure in what he offers and unwilling to continue to play edgy solos merely to impress the fans of guitar heroics. We'll always have Joe Satriani, Steve Vai, Eric Johnson, Steve Morse, and Joe Bonamassa for that. With his Crossroads Festival, Clapton brought out great guitarists from a variety of musical styles and inclinations, including country players like Vince Gill and Keith Urban and young blues upstarts like John Mayer, Gary Clark Jr., and Derek Trucks.
So, on I Still Do, we find Eric Clapton, in fine form and in strong voice, performing with the kind of elegance and confidence that befits his current station as an elder statesman and connoisseur of the music that first inspired him, blues, pop and rock & roll.
Key Tracks: "I Will Be There" / "Spiral" / "Somebody's Knockin'"
Artists With Similar Fire: Tedeschi Trucks Band / Gary Clark Jr. / Bob Dylan
Eric Clapton Website
Eric Clapton Facebook
Surfdog Records
– Reviewed by Brian Q. Newcomb
Latest posts by Brian Q. Newcomb
(see all)