Sturgill Simpson


A Sailor's Guide To Earth
Atlantic Records [2016]


Fire Note Says: Country like it should be!
Album Review: If like many, you've given up on modern country music, which these days sounds more like 80s AOR bands Foreigner and Loverboy than outlaw country icons Merle Haggard, Johnny Cash, Waylon Jennings and the like. Lord knows, one more song about drinking beer (or other beverage of choice) in the back of your pickup with some girl you just met in tight jean shorts (or miniskirt) down by the river (pond, lake or stream), and the collective intelligence of middle America will drop below potential repair.
But even if you're a dedicated rocker, there's a strong chance you've heard rumblings about indie singer/songwriter Sturgill Simpson, whose second indie release, Metamodern Sounds in Country Music, was nominated for a Grammy for Best Americana Album and came in 18th in Rolling Stone magazine's "50 Best Albums of 2014." Simpson's still far from a household name, but his cover of Kurt Cobain's "In Bloom," from this his latest album has already begun to turn a few heads.
With A Sailor's Guide to Earth, Simpson expands the boundaries of country music employing a string or horn section or both, as the songs require, whether it be a ballad or the kind of big jazzy blues you'd be more apt to expect from the likes of Van Morrison or Harry Connick Jr. He manages to maintain his country bona fides on tracks like "Breakers Roar," "Sea Stories," and others which lean hard on the slide guitar of Dan Dugmore, who earned his chops playing with Linda Ronstadt and James Taylor back in the day.
Thematically, Simpson's Sailor's Guide finds it's focus in the opening track, "Welcome to Earth (Pollywog)," a song written for his young son who was born is 2014. The song is divided conceptually and musically; it opens with a ballad of gratitude expressing the wonder of holding a newborn infant, but midway through turns toward rock & roll, with brass played by The Dap Kings horn section, as the traveling musician father tries to explain his long absences to his young son. It's the challenge every touring artist with a family must face.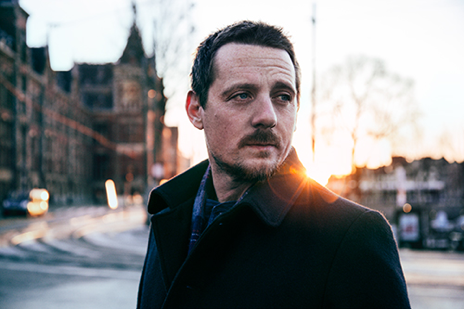 "Keep It Between the Lines" continues the father/son conversation, with Dad offering the important advice that the kid should "Do as I say, don't do as I've done/don't have to be like father, like son… Keep your head out of the clouds and remember to be kind/And just stay in school, stay off the drugs/And keep it between the lines."
"Brace for Impact (Live A Little)" and "All Around You" find the artist sharing a philosophy of life, the first a bit of a "how to" manual and the second suggests a spirituality that's shaped by the conviction that underneath it all there's a "universal heart" that surrounds us with good. The set closing "Call to Arms," rocks hard with the full horn burst and a rip-roaring piano solo by Jefferson Crow, while the lyrics rehearse America's state of continual military engagement around the world, but concludes with a declaration of independence that applies just as appropriately to Simpson's career trajectory: "Bullshit on my radio/Hollywood telling me how to be me/The bullshit's got to go."
Musically, A Sailor's Guide is a pure delight, taking full advantage of the fine musicians Simpson has brought together for this wide ranging musical experiment, taking country music into areas previously assumed as off limits. It's a big sounding recording, made immediate and intimate by Simpson's fine vocal delivery and moving lyrical depth. If anything is wrong with this fine offering, it's that at 9 songs in 40 minutes, it leaves you craving more.
Key Tracks: "Welcome to Earth (Pollywog)" / "Keep It Between the Lines" / "In Bloom" (Nirvana cover)
Artists With Similar Fire: Dwight Yoakam / Van Morrison / Waylon Jennings
Sturgill Simpson Website
Sturgill Simpson Facebook
Atlantic Records
– Reviewed by Brian Q. Newcomb
Latest posts by Brian Q. Newcomb
(see all)