Purson


Desire's Magic Theatre
Spinefarm Records [2016]


Fire Note Says: Purson escape the dreaded sophomore jinx – but only just.
Album Review: To say that this has been a much anticipated release for me is a major understatement. Ever since their delicious debut, The Circle And The Blue Door, dropped in 2013 this UK act has been firmly on my "bands to watch" list. That first album blew me away with its late 60's/early 70's blend of psych, folk, prog and proto-metal. All the right influences were present: from Bowie to King Crimson, Rosalie Cunningham and the boys were (to my mind) ready to conquer the world. Cunningham's CV was already solid with her previous band, Ipso Facto, and stints working with artists as diverse as Magazine and These New Puritans. And with a bewitching, Grace Slick-like voice and super cool look there didn't seem like anything could possibly stop them. Now with a new label to support them and a sparkling new rhythm section, all that stood in their way was avoiding the sophomore slump. Come up with a fresh batch of songs and hit the road as a headliner (after spending much of last year opening for Ghost.) With all the pieces in place it is a slight disappointment that none of these new tunes can match "Spiderwood Farm" or "Leaning On A Bear" (both standouts from the debut) for sheer intensity and originality.
If there was a criticism to be made about Blue Door it was that the production lacked punch and, at times, sounded a little muddy. That has been corrected this time out. Everything has been scrubbed clean and the whole enterprise sounds shiny and wonderfully technicolor. The psychedelic side of the band is in full force as the album's artwork attests. The title too speaks to their intentions: Desire's Magic Theatre abbreviates in DMT, a drug whose effects closely mirror many of these songs trippy detours. Right off the bat with the title track we find nothing but the fuzzed out ecstacy of Purson's considerable charms. Electric guitars give way to saxophones and mellotrons. Cunningham's voice is as strong as ever but whereas she felt like the whole story before it's obvious that guitarist George Hudson has become more involved in the writing. And the freak out ending with a jazzy bass line and flute solo are really cool. The next song, and lead off single, is the brilliantly titled "Electric Landlady." If their debut was straight out of 1971, then this one has 1968 written all over it. The spirit of Hendrix spills out in the fiery guitar riff while a spaced out bridge will leave you reaching for your favorite bong.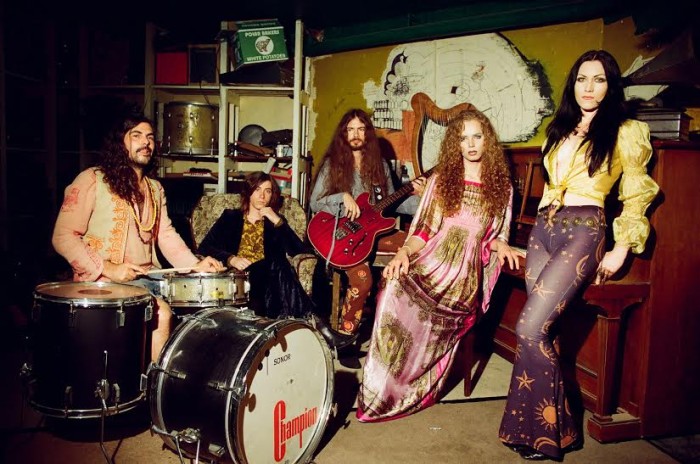 Next up is the truly bizarre "Dead Dodo Down" which has a smokey blues bar feel to it – albeit a blues bar located at a carnival freak show. The vaudevillian aspect to Purson has been well documented but it bears repeating. I don't know what it is about the fair, circus and carnival that has fascinated the Bristish rocker for a half a century now. Maybe I don't want to know but suffice to say that Purson is following a long and honored path here. Another memorable song is "Pedigree Chums." It takes a classic psych riff and transforms it into something not too far removed from Deerhoof only to be brought back into T. Rex territory. The next few songs drag a bit but Purson is wily enough to close things out with the multi-part gem "The Bitter Suite." Going through several stylistic changes and odd time signatures it's one of the most challenging pieces they've yet recorded – all the while remaining totally engaging as Cunningham sounds almost human and vulnerable.
Desire's Magic Theatre comes across as more of a transitional album than a problematic one. The band has enough David Bowie and The Beatles still in them to write compelling songs. Perhaps, then, what's missing most is the harder edge of their debut. The doom metal label never really fit them but now it seems so far off the mark that there seems to be a personality crisis going on at the heart of this group. Their identity is being shaped right before our eyes and it's a fascinating process. But the dust has clearly not yet settled and what's before us is an interesting document of that struggle.
Key Tracks: "Electric Landlady", "Dead Dodo Down", "The Bitter Suite"
Artists With Similar Fire: Electric Wizard / Jex Troth / Pentagram
Purson Website
Purson Facebook
Spinefarm Records
-Reviewed by Scot Lade
Latest posts by Scot Lade
(see all)