Sam Beam and Jesca Hoop


Love Letter For Fire
Sub Pop [2016]

Fire Note Says: Iron & Wine mastermind Sam Beam and Jesca Hoop take a back to basics approach on their first collaborative album.
Album Review: Sam Beam has been a busy guy lately. In addition to putting out the first two entries in his Archive Series via his new Black Cricket Recording Co. label (review of volume 1 HERE), he also released a collaborative covers album with Band of Horses' Ben Bridwell called Sing Into My Mouth, featuring re-imagined versions of songs by the likes of Talking Heads, Spiritualized, and John Cale. It seems as if working with a partner not only encouraged him to do it again (this time with singer-songwriter Jesca Hoop), but also gave him some inspiration since this record consists of all-original material co-written by the duo. Produced by Tucker Martine, Love Letter For Fire doesn't spring too many surprises on the listener, but it's a solid, well-crafted album nonetheless.
If you have any first-hand experience with the Iron & Wine discography, this record is going to sound pretty familiar. In particular, it's especially reminiscent of Beam's 2004 breakthrough Our Endless Numbered Days, mainly due to Hoop's shared vocals (Beam's sister Sarah appeared throughout Our Endless Numbered Days) and the stripped back, largely acoustic arrangements. While the first Iron & Wine record (and last year's Archive Series release, culled from the same period) threatened to float off into the ether, and the most recent releases show Beam experimenting with everything from electronica to jazz, Love Letter For Fire finds him firmly in between, keeping things relatively simple but demonstrating the polish he's given his work in the last several years. Hoop is no slouch, though—her vocals guitar-work, and songwriting are all over this album, and while it doesn't change the sound significantly, it's enough to give the record its own unique feel.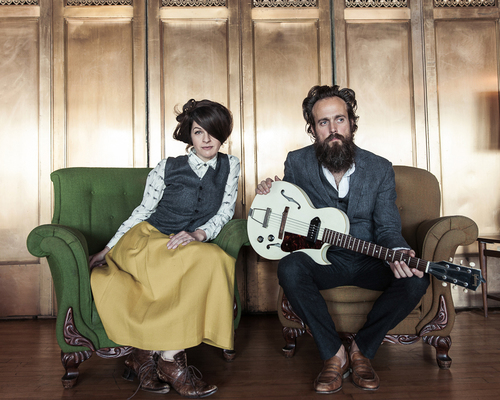 One difference that's immediately notable is the tone of Love Letter For Fire; while Iron & Wine LPs aren't necessarily depressing, there's often a sense of melancholy or a menacing vibe hiding beneath the surface. But here the feel of the songs is generally sunnier in character, with Beam and Hoop trading off vocals and or harmonizing over warm acoustic guitars, shuffling drums (courtesy of Wilco's Glenn Kotche), and some subtle string embellishments. However, that brighter tone is betrayed by the lyrics, which can get downright dark at times. Early standout "One Way To Pray," for instance, begins with the lines: "You can see with your wounded eye / Crossing low narrow streets at night / Like a car crash fighting for road / You'd rather sleep alone," and piles on more bleak imagery as the song develops. It's one of the oldest tricks in the book—couple an upbeat melody with a contrasting, dark lyric—but if it ain't broke…
For Iron & Wine fans this release is a no-brainer, especially if your favorite era of Beam's work is the early days. While Sing Into My Mouth was an interesting—but ultimately uneven—album, this is a more consistent, mature work whose best tracks add to Beam's already impressive catalog. It's not a groundbreaking record, nor does it try to be, but it makes for a nice stopgap release until the next full-fledged Iron & Wine record.
Key Tracks: "One Way to Pray" / "We Two Are a Moon" / "Valley Clouds"
Artists With Similar Fire: Over the Rhine / Father John Misty / The Civil Wars

Iron & Wine Website
Iron & Wine Facebook
Sub Pop Records

-Reviewed by Simon Workman
Latest posts by Simon Workman
(see all)