The Lumineers


Cleopatra
Dualtone Music Group [2016]


Fire Note Says: Similar formula holds The Lumineers in place.
Album Review: It can be a humorous undertaking, if also frustrating as hell, to watch the music industry flail around in its search for the Next Big Thing only to play a seemingly endless game of "follow the leader" every time something fresh and unique breaks through the public consciousness. Once the British Mumford & Sons began dominating radio airplay that turned into serious album sales with their unique take on old school American folk and bluegrass music it was inevitable that A&R people were going to rush off looking for more of the same, arty folk groups with a penchant for banjos and fiddles and a back to basics approach. Thus, the launch of bands like Of Monsters and Men and The Lumineers, the latter of course had a serious hit with the novel approach of "Ho Hey," the catchy tune that was everywhere for much of 2013.
With Cleopatra, songwriters Wesley Schultz and Jeremiah Fraites have kept things simple, building their songs around a basic piano or acoustic guitar run, leaning toward a quieter, moodier approach. Where the Mumford & Sons catalog often tends to follow their mellow verses with rapturous, raucous sing-along choruses, The Lumineers songs tend toward stasis, only rarely do they develop or evolve into something bigger, something more interesting or moving.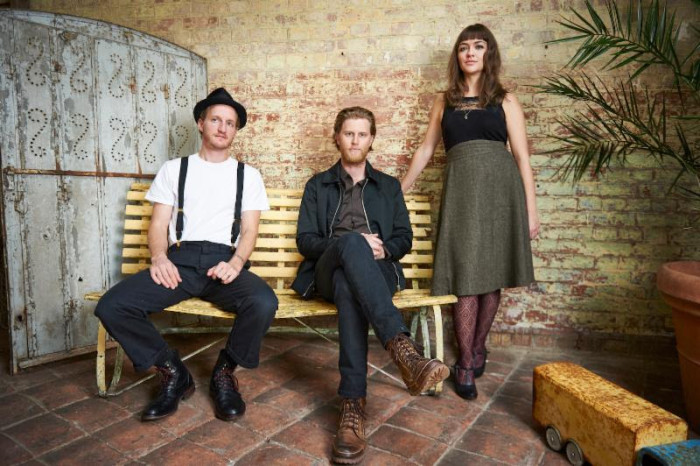 Most of the 11 songs on this sophomore release start with a stately, often elegant, albeit gentle and low key introduction, but only rarely to they build on that foundation for something bigger, bolder, more engaging. With songs like the title track, and "My Eyes" you get a sense for how the five-piece band of multi-instrumentalists might stretch and enhance these simple song structures in a live concert performance, but unfortunately little of that is happening on the album. The lack of dynamics and dramatic shifts leaves the listener stuck in the gloomy pace where the songs start without the elevation and lift of any kind of emotional resolve in the music.
There is something to be said for keeping it simple, not trying too hard to force songs to be something they are not, but here The Lumineers fail to hold the listener's interest, and the quiet sameness of the sound and vocals is more a curse than a blessing. And it's worth noting, that even Mumford & Co. are moving to escape and expand their original back to basics sound. In short, Cleopatra could use a bit of the old "Ho Hey," or maybe a touch of banjo.
Key Tracks: "Cleopatra" / "Gun Song" / "My Eyes"
Artists With Similar Fire: Mumford & Sons / Of Monsters & Men / The Band
The Lumineers Website
The Lumineers Facebook
Dualtone Music Group
– Reviewed by Brian Q. Newcomb
Latest posts by Brian Q. Newcomb
(see all)