Parquet Courts


Human Performance
Rough Trade Records [2016]


Fire Note Says: Parquet Courts create another keeper!
Album Review: Being one of the most critically acclaimed bands of the last five years becomes a little tough to back up over time but I will tell you that Brooklyn's Parquet Courts have struck gold again with their new long player Human Performance. It does not succeed because it gives you more of the same Parquet (which we all love) but because it takes chances, embraces a new recording process and slowly hugs you with its greatness.
Right from the opening foot tapper, "Dust," you get simple drums beats, simple guitar lines and simple lyrics. "Dust is everywhere – Sweep!" Sure this might sound a bit dumb on paper but the propulsive beat and swagger that this song possesses completely pulls you in and is the perfect set up for what you are about to hear as it concludes with noise, distortion and confusion of traffic – so New York! The personal title track swoons in next as singer/guitarist Andrew Savage talks/sings about love just drifting off. You can just picture him in a bar with a jacket and falling over tables carelessly singing line by line as the band just revs the music behind him and chime in with perfect harmonies. The rousing "Outside" keeps the mood flying as it becomes a quick sing-along at its tidy 1:46 running time. Then there is the robotic Devo like "I Was Just Here," that at first seems out of place but its last 17 seconds is punk rock heaven as the song title is exclaimed over a tempo shift in the music.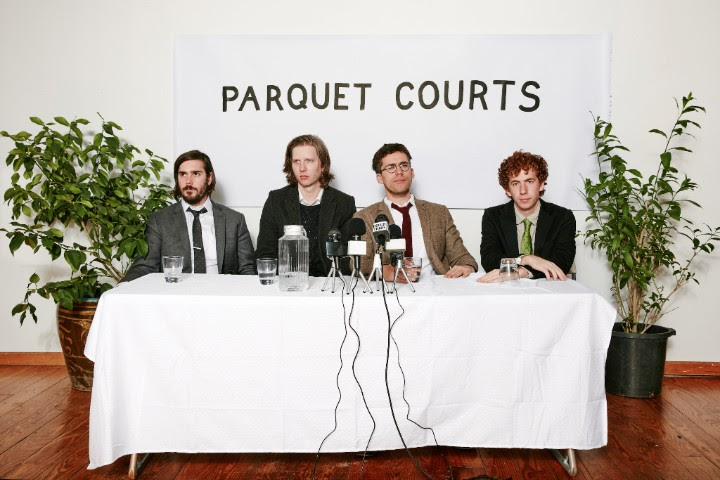 These type of quick shift changes circulate throughout Human Performance as the record looks to take chances. The over six minute "One Man, No City" brings in intricate conga play that is laced with guitar work which holds your attention while the psychedelic "It's Gonna Happen" takes Parquet Courts into a totally different realm. Much of these different arms are a result of the band's recording process taking the entire year, instead of the usual several weeks, while this is also the first LP where all four band members contributed songs. For Human Performance, this time and care can be heard, as this record continues the groups evolvement and maintains a high standard. Human Performance only gets better with every spin as its slacker meets swagger attitude is infectious and most certainly will propel the record upwards when we tally up the best album votes for 2016.
Key Tracks: "Human Performance" / "Outside" / "Berlin Got Blurry"
Artists With Similar Fire: Pavement / Dead Milkmen / Arctic Monkeys
Parquet Courts Website
Parquet Courts Facebook
Rough Trade Records
– Reviewed by Christopher Anthony
Latest posts by Christopher Anthony
(see all)