Violent Femmes


We Can Do Anything
[PIAS] [2016]


Fire Note Says: The Violent Femmes remain smart and funny, odd, dark and subversive.
Album Review: It's hard to express just how big the Violent Femmes became in the alternative rock music world of the mid-80's. The mostly acoustic, Milwaukee-based trio's self-titled debut album (1983) offered up some of the most delicious and hilarious teen-angst anthems, like "Kiss Off," "Add It Up" and the much beloved "Blister in the Sun (Big Hands, I know you're the one)," that they have become time-honored, multi-generational campfire song fodder. Which explains why Stephen Colbert didn't have to be asked twice to join the Femmes to sing along on "Blister in the Sun," when performing on The Late Show earlier this month.
Perhaps no band better captured the anxiety, sexual frustration, and emotional confusion of adolescence than those angry, funny, profoundly self-conscious songs of singer/songwriter Gordon Gano. Which served the Femmes very well on that eponymous debut, but later albums failed to connect with the same vigor. Hallowed Ground, the band's sophomore release, revealed Gano's darker, more spiritual side on songs like "Country Death Song" and "Jesus Walking on the Water," although the sexual passion of "Black Girls" provided some sense of balance. On their third album, The Blind Leading the Naked, the band's big single was a cover of T. Rex's "Children of the Revolution," and apparent tensions between Gano, bassist Brian Ritchie and drummer Victor DeLorenzo had begun to supplant the music.
Time passed, the trio broke up from time to time, DeLorenzo was replaced by a couple different drummers, they recorded five more albums by 2000, managed to have an alternative radio hit with "American Music," but also got tangled up in a variety of press wars and law suits between Ritchie and Gano over the direction and use of the band's moniker.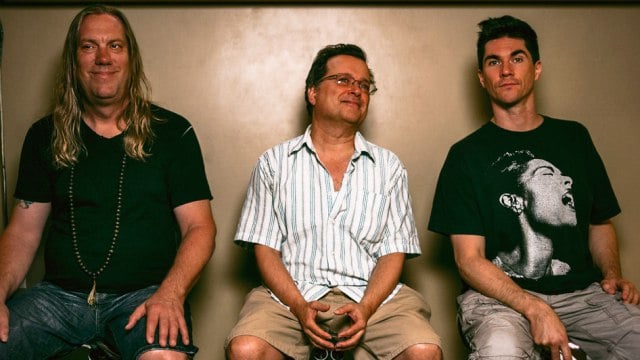 Which makes We Can Do Anything the first album of new music from the Violent Femmes in 16 years, reuniting Gano and Ritchie with latest drummer Brian Viglione. Given the retro status that the band has achieved in the 33 years since their debut, it's fitting the album opens with "Memory," a song that recognizes the importance of remembering and acknowledges that we can get more forgetful with age. "I Could Be Anything," which follows, is about a dragon fighter, and with it's silly tempo and self-esteem building chorus could be on an album of children's music, something a grandfather might write to entertain his young grandchildren.
"Issues" rests on deep horn melody provided by the Femmes long-time supporting players, The Horns of Delimna, but again they are playful and loose. "Holy Ghost" recalls the kind of fast, acoustic folk/punk mix that comes so easily to Gano, while "Foothills" sounds like something Gano could have written all those years ago. A quick reference to masturbation which he manages to rhyme awkwardly with "berserkers," finds the songwriter in familiar territory, which essentially is what's wrong with We Can Do Anything. Although 16 years have passed, so many of these songs sound like the kinds of things Gano used to write so effortlessly all those years back. Listening to "Travelling Solves Everything" and "Big Car" (careful to include the obvious sexual innuendo), you start wondering, after all these years, these are the best songs you've written?
But that caveat aside, Gano and Ritchie bring back the spirit and energy of the Violent Femmes as if nothing close to 16 years, or even 30 have passed. They remain smart and funny, odd, dark and subversive, and on "I'm Not Done," they claim all their history – good and bad – with little regret as they affirm triumphantly, that they are far from through yet.
Key Tracks: "Memory" / "Issues" / "Foothills"
Artists With Similar Fire: Talking Heads / They Might Be Giants / Loudon Wainwright III

Violent Femmes Website
Violent Femmes Facebook
[PIAS]
– Reviewed by Brian Q. Newcomb
Latest posts by Brian Q. Newcomb
(see all)