Mike and the Melvins


Three Men and a Baby
Sub Pop Records [2016]


Fire Note Says: Mike and the Melvins revive a long-shelved project from arrested development hell.
Album Review: In 1998 godheadSilo bassist/vocalist, Mike Kunka joined the Melvins on tour and recorded the bulk of Three Men and a Baby with them in '99. For some reason, the tapes sat on a shelf, unfinished until last year. Big Business guitarist Toshi Kasai recorded the remainder of the parts and mixed the album.
Once I heard "Chicken 'n' Dump" I was instantly transported back in time. The muted recording is not unlike Slint's Spiderland. Very stark and of course very heavy. Three Men and a Baby's first three tracks are all muscles and testosterone. Familiar stuff if you were a fan of Sub Pop's 90s-era discography of Tad, Gruntruck and other heavy grunge bands from that time.
Three Men and a Baby throw you for a loop after a propulsive cover of PIL's "Annalisa." Mike and the Melvins showoff some variation with the post rock sounds of "Read the Label (It's Chili)," (I confused this track as a Big Ups song when it popped up on my iPod). Slam dance gem, "Pound the Giants" pick up the pace and slam its fist into your ear.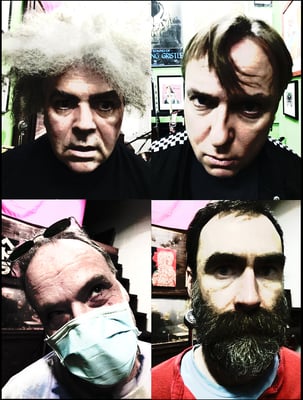 There are some heavy sludge rock moments on Three Men and a Baby. "Dead Canaries," "Lifestyle Hammer," and "Gravel" all fall into this category. They are the audio equivalent of a brontosaurs stomping on your skull.
A few tracks did not seem to fit in at all and kept the album from being a grand slam. "A Dead Pile of Worthless Junk," "A Friend in Need Is a Friend You Don't Need" and the closer, "Art School Fight Song" did not really add much to an otherwise excellent LP.
If you like heavy, if you like the Melvins, if you like 90's Sub Pop, buy this. I am glad somebody pulled Three Men and a Baby off the shelf. Well worth the wait.
Key Tracks: "Chicken 'n' Dump" / "Annalisa" / "Read the Label (It's Chili)"
Artists With Similar Fire: The Melvins / Tad / Nirvana

Mike and the Melvins Website
Sub Pop Records
– Reviewed by Daniel Taylor
Latest posts by Daniel Taylor
(see all)