Woods


City Sun Eater In The River Of Light
Woodsist Records [2016]


Fire Note Says: Woods always delivers the goods, and Sun City Eaters in the River of Light proves that fact once again.
Album Review: When you listen to a Woods record one thing is going to jump out at you immediately, Jeremy Earl's voice. You either love it or you don't, and if you love it like I do, you'd pay for an album of him singing his honey do list. If you aren't down with his high pitched voice, well you should probably just stop reading right now; this isn't the record for you. As Woods has progressed from album to album, moving farther away from their lo fi beginnings into the polished act they are now, his voice has increasingly moved to the front and center of the mix. On their new album, Sun City Eaters in the River of Light, Woods continues to blend psychedelic freakouts with rootsy Americana music, with some mellow groovers mixed in throughout. It's a mix that has served the band well for the better part of the past decade or so, but really hit it's stride with Bend Beyond in 2012 and carried that through with it's excellent follow up, With Light and With Love. Sun City Eaters finds the band adding some light African and reggae influences to the mix, but don't worry, they haven't gone all Vampire Weekend on us, think of it as just another color for them to paint with, something to broaden their palette just a bit. Not only that, but it helps to keep the album sounding fresh and less like a simple repeat of the records that immediately preceded it.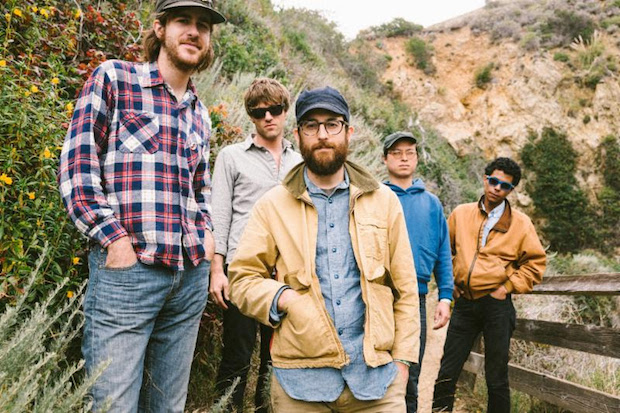 More than anything though, It's Earl's voice that dazzles and carries the record. The playing, songwriting, production, sequencing and arrangements are all excellent, but it's that sublime voice that makes this a record to keep going back to again and again. The only thing that disappointed me a little about the record was that that there weren't quite enough guitar jams on it, I suppose it doesn't fit the overall mood of the record, but I do really love when they stretch it out. Where does this one fit in you might ask? I would say, first that you need to compare it to the more recent stuff, we'll call it the Woods hi fi era if you will…. it's as good as With Light and With Love, maybe just a hair below Bend Beyond, and better than Sun and Shade. I think you're going to like this one. Woods always delivers.
Key Tracks: "Sun City Creeps"/ "Morning Light"/ "I See in the Dark"
Artists With Similar Fire: Kurt Vile / Neil Young / The Shins

Woods Website
Woods Facebook
Woodsist Records
– Reviewed by Kevin Poindexter
Latest posts by Kevin Poindexter
(see all)