Radiation City


Synesthetica
Polyvinyl Records [2016]


Fire Note Says: Radiation City impresses on new label Polyvinyl.
Album Review: Portland's Radiation City is a band I'd never heard of before checking out some of their stuff on a whim. They caught my attention with their single "Juicy" and kept my attention with their excellent third album, Synesthetica. The band makes a jazzy electronic pop that reminded me of other popular acts like Camera Obscura and Mynabirds, but with a sound all their own. Members include Randy Bemrose (drums/vocals), Elisabeth Ellison (vocals/keyboards), Patti King (vocals/keys/bass), Matt Rafferty (bass/vocals), and Cameron Spies (guitar/vocals). As you can tell from the lineup it's a typical band construction; however, all members contribute vocals. That variety makes for a layered album that never grows tired.
The instant album opener "Oil Show" started a huge smile came to my face. There is something about finding a gem of a band, that pleasant and significant delighted surprise, that is impossible to replicate. My ears liked what I was hearing, a breezily-sung pop song with a mix of the old and new. There is a lot happening in this track but Radiation City makes it seem easy in its execution. Never let 'em see you sweat, and I didn't. I basked in the groove.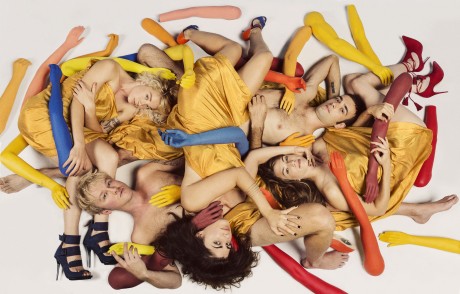 Follow-up "Juicy" has a stop and start beginning that lets the song breathe and find its footing. Deceptively prickly in a minor chord, it soon jumps into a hook that is irresistible. The accompanying guitar lick at the end of the hook brings it home. Throwing out words like cacophonous and taciturn there is an abstract intelligence to the lyrics as well. I wouldn't be surprised to hear this song make its way into a movie or ad in the very near future.
I enjoyed Synesthetica a lot while listening to it, but I admit that it's second half isn't quite as memorable as its first. Tempos change, lead vocals shift, and different instruments come to the foreground; this is typically the recipe for a stellar LP.The lyrics, while clever, sometimes fail to rope you in. These minor quibbles keep the album from getting must-listen status, but it's still well worth your time and money. If you want a diverse pop album that marries a 60's sound with an 80's aesthetic, give Radiation City a chance.
Key Tracks: "Juicy" / "Oil Show" / "Milky White"
Artists With Similar Fire: Camera Obscura / Mynabirds / Hospitality

Radiation City Website
Radiation City Facebook
Polyvinyl Records
-Reviewed by Matthew Heiner
Latest posts by Matthew Heiner
(see all)