Daughter


Not To Disappear
4AD [2016]


Fire Note Says: Daughter's sophomore album gets stronger from start to finish, and with repeated listens.
Album Review: Daughter has put out a lot of material prior to the January release of their latest album, Not To Disappear. However, this happens to be only the Brits' second LP. With four EP's to their credit as well, you could assume that Daughter takes making a long-player seriously. You would be correct – Not To Disappear is a haunting, deep album that is loaded with great moments and catchy, thought-provoking songs.
The album's ten tracks start with the sparse "New Ways." Elena Tonra's vocals are kinda like an angsty Feist imbued with a knack of conveying emotional vulnerability. Tonra also plays guitar and bass; Igor Haefeli plays the same instruments and Remi Aguilella takes care of the drums and percussion. Tonra's songwriting is detailed and direct for the entirety of the album; it is definitely one of Daughter's strengths. Second track "Numbers" builds on the moody opener with stronger percussion and an easier-to-understand vocal delivery. Tonra sings about feeling numb and hoping for someone to make her feel better (or anything). That desperation is keenly captured in both the vocals and music. And it wasn't even one of my favorite tracks!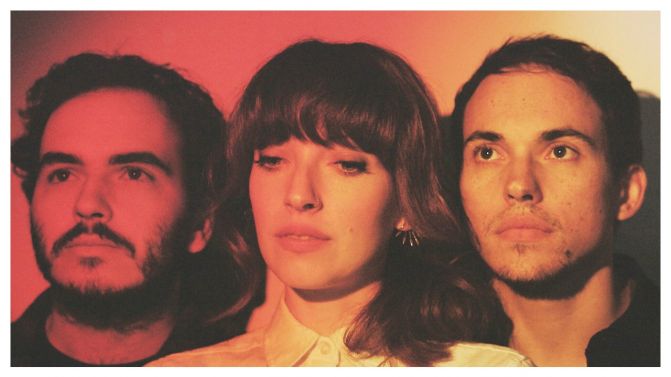 I reserve that designation for one of the album's singles, "How." Dreamier and more focused on major chords, it is one of the less despondent tracks on Not To Disappear. I love the guitar riff between verses – they play so well with Tonra's delicate vocals. "To Belong" and "Fossa" are the other more energetic tracks to be heard; the latter is a beautiful meditation with a Blondie-like chorus that may not make sense on paper but sounds great nevertheless. "To Belong" may wind up being the song I listen to the most, with its impressionistic lyrics and earworm of a guitar riff.
My reason for not rating this album any higher is due to personal taste for something a bit more upbeat. Tonra has a lot to say about loneliness, gender roles, sex, and desperation. These aren't exactly topics that scream "Let's dance," so I won't hold it against Daughter too much. However, I did hit a breaking point where my mood could only take so much. For those of you with a higher tolerance for such material, your mileage may vary. For the most part, Tonra strikes the balance for those seeking catharsis and those who just want to listen to some interesting music.
Key Tracks: "How" / "To Belong" / "Fossa"
Artists With Similar Fire: Chelsea Wolfe / The xx / Feist
Daughter Website
Daughter Facebook
4AD
-Reviewed by Matthew Heiner
Latest posts by Matthew Heiner
(see all)