Ra Ra Riot


Need Your Light
Barsuk Records [2016]


Fire Note Says: Ra Ra Riot's fourth LP calms things down while the band grows up.
Album Review: The first two tracks on Ra Ra Riot's newest long-player, Need Your Light, are also its first two singles and the best two tracks on the album. It is an exciting start that got my hopes but found them being mildly disappointed with what followed. The Fire Note featured "Water" back in December and the song started to grow on me. And kept growing. It's an important song for the band because it relies on a slower tempo and patience as it builds to its climax. It is so good that I kept waiting for similar kinds of tracks for the rest of the album, but only found mid-tempo synth-pop songs that were entertaining but didn't hit the highs of "Water." This track keeps surprising with repeated listens, as certain refrains pop up at unexpected moments. It's one of those songs that is easy to lose the beat to, which I found interesting.
"Absolutely" is a perfect complement to "Water" because of its more energetic positivity. Ra Ra Riot's unique blend of guitar, bass, drum, synthesizer, and violin all comes together on "Absolutely" to create something simultaneously familiar and different. The chorus is infectious. I'm not quite sure if the lyrics line up with the energy of the song – they are contradictory – but it doesn't seem to matter with a band playing to its obvious strengths.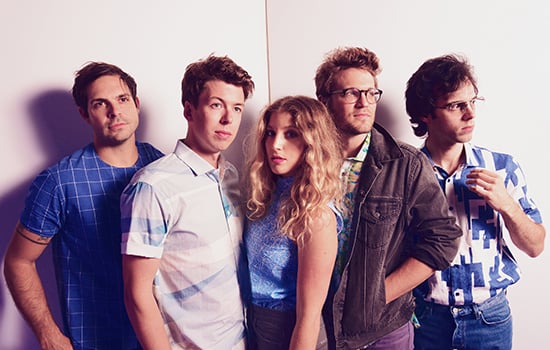 The rhythm section of Ra Ra Riot gets to shine on Need Your Light. This is especially true of "I Need Your Light" that sees the bass and drums combine for a relentless beat. The cymbals were front and center for a half minute – we don't get nearly enough cymbals these days. The drumming is ferocious for the rest of "I Need Your Love" and outshine Wes Miles's vocals. Speaking of which, at times the vocals got a bit too high and whiny on the album. That aspect kept me from falling in love with the album as much as I did its first two tracks.
If you like either of the first two singles from Need Your Light, the rest of the album is definitely worth a listen. The Syracuse band doesn't live up to the heights of those two tracks but provides solid synth-pop songs that are pleasant enough.
Key Tracks: "Water" / "Absolutely" / "I Need Your Light"
Artists With Similar Fire: Walk The Moon / Tokyo Police Club / Passion Pit

Ra Ra Riot Website
Ra Ra Riot Facebook
Barsuk Records
-Reviewed by Matthew Heiner
Latest posts by Matthew Heiner
(see all)