Quilt


Plaza
Mexican Summer [2016]


Fire Note Says: Boston quartet remain lost in a haze of vintage sixties psychedelia – thank God.
Album Review: Quilt's second album, Held In Splendor, was one of 2014's biggest surprises. I ranked it the #9 album of the year but in the twenty-four months since its release I confess that I kind of forgot all about them. When word came out of a new record from them I went back and listened to their sophomore effort again for the first time in over a year and immediately remembered what I love about them. Unlike many similar acts (Thee Oh Sees, Woods, Tame Impala) they wear their obvious influences on their collective sleeves without a hint of shame or the need to prove their modernity. This is a folksy, almost pastoral take on 60's psych and Quilt have wisely decided not to reinvent the wheel with Plaza.
"Passersby" opens things up with a lazy guitar arpeggio and Anna Rochinsky's relaxed voice. It conjures visions of the Summer Of Love with strings, flutes and harp weaving in and out of the fog. It's a strong start to a very good album. The next track, "Roller," expands Quilt's formula somewhat with a propulsive motorik beat and some trippy production that goes from space out ambience to bone dry guitar riffs. From there we get into some jangly Flying Nun pop during "Searching For" which features lead vocals from Shane Butler as he channels both John Lennon and Mickey Dolenz simultaneously. The next two songs are arguably the best thing Quilt has ever done. "O'Connor's Barn" has the best hook on the album as Rochinsky sings "Are you looking for an answer/Are you looking for a cure/ Maybe you should want more" and it's hard to agree with the sentiment as the song has everything I'm looking for! "Eliot St." finishes Side One with a flourish. It begins as a simple acoustic track but quickly turns into something closer to Talking Heads than Electric Prunes. Rochinsky and Butler's dueling guitar lines dance around while the strings return for a moment. Real care has gone into these tunes.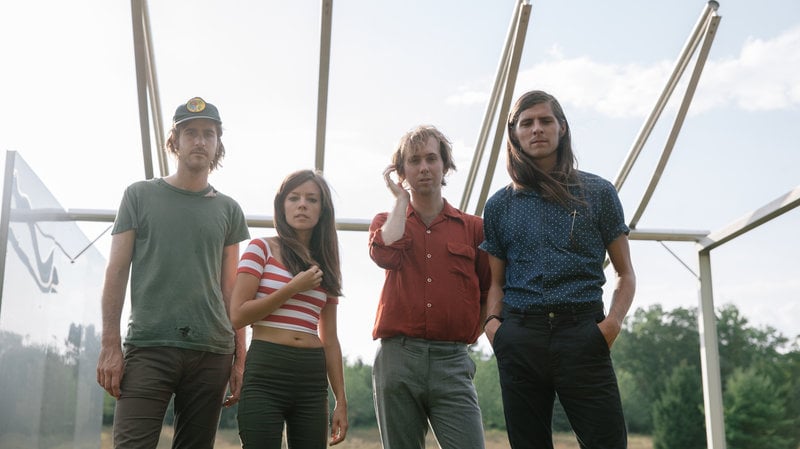 As I renewed my acquaintance with Held In Splendor the one drawback was how front loaded that record was and guess what? Plaza exhibits that same trait. Side Two isn't nearly as interesting. It starts off promisingly enough with the mod rocker "Hissing My Plea." I imagine Twiggy at a London dance club surrounded by shaggy sixties hipsters. Very Austin Powers. From there the drop off is pretty steep. The later songs just lack the punchiness found on Side One. None of them are bad – just not memorable. The best of them is "Padova" which at least sports a clever arrangement and the instrumentation caught me off guard. I like it when that happens. It happens so rarely. "Own Ways" brings things to a close with a shuffle-step beat and Butler's dead pan delivery but its five and a half minute run time feels way too long.
So maybe I'm being a little harsh but that is only because I really like this band and want them to break through to a higher tier. There are so many bands doing a similar retro thing that there is a danger in being either too literal or too contemporary. Once again Quilt have threaded the needle and released a record that is neither of those. That is much to their credit. I also feel like there's a masterpiece in them and that is why my expectations are (unrealistically) high for them. With three very solid LP's under their belt we can only hope that the next one is the one to catapault them to the next level. I doubt this one will do that particular trick. And I'm okay with that.
Key Tracks: "Searching For" / "Eliot St." / "Roller"
Artists With Similar Fire: Love / Tame Impala / Buffalo Springfield
Quilt Website
Quilt Facebook
Mexican Summer
-Reviewed by Scot Lade
Latest posts by Scot Lade
(see all)