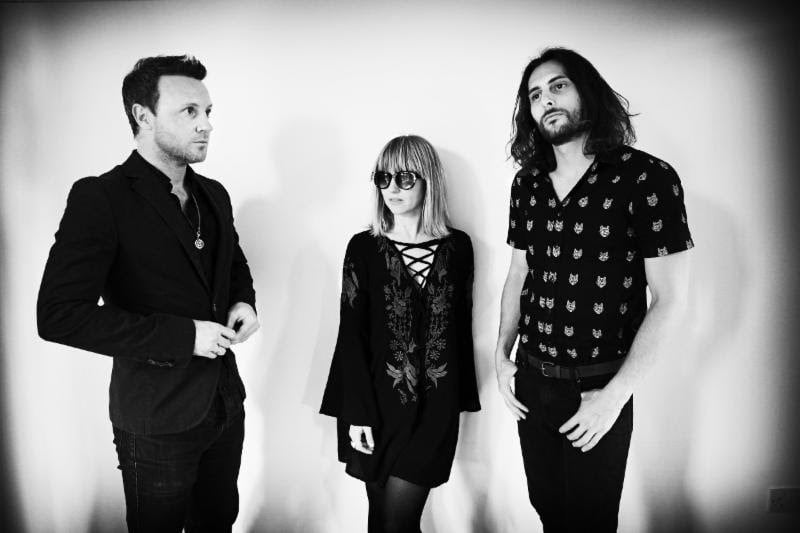 Welsh trio The Joy Formidable have just announced that they'll be releasing their forthcoming album Hitch on Friday, March 25th via their own record label C'Mon Lets Drift in partnership with Caroline (US), Orchard/ Membran (Europe) and MapleMusic (Canada.) The band had one goal for album number three: to make sure their unique live performance and energy was captured on record. Having seen them live I would expect great results if that was the goal!
The band self-produced the album and said they chose to "work with people who feel as strong as we do about the music, who listen to albums, love the art and let that take control." One of those people is Alan Moulder (The Killers, Nine Inch Nails, The Smashing Pumpkins, etc;) which they snagged to mix the album.
Recording in their studio The Red Brick in the Welsh hills where they grew up boded well for the band, and Hitch is said to be a huge leap forward from its predecessors The Big Roar (2011) and Wolf's Law (2013.) More minimal in style, with earthy tones of the Blues and Folk, it swaggers and haunts in equal measure. "It's one of the most driving records we've made but it's also the saddest' says lead singer Ritzy Bryan "This album takes you to places that we might not have taken you before."
Hitch is available for digital pre-order now at all your favorites. The record features exclusive artwork by Ralph Steadman and anyone who orders the album from the band's web store will receive bonus track "Passerby" (not available on the album) as well as access to tickets before the US tour general on-sale on Friday January 29th. Tour dates and track listing are below.
Track Listing:
1. A Second In White
2. Radio Of Lips
3. The Last Thing On My Mind
4. Liana
5. The Brook
6. It's Started
7. The Gift
8. Running Hands With The Night
9. Fog (Black Windows)
10. Underneath The Petal
11. Blowing Fire
12. Don't Let Me Know
Live Tour Dates:
Monday, March 28th 2016 Los Angeles, CA @ The Roxy
Tuesday, March 29th 2016 Los Angeles, CA @ The Roxy
Wednesday, March 30th 2016 San Francisco, CA @ Great American Music Hall
Friday, April 1st 2016 Portland, OR @ Wonder Ballroom
Saturday, April 2nd 2016 Seattle, WA @ Neumo's
Tuesday, April 5th 2016 Minneapolis, MN @ First Avenue
Wednesday, April 6th 2016 Chicago, IL @ Double Door
Thursday, April 7th 2016 Iowa City, IA @ Mission Creek Festival
Friday, April 8th 2016 Nashville, TN @ Mercy Lounge
Sunday, April 10th 2016 PIttsburgh, PA @ Mr Small's Theater
Tuesday, April 12th 2016 Boston, MA @ Paradise Rock Club
Wednesday, April 13th 2016 Washington, DC @ 9:30 Club
Thursday, April 14th 2016 New York, NY @ Irving Plaza
Friday, April 15th 2016 Philadelphia, PA @ Underground Arts
Latest posts by Fire Note Staff
(see all)