Hinds


Leave Me Alone
Mom + Pop Music [2016]


Fire Note Says: Hinds debut is full of new band synergy.
Album Review: Madrid's Hinds have had plenty of underground hype since they released their demos back in 2014. Fast-forward to present day and the scene is even more saturated with the Hinds type of fuzzy lo-fi garage rock that was inspired by the likes of Mac DeMarco, Ty Segall and The Black Lips.
The good news is that the young all female group have a swagger to them that sounds like The Libertines met up with La Luz. The results are that Leave Me Alone is a record which ebbs and flows with the Hinds attitude which can give you the grinding surf guitar start of "Garden" while the finger snapping layered vocals in "Fat Calmed Kiddos" will completely pull you in.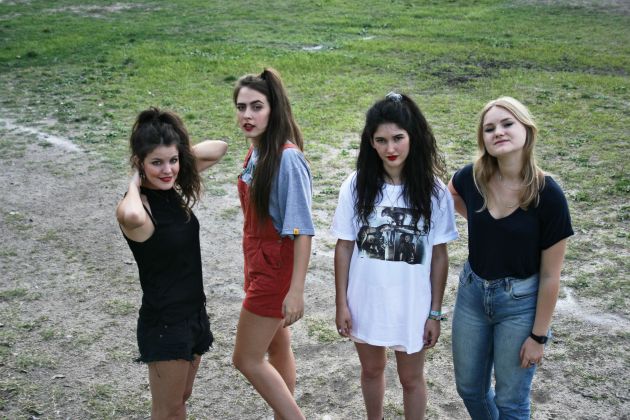 The Hinds may not sound like it on first pass but they are experts at tempo shifts throughout this record. They also allow some space in their music, as this album could be filled with 12 two minute buzzers but instead most of their tracks push out past three minutes, as they just let their guitars stroll. This works for most of the record but I actually think at almost 40 minutes long the album runs a bit long because the Hinds stay in a familiar wheelhouse for the record's entirety.
They do stay true to their sound and emotional cry on songs like "Bamboo" and "And I Will Send Your Flowers Back" that just drift but sometimes I was hoping for an increased intensity that made me want to turn the record up instead of grabbing a beer. Regardless of some of these pausing moments, the Hinds are full of spirit and new band synergy. Leave Me Alone is a solid debut and a great fresh start to 2016 as we can't wait to hear how this band evolves.
Key Tracks: "Fat Calmed Kiddos" / "San Diego" / "Chili Town"
Artists With Similar Fire: The Black Lips / La Luz / The Libertines

Hinds Website
Hinds Facebook
Mom + Pop Music
– Reviewed by Christopher Anthony
Latest posts by Christopher Anthony
(see all)