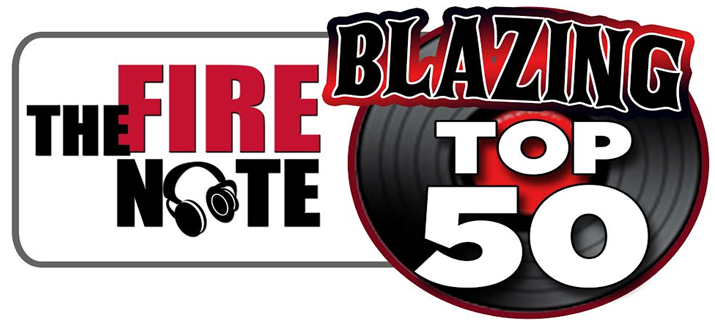 #50
Radioactivity


Silent Kill
Dirtnap Records [2015]
Punk rock has been getting a bad rap over the last decade or so for not being creative, fresh or even fun. What once was a thriving genre, especially on college radio, is now one of the harder styles to find reliable information on. I like to think TFN still can steer you to the punk promise land from time to time and today it is all about the sophomore album from Radioactivity. Regardless of your punk rock experience, I think you will like Radioactivity if you are into the garage indie scene. Silent Kill breaks the mold of what "punk rock" is supposed to sound like and it is completely fresh for 2015!
Radioactivity: Silent Kills [Fire Note Review 7/2/15]
#49
The Decemberists


What A Terrible World, What A Beautiful World
Capitol Records [2015]
Lighter and a bit brighter, The Decemberists brought a greater focus on their 7th studio record. By now, fans of The Decemberists are used to Colin Meloy's tendency to look back at some darker historic moments to create songs in the great narrative folk song traditions of the British Isles, a la Fairport Convention. That strong literary story-telling sensibility can be felt here, but Meloy & Co. have embraced their inner pop star sensibility with renewed passion in the four years since The King Is Dead. Coming out in January it was almost easy to forget but I think it plays better today then it did eleven months ago.
The Decemberists: What A Terrible World, What A Beautiful World [Fire Note Review 1/20/15]
#48
Mourn


Mourn
Captured Tracks [2015]
Mourn did not release the best debut nor the best record of 2015 but its 24-minute running time breaths youthful vigor, armor proof confidence and an energy that can only be created from the bond of a young band. With an average age of 17.25, Mourn exceed expectation with their Ramones meets Sleater-Kinney rock that will only get better!
Mourn: Mourn [Fire Note Review 2/16/15]
#47
Surfin' Mutants Pizza Party


The Death Of Cool
Fleeting Youth Records [2015]
Surfin' Mutants Pizza Party is the one-man bedroom project of 21-year-old Julien Maltais. SMPP relies on California surf punk, sci-fi flicks, comics, video games, and skateboarding for motivation on his gritty punk rock that sounds more fit for the basement and will rock you out as the Replacements meet Wavves.
Surfin' Mutants Pizza Party: The Death Of Cool [Fire Note Review 6/23/15]
#46
Elvis Depressedly


New Alhambra
Run For Cover Records [2015]
Technically a side project of Mathew Lee Cothran's Coma Cinema, Elvis has really now stepped to the forefront as New Alhambra is his first official full length and it represents his most straightforward studio sound to date. It rocks but not really and that is the cool part of this record.
Elvis Depressedly: New Alhambra [Fire Note Review 7/29/15]
#45
EZTV


Calling Out
Captured Tracks [2015]
Soft hook filled guitar pop has always had its place on the indie scene. Brooklyn's EZTV created memorable tunes with ease and it reminds me of the 90's when The Judybats, Ocean Blue and Teenage Fanclub were all over the college airwaves.
EZTV: Calling Out [Fire Note Review 7/20/15]
#44
Wolf Alice


My Love Is Cool
RCA Records [2015]
This London band had quite the buzz before My Love is Cool was released and they back it up with an album full of soaring moments from their dynamic lead singer Ellie Rowsell, which has some serious chops. Wolf Alice has made a guitar rock record that traces its influences back to the best of 90's rock. If you're a fan of that era (and even if you're not) give this album a listen.
Wolf Alice: My Love Is Cool [Fire Note Review 7/3/15]
#43
Tobias Jesso Jr.


Goon
True Panther Sounds [2015]
Long before he was known for writing an Adele track, Jesso Jr. released the piano driven Goon. It is a timeless record that feels fresh in the current sea of noise we call today's music scene. Its tracks have a familiar factor to them as you will hear keys of "Imagine" in "Without You" or the theme from Cheers on "Can We Still Be Friends?" and even some Fleet Foxes on the closing "Tell The Truth." Jesso Jr.'s record is a different album that brings back the golden era of the performing singer/songwriter and for that reason alone – Goon soars.
Tobias Jesso Jr.: Goon [Fire Note Review 3/18/15]
#42
Warm Soda


Symbolic Dream
Castle Face Records [2015]
If you like lo-fi then Warm Soda's newest should be on a must listen list. Symbolic Dream is a rush of lo-fi power pop, full of crunchy guitars, upbeat melodies, and fast tempos. If you like your power pop with a soft sugary center but with some dirty garage rock on the exterior, then Warm Soda is a band for you! Warm Soda have delivered on the power pop record of the summer. Symbolic Dream has a high replay value and only gets better the more you listen to it, go seek it out!
Warm Soda: Symbolic Dream [Fire Note Review 6/8/15]
#41
Albert Hammond Jr.


Momentary Masters
Vagrant Records [2015]
This confident new solo record from The Strokes guitarist was a pleasant surprise and continues his artistic rebirth! The songs don't feel like overdone studio creations at all, they are sharp and vibrant and there is a spontaneity to them that injects the album with life and makes you want to keep coming back to it. Momentary Masters is full of the tight guitar riffs that became part of the signature sound of The Strokes, and is once again full of great songwriting, unquestionably his strongest batch of songs since his debut solo album. Momentary Masters is a confident return and one definitely worth checking out.
Albert Hammond Jr.: Momentary Masters [Fire Note Review 8/21/15]
#40
FUZZ


II
In The Red Recordings [2015]
With their debut self-titled album, high school friends Ty Segall (Drums, Vocals), Charles Mootheart (Guitar), and Roland Cosio (Bass) poured hot and heavy distortion with their worship of bands such as King Crimson, Jimi Hendrix, Blue Cheer, and Black Sabbath. II follows it up with more heart pounding music of the same which turned out to be one of the harder hitting indie records of the year. FUZZ created an album that felt truly huge with its progressive riffs, bigger sound, and intensity. While it can feel like an experiment at times II helped solidify FUZZ as more than just a side project.
FUZZ: II [Fire Note Review 10/26/15]
#39
Girl Band


Holding Hands With Jamie
Rough Trade Records [2015]
Holding Hands with Jamie is a stunning debut from Dublin's Girl Band. It is a jarring and uncompromising record with blasts of My Bloody Valentine distortion and a lot of hardcore rage. It also had some kind dangerous beauty lurking in all that noise with something catchy and exciting in every track. Girl Band's delivery is something special. It may be harsh, but Holding Hands With Jamie is a worthwhile and unique listen.
Girl Band: Holding Hands With Jamie [Fire Note Review 9/23/15]
#38
New Swears


Junkfood Forever, Bedtime Whatever
Dirt Cult Records [2015]
This record has all of the hooks, crunch and swagger of New Swears' last album, but ups the ante on the songwriting and arrangements, which shows, dare I say growth. I challenge each and every one of you out there to buy or download this album, and then play it around your friends. Don't say anything just put it on and watch their reaction. This is THAT record, the one that will impress your friends that you discovered this record and turned them on to it. You're welcome.
New Swears: Junkfood Forever, Bedtime Whatever [Fire Note Review 11/5/15]
#37
Speedy Ortiz


Foil Deer
Carpark Records [2015]
Massachusetts quartet Speedy Ortiz began life as a solo project for poetry professor Sadie Dupuis and her decidedly nineties take on indie rock. Becoming a full band, Speedy Ortiz went on to release an EP and then, BAM!!!, along came 2013's surprise hit Major Arcana. Foil Deer was not as good as Major Arcana but it is a solid record nonetheless. After a pounding 90 second introductory tune, "Raising The Skate" sounds like the bastard son of Built To Spill and Pavement – that is until Dupuis starts singing and that voice will carry you all the way till the end.
Speedy Ortiz: Foil Deer [Fire Note Review 4/21/15]
#36
Beach Slang


The Things We Do To Find People Who Feel Like Us
Polyvinyl Records [2015]
Beach Slang is for everyone that wants to rock. In the spirit of The Replacements, early Goo Goo Dolls, Jawbreaker, The Gaslight Anthem and Superchunk, the Philadelphia band is the next to raise their torch in this elite club of no frills rock that has attitude, heart and plenty of big guitar moments. The Things We Do To Find People Who Feel Like Us is a fast record. You get 10 songs in 27 minutes. The album never slows down and powers through you and anything you are doing. It is a great first chapter for Beach Slang which should be around for more records to come.
Beach Slang: The Things We Do To Find People Who Feel Like Us [Fire Note Review 11/5/15]
#35
Wand


Golem
In The Red Recordings [2015]
Wand has returned from their last record less than a year later with new tricks up their sleeves. This time around Wand have adapted to their new roots at In The Red; Golem blends more seamlessly with the label's other acts like Endless Bummer, Ty Segall Band, Meatbodies, Thee Oh Sees, Zig Zags, and FUZZ. Golem Is an odd hotbed of spacy flavors while still maintaining the psych-pop categorization. It is a record that puts Wand in the top echelon of this genre which should start getting them the attention they deserve.
Wand: Golem [Fire Note Review 3/20/15]
#34
King Gizzard & The Lizard Wizard


Quarters
Castle Face Records [2015]
So here is a crazy idea. How about make a record with only 4 tracks that each runs a total time of 10 minutes and 10 seconds and then name it Quarters?! Oh yeah – that is exactly what our favorite Aussie psychedelic group King Gizzard & The Lizard Wizard pulled off. Quarters is a psychedelic rock opus that incorporates jazz, psychedelic, garage, surf and plain rock into 4 well-crafted movements that keep you guessing. King Gizzard never make the same record twice, as evidenced by their 2nd release this year, Paper Mâché Dream Balloon, which makes Quarters just that more special.
King Gizzard & Lizard Wizard: Quarters [Fire Note Review 6/1/15]
#33
Jason Isbell


Something More Than Free
Southeastern Records [2015]
After years of flirting with gaining a wider audience, Jason Isbell finally broke big on his excellent fourth album, 2013's Southeastern. While that album was his most intimate affair both musically and lyrically, Isbell's newest album, Something More Than Free, straddled the line of having both the intimate and a more band oriented sound similar to his earlier albums. His growth as an artist has been remarkable to follow and we are looking to many years of great releases from him as Something More Than Free is just the beginning.
Jason Isbell: Something More Than Free [Fire Note Review 7/20/15]
#32
Bully


Feels Like
StarTime Intl./Columbia Records [2015]
Bully brings out the ghosts of Blake Babies, early Weezer and The Breeders. are everywhere. Bully seem like they've been around since the era they so lovingly adore. If this debut is any hint of what's to come they may, in fact, be around long enough to witness the next time this sound gets trendy. And if not, Feel Like can stand on its own, free of comparisons. And that's a neat trick in and of itself.
Bully: Feels Like [Fire Note Review 8/14/15]
#31
Beach House


Depression Cherry
Sub Pop Records [2015]
Beach House (Victoria Legrand and Alex Scally) returned with their fifth studio album, Depression Cherry which turned out to be the first of two albums this year. The band pulled off the neat trick of both delivering on expectations and adding to their previous output. It's hard to think of an artist who has such a defined role/expectations in what they create and execute it so well. That balancing act pays off big with Depression Cherry and continues the excellent career of Beach House.
Beach House: Depression Cherry [Fire Note Review 9/28/15]
#30
Lou Barlow


Brace The Wave
Joyful Noise Recordings [2015]
Lou Barlow may never be a household name based on his solo work but with a resume that includes Dinosaur Jr., Sebadoh and Folk Implosion, Brace The Wave is the perfect outlet for his thoughts, emotion and individual skills. These nine songs give you intensity without being intense, give you folk stylings without being folk and could give you a reason to cry even though you won't! If you are a fan, Brace The Wave is the perfect "put on and play" type of album that quietly snuck into the Top 50.
Lou Barlow: Brace The Wave [Fire Note Review 9/3/15]
#29
La Luz


Weirdo Shrine
Hardly Art Records [2015]
La Luz easily have the best surf sounding record of 2015. Every track has a rolling sound and for 32 minutes it takes you somewhere else. That is its strength, as La Luz show their growth around every corner. Ty Segall definitely was the right choice to produce for this album, as his influence can be heard right down to having his buddy Mikal Cronin step in and play sax on a track. In other areas, La Luz take steps forward here, and if you have been a fan, this record is going to wow you. For newcomers, Weirdo Shrine is one of those albums that won't necessarily grab you on the first spin because you don't know what to expect. It is a journey that is truly filled with riches but only if you ride the wave all the way in!
La Luz: Weirdo Shrine [Fire Note Review 8/10/15]
#28
Trans Charger Metropolis


Haunted House Birds
Self-Released [2015]
Trans Charger Metropolis is a New Jersey group that you can tell have some lo-fi Guided By Voices blood in their veins as the sophomore album Haunted House Birds rocks, swags and rolls during its tight 16 song package. They have an indie rock edge to their music that melds a Times New Viking and Thermals sound which keeps pushing Haunted House Birds forward and if you like your raw indie rock there is no question that this is a record you should discover!
Trans Charger Metropolis: Haunted House Birds [Fire Note Review 10/20/15]
#27
Deafheaven


New Bermuda
ANTI- Records [2015]
With only five tracks totaling a little over forty-six minutes, New Bermuda is shorter and tighter than its mighty predecessor Sunbathers (2013). In toning down the shoegaze and throwing in everything else it also feels somewhat unsure as to what it is. This is something to be admired. New Bermuda is a thrilling document of a band willing to do exactly what it wants – regardless of how many metal purists scoff. Like it or not, Deafheaven is the real deal and New Bermuda is just more proof.
Deafheaven: New Bermuda [Fire Note Review 10/7/15]
#26
Viet Cong


Viet Cong
Jagjaguwar Records [2015]
Viet Cong's self-titled debut could easily be described as powerful and driving, savage and beautiful, unrelenting and striking. If this is a template for new acts in the year of 2015 Viet Cong have done a great job of driving purpose over pretension. Sure their name caused some controversy which will be changed for their next outing but there was no issue with the music as it was a record that kept growing on us over the year after its January release.
Viet Cong: Viet Cong [Fire Note Review 1/26/15]
#25
Motel Beds


Mind Glitter
Anyway Records [2015]
I guarantee not enough people have heard this record. Motel Beds have an old sound which is really hard to describe because it doesn't fit a current mold in the indie scene today. That is what makes this group, and record, so addictive because by embracing a retro formula the Motel Beds actually have spawned something much more unique. Mind Glitter hits the sweet spot for kids that want something new, adults that want to maintain some sense of their youth and every person out there that just wants a touch of that late 60's harmonic gold!
Motel Beds: Mind Glitter [Fire Note Review 8/15/15]
#24
Girlpool


Before The World Was Big
Wichita Recordings [2015]
This two piece, made up of Cleo Tucker (Guitar) and Harmony Tividad (Bass), never move beyond playing several chords and barely turn up the tempo or volume at any point on their debut Before The World Was Big. It is a careful record that builds momentum within its tracks by having plenty of harmonies that vocally accomplish moving the tempo. With catchy lyrics and a 25-minute running time Before The World Was Big turns out one of the more surprising and solid indie albums of the year!
Girlpool: Before The World Was Big [Fire Note Review 12/11/15]
#23
Big Dick


Disappointment
Dirt Cult Records [2015]
The guys in Big Dick, Johnny O and Dave Secretary, need to be hailed as geniuses and recognized for this powerful work. Not only is the lyrical content dark and moving, but the playing is incredible, and the singing is top notch as well. Disappointment is a step up in every single way from their excellent debut album, and should find a spot on your turntable as soon as possible. At 15 songs and less than 30 minutes in length the album begs to be played over and over again.
Big Dick: Disappointment [Fire Note Review 3/3/15]
#22
Destroyer


Poison Season
Merge Records [2015]
Nothing was off limits on Destroyer's latest record Poison Season. This was obvious from the album's whispery opener to the strings, piano and sax that plays throughout. Founder/singer/songwriter Dan Bejar has found a balance on Poison Season which made it a refreshing listen that made you think. Even the straight-up pop songs can't escape destruction here as Bejar will keep you on your toes. Poison Season was not the go to record for a sunny day but it is an album built on excellence and worthy of its spot in the Top 50.
Destroyer: Poison Season [Fire Note Review 8/27/15]
#21
Majical Cloudz


Are You Alone?
Matador Records [2015]
Are You Alone? was an album that searched for sincerity in a space that has been salted with cliché, as it built an immersive world around love and loneliness. The arrangements are so sparse, so economic, that when Majical Cloudz breaks their march to hold a note over the soft fissures and pops of the production, you experience a sense of freefall. It is just that type of record.
Majical Cloudz: Are You Alone? [Fire Note Review 11/5/15]
#20
Pile


You're Better Than This
Exploding In Sound Records [2015]
Pile, a quartet from Boston, continued their precision guitar attacks and disjointed arrangements on their third release. They have that "loud-quiet-loud" Pixies vibe, and vocals that can turn on a dime and become guttural with roars of rage and anguish. Pile are innovative and a refreshing reminder that rock music has something to say and can say it in a way that you have not quite heard yet. 10 years from now, new indie bands could easily be name dropping Pile as their main influence.
Pile: You're Better Than This [Fire Note Review 3/23/15]
#19
Ryan Adams


1989
PAX-AM Records [2015]
Taking a popular pop star's record and recording a new track by track redo sounds like a terrible idea. It sounds like a terrible idea unless you are the talented Ryan Adams and the record turns out to be well written like Taylor Swift's 1989. The great thing about Adams' 1989 is that it doesn't matter if you know Swift's version or not because Ryan excellently made this his own and it works. A Ryan Adams spin that takes these 13 tracks to a different level and honestly will have a more timeless staying power than its 2014 template.
Ryan Adams: 1989 [Fire Note Review 9/24/15]
#18
The Libertines


Anthems For Doomed Youth
Harvest Records [2015]
Let's be honest, this album could have been an absolute disaster, but instead it was the surprise comeback of the year. This one has all of the classic Libertines trademarks: the gang style vocals, the shifting gears in tempos, and the HUGE chorus. Not surprisingly, the album is full of themes of love, reconciliation, recovery, and of course being a fuckup, but searching for redemption. Anthems For Doomed Youth is as good as you hoped and better than you honestly expected.
The Libertines: Anthems For Doomed Youth [Fire Note Review 9/28/15]
#17
Waxahatchee


Ivy Tripp
Merge Records [2015]
It's a tricky thing creating the follow-up to your breakout LP. Many musicians have wilted under the pressure of increased critical scrutiny and fan expectations but Katie Crutchfield, better known as Waxahatchee, had no problem as evidenced by Ivy Tripp. The increased presence of keyboards shouldn't be a shock as the record still has Waxahatchee doing what she does best – lyrics and style. The early Liz Phair meets Robert Pollard garage grunge is her wheelhouse and she knows it. There's a lot of this kind of personal but vague detailing in her songs and Ivy Tripp is better for it. This was an album that just got better with each spin and with each spin moved up on this list to land at #17.
Waxahatchee: Ivy Tripp [Fire Note Review 4/7/15]
#16
Brother O' Brother


Show Pony
Fonoflo Records [2015]
Indianapolis' Brother O' Brother is one of those bands that more people should hear but I assume have been somewhat dismissed with their take on the garage-blues rock genre because their template is right out of The Black Keys early playbook, which does not stop with their sound but includes their duo status and a small salute with their name. I will proudly report that there was not one new thing to be found on Show Pony. It is a blues garage rock record that wears everything on its sleeve and leaves it all at your speakers' woofers. The key is that Brother O' Brother never lets up off the pedal and Show Pony was the summer ride you should have taken. There is still time to let these Indiana boys in.< /br>
Brother O' Brother: Show Pony [Fire Note Review 8/13/15]
#15
Hop Along


Painted Shut
Saddle Creek Records [2015]
This was one of the biggest surprise records of 2015. With an irresistible voice from Frances Quinlan that absolutely soars Hop Along's sophomore record Painted Shut brought big booming guitars as they told their stories of desperation. Their angular indie rock has the 90's alternative edge to it which works well and just pulled you in. Painted Shut was recorded and mixed by John Agnello (Kurt Vile, Dinosaur Jr, Sonic Youth), which was the perfect choice. Hop Along put fresh air into an old genre and Painted Shut never looked back.
Hop Along: Painted Shut [Fire Note Review 7/7/15]
#14
Baroness


Purple
Abraxan Hymns [2015]
Nothing like releasing a record so late in the year that it misses the critical accolades it deserves. Purple roared back with a hard rock style that has the pulse of survival after all that Baroness has been through, both physically and mentally, as each track had its point of excellence. This bigger than life sound pulled you in and Baroness will remind you of why a really good rock record is all you need and something you have been missing!
Baroness: Purple [Fire Note Review 12/16/15]
#13
Wilco


Star Wars
ANTI-/dBpm Records [2015]
Nothing like a free record from Wilco to make 2015 a solid year in music. Even better when the record is Top 50 material. Star Wars loose and fluid approach is why Wilco is so highly respected, as they have continually earned their spot in the top echelon of rock. Wilco is a career band that has used each record as a canvas to create their art. Star Wars was no different and highlights that their core fire is still strong. At 34 minutes, Star Wars was the best musical surprise we have had in a while and after even more listens, it solidly lands this high on the list.
Wilco: Star Wars [Fire Note Review 7/21/15]
#12
Mikal Cronin


MCIII
Merge Records [2015]
To say that expectations were high for the new Mikal Cronin LP at Fire Note Headquarters is a massive understatement. Cronin's last album, MCII, came in at #1 in our 2013 Top 50. MCIII can be divided into two distinct halves, Side A was made up of 5 pop gems that run the gamut of styles, from intricate chamber pop, to rock, to indie pop while Side B was a mini concept album of sorts. The result is a record that works the more you spin it. MCIII shows growth, highlights Cronin's musical talent (he plays just about all the instruments), and firmly sets the bar higher as his solo career trajectory continues to climb!
Mikal Cronin: MCIII [Fire Note Review 5/13/15]
#11
Deerhunter


Fading Frontier
4AD [2015]
Bradford Cox, aka Deerhunter, posted a "concept map" prior to Fading Frontier's release which cited the many influences he felt made an impact on his writing. The artists included such acts as INXS, REM and Tom Petty. What those artists all share is a desire to succeed commercially while retaining their integrity. Deerhunter accomplish the integrity part with Fading Frontier and based on its strength there is no reason that it couldn't bring the mainstream to them. We didn't feel there was a different direction here on Fading Frontier but what made the album so strong is that it brings the same confidence and consistency we have come to expect from Cox.
Deerhunter: Fading Frontier [Fire Note Review 10/16/15]
#10
SPORTS


All Of Something
Father/Daughter Records [2015]
SPORTS is a basement rock band, started in 2012 at Kenyon College in Gambier, Ohio. The group has had all the normal up and downs of beginning young bands but on its sophomore album, All of Something, SPORTS has nailed their sound. It is a free for all, spirited, laid back, honest, quick and catchy thriller of an indie record. SPORTS remind me of some of the great female fronted indie groups from the 90's with their sharp wit and tight guitar but when the current day Millennials blend in their laid back attitude, All of Something becomes truly memorable!
SPORTS: All Of Something [Fire Note Review 11/3/15]
#9
Courtney Barnett


Sometimes I Sit And Think, And Sometimes I Just Sit
Mom + Pop / Milk! Records [2015]
Australia's Courtney Barnett made a big splash with her debut that put her daily thoughts to record. Sometimes I Sit And Think, And Sometimes I Just Sit is an interesting album because I swear we have heard it all before but Barnett's delivery was infectious and made this record more unique. There is just enough grind in the songs to give them swagger and enough diversity on the record to keep you guessing. The album tells a story that everyone can relate to and will make you wonder if you put your thoughts to music – would they sound this good?!
Courtney Barnett: Sometimes I Sit And Think, And Sometimes I Just Sit [Fire Note Review 3/30/15]
#8
Paul Orwell


Blowing Your Mind Away
Heavy Soul Records [2015]
Paul Orwell's Blowing Your Mind Away was one of the best debuts in 2015. The London area singer/songwriter steamrolled you with his retro energy and if you didn't know any better you would think this was the solo project from a member in Small Faces or The Animals. The young brash lad flipped that sound and released one of the best sounding '60s beat British Invasion records in 2015 with plenty of distorted guitars, mood pacing organ, and hooks that will keep you coming back for more. This one was only released on vinyl, which not only made Orwell a more underground name but also highlighted Blowing Your Mind Away as a great obscure find!
Paul Orwell: Blowing Your Mind Away [Fire Note Review 12/3/15]
#7
Car Seat Headrest


Teens Of Style
Matador Records [2015]
Car Seat Headrest, aka 22-year-old Will Toledo, has already recorded 11 albums which he's released on Bandcamp over the last 4 years and has produced, written, recorded and played every song on there. Teens of Style represents re-recorded songs culled from his extensive discography and it is an excellent overview that will hook you from the beginning. Teens of Style sounds like if The Strokes were lo-fi pop with a 60's British Invasion undertone. The record sounds and feels complete while also setting up Teens of Denial, which is an album of all new songs set for an early 2016 release.
Car Seat Headrest: Teens Of Style [Fire Note Review 10/28/15]
#6
Kurt Vile


b'lieve i'm goin' (deep) down…
Matador Records [2015]
Kurt Vile may not have the best voice or musicianship in the business but damn he can tell a story. Kurt Vile puts an exclamation mark on the idea with his sixth outing, b'lieve i'm goin' (deep) down…. It won't matter which version of this album you pick up because either package is worth a high rating. The bonus material on Deep is like an extra topping. For longtime fans, this record adds in a bit of banjo and more piano and a little less reverb as well but also continues Vile's strong songwriting. b'lieve i'm goin' (deep) down… is a marathon not a sprint with Vile and for those whom choose to partake – great things await.
Kurt Vile: b'lieve i'm goin' (deep) down… [Fire Note Review 9/30/15]
#5
Tame Impala


Currents
Interscope Records [2015]
Tame Impala's Currents is a true grower in every sense of the word. There are a lot of people I know that can't get onboard with this album as frontman Kevin Parker took everyone on a trip. The band incorporated a synthesizer presence as they also mow you over with a catchy heavy funk. I respect that the band is not afraid of sounding like a modern ELO and pushing their sound in different directions but the key piece that is highlighted on Currents is that Tame Impala also did not give up any ground on their rising status in the rock world. With repeat listens throughout the year we determined that this is one review that was little low on the rating – coming in at #5 here should correct that error!
Tame Impala: Currents [Fire Note Review 7/15/15]
#4
Ricked Wicky


Swimmer To A Liquid Armchair/King Heavy Metal/I Sell The Circus
Guided By Voices Inc. [2015]
Big surprise – Robert Pollard released three records under the Ricked Wicky moniker with long tome Pollard collaborators Todd Tobias (Circus Devils), Kevin March (GbV) and Dayton lifer Nick (no relation to Mitch) Mitchell. All three were great, so we just thought it was best to blend all three efforts into one big rock opus record landing at #4. There is just something about Pollard fronting a band. We love his solo work as well but with Guided By Voices fading back into the briefcase, it was great to see Ricked Wicky step up and hold the torch high for Pollard rock – you can't go wrong with any of these 2015 releases.
Ricked Wicky: Swimmer To A Liquid Armchair [Fire Note Review 10/1/15]
Ricked Wicky: King Heavy Metal [Fire Note Review 7/23/15]
Ricked Wicky: I Sell The Circus [Fire Note Review 1/30/15]
#3
Sleater-Kinney


No Cities To Love
Sub Pop Records [2015]
No Cities To Love not only marks the return of Sleater-Kinney but also gives a strong kick to the current indie music scene. Time to up everyone's game because right out of the 2015 gate, Sleater-Kinney released one of the best albums of the year. This record never gives you a reason to doubt Sleater-Kinney's bond, commitment or even believe that they were really idle for 10 years. As combinations of lyrics with sing along moments fill No Cities To Love with memorable line after memorable line you just couldn't forget about this powerhouse of an album. We not only welcome Sleater-Kinney back with open ears but hope they are not going anywhere soon!
Sleater-Kinney: No Cities To Love [Fire Note Review 1/21/15]
#2
Father John Misty


I Love You, Honeybear
Sub Pop Records [2015]
Everything on I Love You, Honeybear felt and sounded bigger compared to FJM's debut Fear Fun. The emotions, the instruments, the highs, the lows, the skepticism, the sarcasm, the pain, the truth and the impact all were heighted as Josh Tillman let you take a walk in his shoes. Every track on this album gives Tillman a large canvas for his addicting and catchy vocals that go well beyond his own being, hence the need for Father John Misty. Where his moniker goes from this point is anyone's guess but the power of words and the music are on full display here. I Love You, Honeybear is an album which is meant to be heard the old fashioned physical way from beginning to end. When you give Father John Misty a complete 45 minutes, I guarantee you will feel it too – I Love You, Honeybear was easily one of the best records we heard in 2015.
Father John Misty: I Love You, Honeybear [Fire Note Review 2/10/15]
#1
Sufjan Stevens


Carrie & Lowell
Asthmatic Kitty Records [2015]
How many times do you really hear an artist return to a past sound? I would say not that many. So many times in reviews we find ourselves critiquing an artist for not growing enough, not taking enough risks, and giving us more of the same but with less passion. Not only in my own work but I have read these complaints time and time again. Are they legit in some cases – sure, but now take Sufjan Stevens and his seventh long player Carrie & Lowell. Sufjan not only created his most personal record to date but also one of his best that went back to the basics that made him an indie household name. Sufjan Stevens hid behind nothing on Carrie & Lowell and allowed his art seamlessly to unite with his life. That stand out piece on this record can not only bring tears during certain lines but also relief. Carrie & Lowell can feel uncomfortable at times but its precision playing, irresistible vocals and heartfelt delivery is something you cannot turn away from making it the best record released this year.
Sufjan Stevens: Carrie & Lowell [Fire Note Review 3/27/15]
Online Music Magazine: Independent Music Reviews, Vinyl Spotlights, Music News, Videos, 7-inch record features + more!
Latest posts by Fire Note Staff (see all)