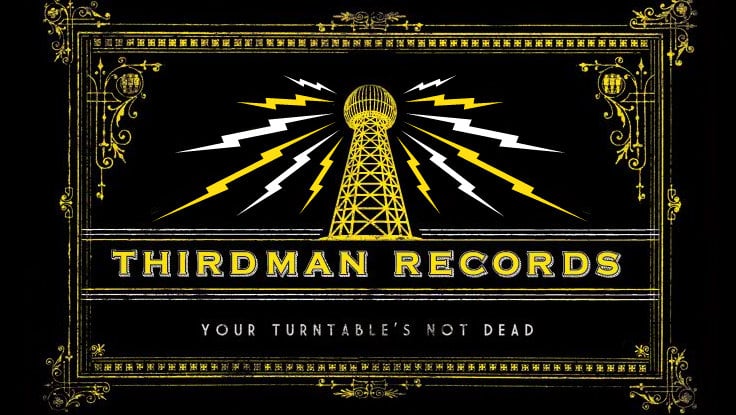 If you enjoy vinyl, then at some point you have probably seen some of the forward progression that Jack White and Third Man Records have done over the last several years to help propel the resurgence of wax in everyone's home.
The vault subscription service was launched in 2009 and is definitely part of that movement. Once a quarter, platinum subscribers receive a package in the mail that contains a Vault LP, a Vault 7″, and a Vault Novelty. The Novelty varies from quarter to quarter and has included t-shirts, posters, concert DVDs, and many more unique items.
Given that we enjoy both White and vinyl, TFN thought it was a great idea to take a look at the last 25 offerings and rank them. So without any more discussion we present the Third Man Records Vault Packages – Ranked!
#25
Vault Package #19


The White Stripes Elephant Singles Box Set
Released: Quarter 1 2014
There is nothing wrong with the content here as all four remastered 7″ offerings are great with their soft touch sleeves and special box but Third Man totally deviated from the vault format which left this one feeling a bit light.
#24
Vault Package #24


Loretta Lynn LP / White Stripes 7" / Lynn DVD / LL Pin
Released: Q2 2015
You can't go wrong with this Jack White produced Loretta Lynn record but overall it does not have the gloss of the other packages. The White Stripes 7″ is a nice extra that features the band covering Lynn's "Whispering Sea" but when it comes down to the vault, this selection is more about Jack's liking than a majority of the vault members.
#23
Vault Package #15


Jack White & Bricks LP / Brendan Benson & Jack White 7" / White Heat Tour DVD
Released: Q1 2013
You get a live 1999 recording of Jack White and the Bricks which is unique in name as it features Jack White, Brendan Benson (future Raconteur at the time), on drums Ben Blackwell (The Dirtbombs, Blackwell is also head of vinyl production for Third Man Records), and on bass Kevin Peyok (The Waxwings, The See-Sees). Great to put this show out but even though I am sure they did the best they could – the overall sound is not quite up to many of the other vault live releases. Also a White Heat tour DVD left me looking for more.
#22
Vault Package #12


Karen Elson Live LP / Raconteurs 7" / White Stripes Live DVD
Released: Q3 2012
Here is a live show from White's ex wife Karen Elson. She has a great voice and the die cut sleeve packaging is different. The unreleased Raconteurs 7″ is worth it for fans and White Stripes footage is always welcomed. Overall, this package stands taller as individual pieces.
#21
Vault Package #17


Willie Nelson & Friends Live LP / Willie & Jack 6" / Deluxe Fold Out Poster
Released: Q3 2013
You can't knock Willie. The packaging here shines with an etched d-side but after listening through the show once, you probably won't go back. The Willie and Jack third man recording booth 6″ is the coolest thing for collectors out of this package.
#20
Vault Package #7


2010 Third Man Singles 2 LP / White Stripes 7" / The 5.6.7.8's 7″
Released: Q1 2011
This was a great idea as a collection of Third Man singles feels 100% vault. Conan O'Brien, Dead Weather, and Laura Marling stand out here. You also get the first White Stripes tri-color 7″ which looks pretty!
#19
Vault Package #18


The Raconteurs Live Ryman LP / Dead Weather 7" / Raconteurs Live Ryman DVD
Released: Q4 2013
Playing at the Ryman is always special so capturing this Raconteurs show on wax is vault worthy. It also is the third live recording from them featured in a vault. The DVD of the show is a nice touch along with a double a-side 7″ from Dead Weather that gives Vault 18 a punch.
#18
Vault Package #25


The Dead Weather LP / Dead Weather 7" / Dead Weather Playing Cards
Released: Q3 2015
I would have guessed the 25th vault package would be special and was excited when it was announced that the Dead Weather's new record would be its featured LP. From the different cover to the Dead Weather playing cards, #25 screams vault but the music just didn't live up to my expectations. At the end of the day, it is still about the music.
#17
Vault Package #6


The Greenhornes LP / White Stripes 7" / White Stripes-Greenhornes Tour T-Shirt
Released: Q4 2010
I have always liked the Greenhornes, so this collection of demos works for me but they are not essential. Sometimes it is not about the music, as this tour shirt is great and still gets some wear plus what really made this vault cool is the picture 7″ of "Hello Operator."
#16
Vault Package #23


White Stripes Live Brazil 2 LP / White Stripes 7" / White Stripes Live DVD
Released: Q1 2015
Released to celebrate the 10th anniversary of Get Behind Me Satan this show in Brazil covers that tour. Impressive show, impressive box for the entire package, and collector worthy 7″ from the White Stripes. Only thing keeping Vault 23 back in the list is its newness as over time I could see this one moving up a bit on the list.
#15
Vault Package #3


2009 Third Man Singles 2 LP / Dead Weather 7" / TMR Postcards & Poster
Released: Q1 2010
Here is the first of the Third Man Singles LPs so it has a little more special feel to it. Some solid stuff from Dex Romweber Duo, Dan Sartain and The Black Belles are in this collection. The Dead Weather demos 7″ and TMR postcards are non-essential extras.
#14
Vault Package #9


Wanda Jackson Live LP / 2 Tabernacle 7" / Wanda Jackson Live DVD
Released: Q3 2011
Wanda Jackson live at Third Man creates the unique magic only music can make. You take the modern flare of TMR and add the legendary Jackson which makes an evening to remember. The music won't be for everyone but one listen will tell you why Wanda Jackson is important. The live DVD is a bonus and then a very different take of the Stripes "The Big 3 Killed My Baby" from 2 ★ Tabernacle on 7″.
#13
Vault Package #21


White Stripes Live Rising Sun 2 LP / Dead Weather 7" / Third Man Logo Flag
Released: Q3 2014
If you sign up for the Vault then there is a good chance White Stripes music is what you want. Here you get two complete shows from the band in their early days and their youthful energy flows out of the wax. Two new tracks from the Dead Weather on 7″ was nice although now not as relevant plus a logo flag that you can fly high!
#12
Vault Package #10


The Raconteurs Live TMR LP / Double A-Side Remix 7" / Devils Night Live DVD
Released: Q1 2012
The Raconteurs rocked this live set at TMR and it is captured forever in Vault 10. The double a-side remix 7″ is also a treat as you get Beck, Josh Homme and Mark Lanegan's take on a White Stripes and Dead Weather track. The DVD is a special Halloween at TMR hosted by Elvira and features a scorching set from The Greenhornes dressed as ZZ Top!
#11
Vault Package #4


White Stripes B-Shows LP / Raconteurs 7" / Dead Weather T-Shirt
Released: Q2 2010
This is the great bastard child to the mainstream release Under Great White Northern Lights that had more of the "popular" cuts in its tracklist. The vault was still really fresh as this fourth release made you feel special because this was a much deeper cut type of live record. I especially like side four that starts off with a ripping version of "Cannon" and then is directly followed by "John The Revelator." The Dead Weather t-shirt has an old school rock look which still wears great and the rehearsal demo 7″ from The Raconteurs helps Vault 4 stay memorable.
#10
Vault Package #11


2011 TMR Singles 3 LP / White Stripes 7" / TMR Logo T-Shirt
Released: Q2 2012
Triple LP of singles that includes First Aid Kit, We Are Hex, Pokey LaFarge, Stephen Colbert and even Insane Clown Posse which just shows the wide range that TMR was covering in 2011. You also get some very early White Stripes sessions on a 7″ which are really different from the final versions of the tracks plus a logo t-shirt that changes color in the sun – cool right?!
#9
Vault Package #22


Jack White Live Bonnaroo 3 LP / Custom Items / Jack White Live Bonnaroo DVD
Released: Q4 2014
Easily one of the best sets at 2014's Bonnaroo, Vault 22 gives you 3 LPs of Jack White's show and a DVD of the performance. All of it is packaged in a stylish soft-touch box that gives the entire offering a great look. This is one of those moments in time that you are glad TMR collected and why you joined the vault in the first place.
#8
Vault Package #13


White Stripes Live Gold Dollar LP / White Stripes 7" / White Stripes 12″ Record Tote
Released: Q3 2012
Recording of the first ever full live show at the Gold Dollar in Detroit on August 14, 1997 seems like the perfect offering for Vault members. It is one of those recordings that feels like a necessity if you are fan so you can hear where it all began. The 7″ even goes back one month earlier for an open mic night. Lastly you get a record tote which is a quality extra.
#7
Vault Package #2


Raconteurs Live London 2 LP / White Stripes 7" / Dead Weather Print
Released: Q4 2009
Vault 2 brought the pressure of the sophomore slump. At this point in time, the vault was brand new so you were expecting the offering to be cool and TMR needed it as well to keep the demand high. This 2 LP set from London is the best so far from the live Raconteurs vault material and is just a great package with its gatefold jacket and 180g quality wax. The 7″ inch gives you your first taste of unreleased White Stripes material while the interesting Horehound print was the first unique non-music novelty item in the vault.
#6
Vault Package #16


White Stripes Live Elephant 2 LP / White Stripes 7" / White Stripes Photo Book
Released: Q2 2013
This double LP of live White Stripes is from the Elephant record era – which by some is considered the band's best studio record. The live collection here is from a summer show at the Aragon Ballroom that includes a great closing version of "Goin' Back To Memphis." The demo 7″ from the White Stripes is a solid addition plus the photo book of behind the scenes shots during the Elephant recording sessions makes this package a great salute to a great album.
#5
Vault Package #20


Jack White Ultra Studio LP / Jack White 7" / Hard Bound Lyric and Photo Book
Released: Q2 2014
The special color version of the Lazaretto Ultra LP – what is not to like. 180 gram vinyl, 2 vinyl-only hidden tracks hidden beneath the center labels, 1 hidden track plays at 78 RPM, one plays at 45 RPM, making this a 3-speed record, Side A plays from the outside in, Dual-groove technology: plays an electric or acoustic intro for "Just One Drink" depending on where needle is dropped – The grooves meet for the body of the song, Matte finish on Side B, giving the appearance of an un-played 78 RPM record, Both sides end with locked grooves, Vinyl pressed in seldom-used flat-edged format, Dead wax area on Side A contains a hand-etched hologram by Tristan Duke of Infinity Light Science, the first of its kind on a vinyl record, Absolutely zero compression used during recording, mixing and mastering, Different running order from the CD/digital version, LP utilizes some mixes different from those used on CD and digital version. Sure the color was the only thing different as the Ultra LP was everywhere but they went all in on this one. You also get a demo 7″ and a lyric book – there is no more to say about Vault 20!
#4
Vault Package #5


Dead Weather Live TMR LP / Dead Weather 7" / Dead Weather Live DVD
Released: Q3 2010
This release is a little more than just The Dead Weather live at TMR which is why it ranked number 5. The band plays their album, Sea Of Cowards, in full for a frenzy of fans. The entire package is nice from the blue/black split vinyl to the shiny gatefold jacket. The 7″ is the encore and then you also get a DVD of the show. This is still a highly sought after collection in the second hand market and possibly one of the best Dead Weather releases out there.
#3
Vault Package #14


Jack White Live TMR 2 LP / Jack White 7" / Dead Weather Photo Book
Released: Q4 2012
This was the first real taste of Jack White solo as you not only get to hear some solo work live but also Raconteurs, Dead Weather and White Stripes material all in one setting. The cover of the jacket is a unique lenticular cover which is cool and flashy while the Blunderbuss demos on the 7″ are not bad either.
#2
Vault Package #1


White Stripes Icky Mono LP / Dead Weather 7" / TMR Vault T-Shirt
Released: Q3 2009
How can you not have some love for Vault 1. The mono version of Icky Thump with an alternative color is the prize and this one still ranks as one the most expensive on the second hand market. Mostly, I think because people were asleep at the wheel when the Vault launched and didn't sign up. I would love to know how many copies there are out there of Vault 1 compared to Vault 25. Regardless, the first one is always special and mono Icky Thump is no different which is why it lands at number 2.
#1
Vault Package #8


White Stripes Last Live 2 LP / White Stripes 7" / White Stripes Live DVD
Released: Q3 2011
For many, this is a sad reminder of when the lights went out on The White Stripes. Live in Mississippi represents the last live show ever by the band on July 31st, 2007 at Snowden Grove Amphitheater in Southaven, Mississippi. What I like is that the set is blues focused and features covers of Robert Johnson, Son House and Leadbelly. The White Stripes 7″ contains covers of Love's "Signed DC" and the Otis Redding classic "I've Been Loving You Too Long" which represents some of the earliest White Stripes material by eight months. To cap off this White Stripes vault you get a DVD of a live show from 2000 which is solid. Overall, Vault 8 is the essential collection of music you expected when you signed up for a membership. The LP collection of songs stands out compared to all the other live White Stripes vault offerings, which when you add in the other goodies here – Vault #8 is number 1!
-List by Christopher Anthony
Latest posts by Christopher Anthony
(see all)