The World Is A Beautiful Place & I Am No Longer Afraid To Die


Harmlessness
Epitaph Records [2015]


Fire Note Says: A surprise candidate for Album Of The Year emerges from the post-emo scene.
Album Review: I was first drawn to this band by all the hype surrounding their debut album, Whenever, If Ever. The ridiculously long band name and nine person line-up was enough to differentiate themselves from the emo pack. The reviews hailed them as the next big thing and although I enjoyed that record it was too firmly anchored in that genre's fondness for carbon-copy (read: annoying) vocals for me to really agree with a lot of the praise being heaped on the Connecticut band. A few less than stellar EP's that followed only cemented that impression. Now with some fortunate personnel changes (not least of which being the installation of David Bello as the main singer) and a fresh batch of incredible songs TWIABP has not only bypassed the sophomore jinx they have, in fact, released a near-masterpiece.
The album begins with a simple acoustic guitar and vocals that recall mid-nineties Sebadoh. But then things change. They get bigger, bolder, almost anthemic. "You Can't Live There Forever" is one of those perfect opening tracks that sticks in your brain long after the song is over. Strings pile in as post-rock atmospherics and background vocals create such a beautiful racket that they were wise to put a minute long filler track between it and the true album centerpiece, "January 10th, 2014." It's a song about Diana, The Hunter – a vigilante killer who avenged the brutal treatment of women in Juarez, Mexico by late night bus drivers. Bello is joined by Katie Shanholtzer-Dvorak as the voice of Diana. "Are you Diana, the hunter?" Bello asks. Katie/Diana responds "Are you afraid of me now?" To which Bello states plainly "Well, yeah. Shouldn't I be?" It's a weird bit of theater that totally brings the band into the worlds of both the anti-hero and the abusers cum victims. It is also strange to have the best song track sequenced so early on. Were it not for the strength of the rest of the album that would prove a fatal error. As it is, it's a bold and courageous move.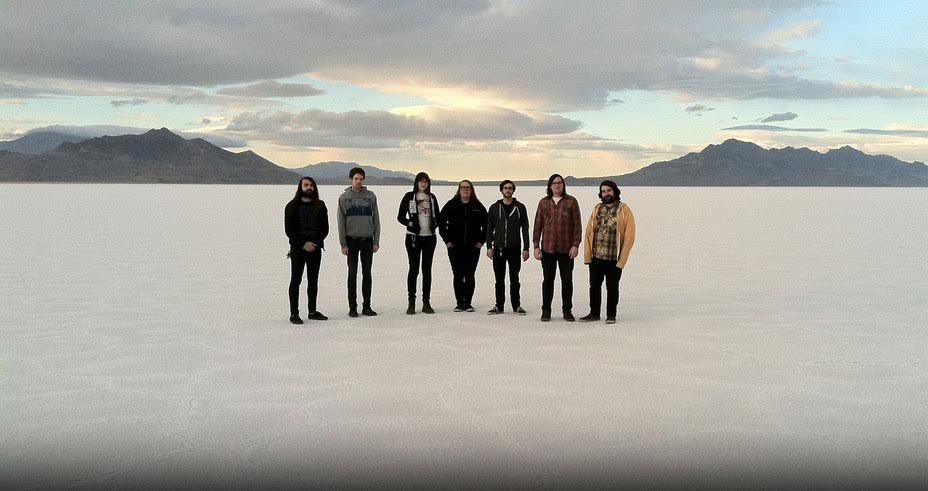 The middle section of the album presents itself as an exciting game of spot the influence: "The Word Lisa" sounds like Cursive aping Arcade Fire, "Ra Patera Dance" has a pronounced Modest Mouse feel and "Wendover" could be a lost Built To Spill tune. Derrick Shanholtzer-Dvorak and Tyler Bussey also contribute vocals throughout Harmlessness and they indeed do not harm the cohesion of the set. With so many ideas and themes flying around the ascendency of David Bello's voice is the key and what makes this a much more compelling listen. The lyrical content is improved as well. "We Need More Skulls" repeats the same couplet over and over but it's a really good one: "We set out to make up all the mistakes of our parents and their friends/We set up, we set up a safety net but it was above our heads." And then we get to the final two songs of the record which together occupy over fifteen minutes. The first of which, "I Can Be Afraid Of Anything", not only contradicts the band's name a little but with it's Vampire Weekend Afro-pop inflections and Bussey's choppy, syncopated singing stands as yet another highlight. "Mount Hum" ends things with an epic climax worthy of an album this strong.
It's hard not getting worked up when, in 2015, one discovers that guitar-centric rock is not only alive and kicking but it is still capable of producing something as sublime as Harmlessness. TWIABP has achieved what hundreds of lesser bands have attempted in the last decade or so – take emo to a different, higher level. Every spin reveals more depth and with that comes hope. Hope for a world that seemed destined to thrive without the blessed six string. That is a world I do not want to live in. And so it is with great pleasure that I highly recommend this fine piece of music to our savvy readers. Don't let the emo tag scare you – for once I can say with all sincerity that this is the one band that transcends genre and places itself with the classics.
Key Tracks: "You Can't Live There Forever" / "January 10th, 2014" / "Ra Patera Dance"
Artists With Similar Fire: Joyce Manor / Hotelier / Foxing

TWIABP Website
TWIABP Facebook
Epitaph Records
-Reviewed by Scot Lade
Latest posts by Scot Lade
(see all)