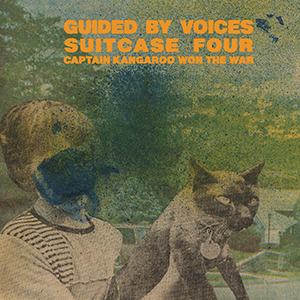 How about this Guided By Voices fans? We teased you a bit with this track 4 weeks ago and now it is here for real! Plus that is not all – 4 weeks, 4 CDs and 4 Premiere tracks…BOOM! Suitcase 4: Captain Kangaroo Won The War is going to explode! OK – so not really but this is true – Robert Pollard has put together another 100 song compilation of unreleased songs and your first preview begins now!
Suitcase 4 contains so many hidden gems that we can't wait for everyone to hear the entire compilation on November 20th. The best part is, TFN is premiering a track with you today (and over the next 3 weeks)!
"Deaf Dumb And Blind Girl" is up first and can be found on Disc 1. The track is credited to the band Vile Typists. Those who are familiar with the Suitcase projects need to know that Suitcase 4 keeps the tradition of assigning each track to a fictitious band name.
This song is one of several new recordings that Bob created with Ricked Wicky partner Nick Mitchell specifically for Suitcase. Basically it is a one take project that features Bob on guitar, a bass track and Mitchell behind the drums. It is spontaneous, raw and high-kicks ass!
Enjoy the track below – get your pre-order in at Rockathon HERE, and stay tuned for the second premiere installment next Friday!

Latest posts by Christopher Anthony
(see all)