Deafheaven


New Bermuda
ANTI- Records [2015]


Fire Note Says: Deafheaven refuse to buckle under the weight of expectations.
Album Review: So what does a young, up-and-coming band do after releasing one of the most critically acclaimed albums of the decade? Do they expand on all the things people found so intriguing about them in the first place? Do they record a follow-up that eschews those oddities and go back to basics? Or maybe they sell out and go for the almighty dollar now that they've become an established act? When you drop a record like 2013's Sunbathers these are the kinds of questions that many fans and journalists are going to ask. And it goes far beyond the realm of Black Metal. Such is Deafheaven's reach and so profoundly deep the well of influences they mine that New Bermuda is truly one of the most eagerly awaited albums of the year.
If you're late to the Deafheaven bandwagon then here's what you are missing: a San Francisco-based band that is as comfortable dispensing metal riffs as they are playing with shoegaze, ambient, post-rock or prog elements. One can discern bits of Godspeed You! Black Emperor alongside The Cure, My Bloody Valentine and Liturgy. All the while vocalist George Clarke screams in an unintelligible wail that, at times, feels like the only thing "black" about this brand of metal. There's absolutely no way to grasp what he's saying without a lyric sheet but he sounds really angry. Even angrier this time around, in fact. But the vocals are down lower in the mix as if they are endlessly struggling to claim their rightful place. It's a tension that works on an artistic level and can also make Deafheaven's music more palatable to the non-metal lover. But ultimately what makes this record a success is the band's creativity and energy.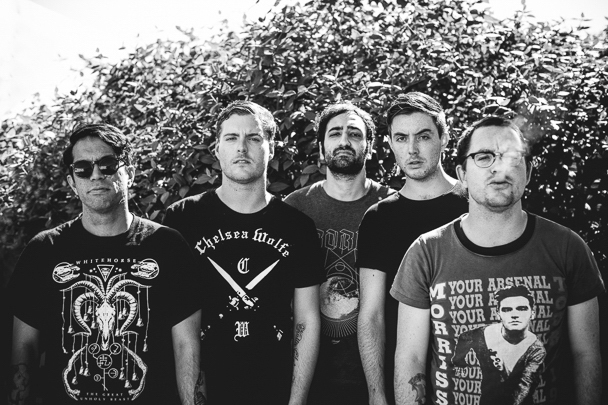 Right from the get-go they grab you and don't give the listener a chance to process all that's swirling around the edges. "Brought To The Water" starts things off with sufficient brutality that the good folks at Anti- (home to Niko Case and Wilco) were probably wondering if signing these guys was such a brilliant move after all. There was some thought that a more "indie" Deafheaven was in the offing. Um, no. Recording as a full-fledged five piece this time has only added to the chaos – and the beauty, as the melodic breaks in many of the songs are as gorgeous as anything you're likely to hear. The next song, "Luna", is a great example of that. After six minutes of ear-splitting metal they slow it down and it's almost like a different band takes the song to the promised land. This shape-shifting is also used to great effect on closer "Gifts For The Earth" where a jangly guitar is met with Clarke's tortured vocals. Then a tambourine comes in along with an additional guitar melody. At the "chorus" Daniel Tracy's drumming becomes prominent but it's really the lack of any instrument dominating the overall sound that makes this track so engrossing. As the song concludes there is a weird resemblance to Oasis, of all things. Very strange band.
With only five tracks totalling a little over forty-six minutes, New Bermuda is shorter and tighter than its mighty predecessor. In toning down the shoegaze and throwing in everything else it also feels somewhat unsure as to what it is. This is something to be admired. But is it as good as Sunbathers? Perhaps not, but only because the shock value of that record was so high. What's left is a thrilling document of a band willing to do exactly what it wants – regardless of how many metal purists scoff. Like it or not, Deafheaven is the real deal.
Key Tracks: "Brought To The Water" / "Luna" / "Gifts For The Earth"
Artists With Similar Fire: Burzum / Wolves In The Throne Room / Liturgy

Deafheaven Website
Deafheaven Facebook
ANTI- Records
-Reviewed by Scot Lade
Latest posts by Scot Lade
(see all)